Best Albums of 2016
anthonybecerra831
The Top Ten
1
Blackstar - David Bowie
Great album, great singer.

Bowie is one of the all time greats and his music will live on for the rest of eternity!
'Girl Loves Me' is the most underrated song of the album and maybe one of Bowie's most underrated ever!
I would have picked panic at the disco but in honor of the great late David Bowie I picked him.

1947-2016 - Danguy10
Blackstar Gave Me Nightmares, But In A Good Way - SamThePenguin
V 7 Comments
2
A Moon Shaped Pool - Radiohead
Perfect. Innovative, familiar, dark, brooding, experimental, accessible. One of the best works by the best band ever. Definitely their most beautiful. It sounds like one big 52 minute lullaby. Timeless.
Best album by Radiohead = Best album ever
This album is really boring in my opinion. It might grow on me but I'm not a fan of this for now. - Metalmaniakkk
Their best besides In Rainbows, OK Computer, Kid A and The Bends
V 4 Comments
3
Lemonade - Beyonce
I thought she wouldn't be able to top the self-titled album, but the queen surprises me time and time again. An album that is solace to women who have been cheated on and empowerment to African American women. It blends R&B, rock, country and other genres. This is the best album of the year. Sadly, there's a chance that she won't win Album Of The Year because Adele's 25 is eligible this year as well. Adele is a great singer but I feel 25 was just a rehash of 21. Almost every song was a slow song and was all about love lost. It worked on 21 because no one else had been doing something like that. But now it's tiresome. Beyonce shows raw emotion in this album and the slow songs such as SANDCASTLES are more powerful because you can truly hear the pain in her voice. The standout however is definitely Freedom ft Kendrick Lamar. It is a powerful R&B anthem with vocal acrobatics and a fiery rap verse from Kendrick. I'm the type of guy who loves FOB, P! ATD, My Chemical Romance, TOP etc. But ...more - PopPunkKid101
Amazing album. She finally makes up for her lack of talent she had in her last albums. - Swellow
I think I'm entitled to make this call, because I listen to only classic rock. I've listened to a bunch of albums this year - Blue & Lonesome by TRS, Moon Shaped Pool by Radiohead, Coloring Book by Chance, Pablo by Kanye, Untitled by Kendrick, this, and, of course, David Bowie's Blackstar.
Like I said, I only listen to classic rock, so I think that when I say that this album is the best album of 2016, you better believe it.
And don't tell me about Blackstar. I'm sure David Bowie would agree with me. - epicness2099
V 4 Comments
4
Skeleton Tree - Nick Cave and the Bad Seeds
V 1 Comment
5
The Life of Pablo - Kanye West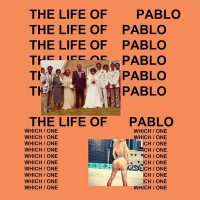 You may like or hate this album but I personally love it. Not one of Kanye's best but definitely better than Yeezus, 808s, and Cruel Summer - Mcgillacuddy
6
Anti - Rihanna
I'm starting to think that people are insulting this album even though they haven't actually listened to it, they just assumed after hearing the song Work, that it wasn't good. - anewman
The hell is this garbage doing in the Top 10?
Why is this above Megadeth's Dystopia? Today's generation!
V 1 Comment
7
Atrocity Exhibition - Danny Brown
This album blew my mind. So underrated
8
Dystopia - Megadeth
This album is pure glory! The riffs are some of the best I've heard - NikBrusk
Megadeth's best album since United Abominations
Daves vocals may not be the best but this is one of the heaviest Megadeth album. - Metalmaniakkk
V 1 Comment
10
Revolution Radio - Green Day
One of the most satisfying feelings in the world is when one of your favorite bands go back to their roots. After Uno, Dos and Tre I thought green day was no more but boy was I wrong. This after "Blackstar" and "A Moon Shaped Pool" is the best album of this year. - 12cc
Dude, this album is awesome, from Still Breathing to Revolution Radio to Bang Bang. Bang Bang is my favorite song in this album. - AnimeDrawer
Does everyone always forget Demolition existed? People compare this to the trilogy 24/7, there was something in between you know! - ProPanda
Though I Have Been A Fan Of Green Day In The Past, This Album Has Some Of The MOST Cliche Lyrics Of 2016. - SamThePenguin
V 3 Comments
The Newcomers
?
Atoma - Dark Tranquillity
?
Bad Vibrations - A Day to Remember
The Contenders
11
Untitled Unmastered. - Kendrick Lamar
When the leftovers that weren't good enough to be on To Pimp A Butterfly are the best rap album of 2015 hands down. 8/10 - WonkeyDude98
Incredible lyrics and storytelling on each track, making it my favorite rap album of the year - Mcgillacuddy
This year was full of terrible rap albums, but this is one of the few exceptions. Long live Kendrick!
V 2 Comments
12
This is Acting - Sia
V 1 Comment
13
Hardwired... to Self-Destruct - Metallica
Nice blend of 80s Metallica and the Load era.
This deserves the 2nd spot just after Bowie's Blackstar.
This album just tops number 1 for me. - Mumbizz01
14
Suicide Squad: The Album - Various Artists
A compilation album shouldn't be on this list at all
I'm conflicted on whether Blackstar still is the best album of 2015. Mainly because this masterpiece exists. - WonkeyDude98
V 2 Comments
15
We Got It from Here... Thank You 4 Your Service - A Tribe Called Quest
16
The Serenity of Suffering - Korn
They've released about a dozen albums, yet this is their best ever.
17
Weezer (White Album) - Weezer
19
Joanne - Lady Gaga
You can never be bored of Lady Gaga. You never know in advance what her next album will sound like. With Joanne, she took it to the next level: you never know what the next song will sound like. And that's awesome. This woman will be considered a legend by the time she's 80.
Above Anti, This is Acting and the soundtrack to Suicide Squad? Disgrace. This is clearly a great transition from pop to folk. - Swellow
20
Bottomless Pit - Death Grips
Aw man, I still need to listen to this! - djpenquin999
PSearch List
Recommended Lists
Related Lists
Best Metal Albums of 2016
Top 10 Most Anticipated Metal Albums of 2016
Best Comeback Albums of 2016
Top Ten Rock and Metal Albums of 2016
Most Anticipated Music Albums of 2016
List StatsUpdated 17 Jan 2017
600 votes
227 listings
1 year, 1 days old

Top Remixes (26)
1. Skeleton Tree - Nick Cave and the Bad Seeds
2. We Got It from Here... Thank You 4 Your Service - A Tribe Called Quest
3. Blackstar - David Bowie
Mcgillacuddy
1. Lemonade - Beyonce
2. Anti - Rihanna
3. A Moon Shaped Pool - Radiohead
Tabordeedotplunkett
1. Aa - Baauer
2. Suicide Squad: The Album - Various Artists
3. Cloud Nine - Kygo
ProPanda
View All 26
Posts
Album Review: ★ [Blackstar]
WonkeyDude98
Album Review: Skeleton Tree
WonkeyDude98
Album Review: Big Baby D.R.A.M.
WonkeyDude98
Error Reporting
See a factual error in these listings? Report it
here
.