Top Ten Best Invoice Billing Software
manishchauhan
This list incorporates all the top 10 best online billing softwares.
Don't agree with the list? Vote for an existing item you think should be ranked higher or if you are a logged in,
add a new item
for others to vote on or
create your own version
of this list.
The Top Ten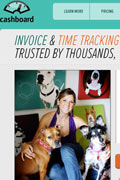 6
InvoiceStudio
More comments about InvoiceStudio
7
Fresh Books
More comments about Fresh Books
9
Xin Invoice
I love it. Simple & user friendly interface & cost effective & You can get responses from the support team in 24 hours. Highly recommended.
We found that Xin Invoice is a wonderful product with a great many uses above what our expectation was for such a modestly priced software.
More comments about Xin Invoice
The Contenders
11
Tradeshift
More comments about Tradeshift
Visit Tradeshift Website
12
Invoice Machine
Sakshi
Visit Invoice Machine Website
13
Xero
Sakshi
Visit Xero Website
14
K-Billing
Visit K-Billing Website
15Invoice Tracking Hybrid 2009
161ClickBusiness More comments about 1ClickBusiness
17
Smart Invoice
Sakshi
Visit Smart Invoice Website
18
Blink Sale
Very nice and affordable invoicing solution. You can now send unlimited invoices for 15 bucks. Two thumbs up for Blinksale...
Visit Blink Sale Website
19
Keepek
Visit Keepek Website
20
Simply Invoices
Sakshi
Visit Simply Invoices Website
21
Nutcache
More comments about Nutcache
Visit Nutcache Website
22
Sleek Bill
More comments about Sleek Bill
Visit Sleek Bill Website
23
Instabill.me
Visit Instabill.me Website
24
InvoiceMore
Sakshi
Visit InvoiceMore Website
25
Ezinvoiceinc
Visit Ezinvoiceinc Website
26
Ballpark
Sakshi
Visit Ballpark Website
27
Billing Orchard
Visit Billing Orchard Website
28
Paper Free Billing
Well worth checking this application out, very easy to use
I would like to suggest Paper Free Billing for the following reasons:
1) Really easy to use interface, so simple to send and manage invoices
2) FREE account (No credit card required) completed in 30 seconds and 3 free invoices every month (which accumulate if you don't use them - perfect for the occasional invoice)
3) HTML formatted from a good choice of templates, as well as PDF attachments and uploading your own company logo etc.

Check it out!
rendesr
Visit Paper Free Billing Website
29
Busy Bee Invoicing
JackN
Visit Busy Bee Invoicing Website
30
Zervant
Visit Zervant Website
31
Invoice Place
Visit Invoice Place Website
32
Cretica Invoice
Cretica Invoice is a user-friendly invoicing program for small businesses and organizations. You will be notified once invoices reach their due date, giving you full oversight of the phases of invoicing. The different reports generated will also help you keep control. Cretica Invoice has a built in backup feature, as well as functions for importing and exporting data.
Visit Cretica Invoice Website
33
Inv24.com
Visit Inv24.com Website
34
LaCuenta
Visit LaCuenta Website
35
Ajax Invoice
Visit Ajax Invoice Website
36
FetchFlow
This invoicing app seems to have all the basics.
Visit FetchFlow Website
37
Crave Invoice
Visit Crave Invoice Website
38
Xin Inventory Software
First time trial, love it. Bought it the second day. Very simple and user friendly and the price is unbeatable. Strongly recommended.
Xin inventory software is the advance version of Xin Invoice. Since xin invoice listed in top ten list, Xin Inventory Software should be part of it. It's comprehensive, cost effective, handy and user friendly. User can use it to create quotation, invoice, purchase order and etc in minutes. Simple and powerful.
Visit Xin Inventory Software Website
39
Tally.ERP 9
Visit Tally.ERP 9 Website
41
DataMoto
Visit DataMoto Website
42
Elorus
Visit Elorus Website
43
Tradepronamics
Visit Tradepronamics Website
44
Instant Invoice n Cashbook
Visit Instant Invoice n Cashbook Website
45Saral Billing from Relyon Softech Ltd
46
Easy TimeBill
Visit Easy TimeBill Website
47
Billesta
Visit Billesta Website
48
PlanetSoho
Visit PlanetSoho Website
49
SnapBill
SnapBill is an automated billing system that allows you to easily sell your services online. SnapBill is perfect for businesses requiring a powerful and fully customisable subscription or recurring billing system with payment collection facilities. SnapBill is PCI DSS compliant.
Janavw
Visit SnapBill Website
50
Billomat
Bilomat its a perfect choice for every freelancer and small company for invoice processing. It make life easy as the process is totally automated. The prices starts from 4 euros/months so its not bad.
Visit Billomat Website
52
Time59
Visit Time59 Website
53
bill.ON
Visit bill.ON Website
54
invoiceFabric
Visit invoiceFabric Website
55
Salestastic
Visit Salestastic Website
56
Invento Billing
Visit Invento Billing Website
57
Start Invoicing
Visit Start Invoicing Website
58
F-Billing Revolution
Visit F-Billing Revolution Website
59
Invoiceable
Visit Invoiceable Website
60
AccountSight
Visit AccountSight Website
61
Quick Billing Software
Visit Quick Billing Software Website
62oInvoices - Online Invoices
63oInvoices - Online Invoices
64
CurdBee
Visit CurdBee Website
Comments About This List
Featured Lists
Popular Lists
New Lists
Top Remixes of This List
Posts About This List
List Info
This list was created 4 years, 326 days ago and has been voted on over 600 times. This top ten list has been remixed 11 times.

Updated Tuesday, December 10, 2013


List Error Reporting
See an item on this list that's misspelled, duplicated, or doesn't belong? Let us know.
Click here
to report the error.