Amy Lee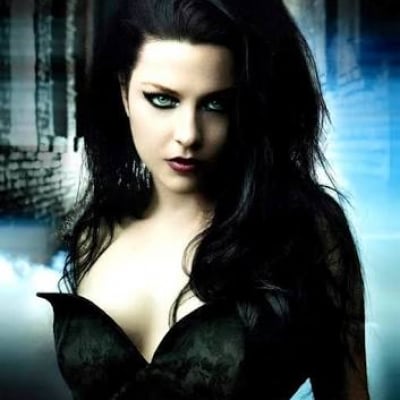 Uploaded by Ark-M
Comments
Top
Popular
Newest
In my opinion, she's by far one of the best artists in rock industry I know. Amy can reach really high notes in a perfecty clean, beautiful voice. She absolutely deserved a spot in the top ten!
Amy Lee has the most exquisite voice, her songs are deep and meaningful (and lets fsce it, most artists these days sing about the same old shallow things). She is a great person with a big heart... There are many reasons why Amy is the best.
I love Amy Lee and Evanescence her voice is so amazing and probably the best of any female singer, she should be number 1 on this list for sure, by miles. - lukestheman4
Amy Lee is one of the most inspirational singers out there. She puts so much emotion into her songs and knows how to keep the crowd wowed. Not to mention her mesmerizing voice and astounding natural beauty. Long live Amy Lee
Amy Lee has one of the best voices you would ever hear! She can hit high notes and low notes! Most singers can't do that. If you don't believe me listen to her songs whisper and the only one. I think Amy deserves 1st place on this list
Amy Lee has one of the most powerful voices I have ever heard in a rock song, but also the most angelic voice ever. Combined with the exciting guitar riffs from Evanescence, she is easily the greatest rock goddess of all time.
I absolutely love amy lee! Her vocals are amazing and she just sounds like an angel! I will love evanescence forever and ever and the bats thing about them is that you can relate to their songs. without amy lee, rock wouldn't be the same! She deserves to be at the number1 spot because she is truly amazing at what she does and NO ONE will ever beat her! Not in a million years! That's how awesome she is!
Singing is partly range, skill, ability but ultimately, it is the about evoking emotion in the listener.

Like many before her, Amy has the power to demand the listener succumb to their emotions while she performs.

Blues, jazz, standards, opera, Broadway, country, ethic, pop and even rock - all have their Kings and Queens of emotive music and Amy humbly presides over her genre with effortless grace.

And a sly smile.
Amy lee is the best. She just such a wonderful voice that is so pure it makes you want to keep listening to her keep singing to songs like Hello and My immortal also sallys song is also a good song.I'm also a huge fan of Evanescence. Just because of her singing.
Amy Lee is my true inspiration. My true role model. No matter what she does, I'll support her. She's a completely genuine, sweet, down to earth person with a once-in-a-lifetime voice and composing abilities. Shes my favorite person in the whole world
Her wide range if vocal range and ability to change melody from the heavy rock of 'Going under' to the more classical 'Good enough' she has an amazing ability. She has a caring personality and definitely a traditionalist in the rock world
Her voice is amazing and unique. She is very talented. More than that, though, I respect her as an artist because she writes her own songs. Not enough people seem to do that anymore.
I could go into great length about Amy Lee, but I won't. It would be completely pointless. Go onto Youtube/iTunes/whatever and listen to ANY song of hers and try to keep yourself whole. Good luck on that.
Her voice to me rocks any other, the notes ; the tones, the depth and story she sings. she is the best female singer ever.
Not my personal favourite overall but her voice is the best ever in rock by a mile. Unbelievable power in that voice.
Amy Lee has a beautiful voice, her songs are unique, and she acts like she actually cares what she's saying. She is one of very few celebrities for whom I have any respect because she uses her talents to gain recognition, like people should, instead of her looks.
She has an incredible voice, lots of fans, and outstanding looks. Her skills on the piano inhance the chance of her being the overall best, and she also plays more than one instrument. Unfortunately, her band however is dealing with tough decisions. But alas, she worked her way up to rank 1, and she deserves her place on the top ten.
Her voice is just so amazing it speaks to you through her songs, Even live her voice is just spectacular and it makes you want to listen to evanescence over and over again
One of the best singers live and on album that I've EVER heard. She has a MAJOR vocal range and throughout the years, it's gotten even better!
Amy Lee is the best female singer in the rock industry right now. Have you see any live performances? PERFECT!
Powerful voice, good looks, rocking attitude! Very talented with a voice of an angel!
If you have listened to "My Heart Is Broken" then you will understand why Amy Lee is the BEST female vocalist to hit the scene. Her range is absolutely incredible, and the amount of emotion in her voice can bring people to their knees.
Amy Lee is awesome! I love Evanescence and her voice! I wish I could sing like that, she has a great voice! I am mostly a low voiced person...
My god her voice is so exciting to listen to; pure, raw, full of emotion. Truly a gift meant to be heard by all.
It's so cool that her songs actually mean something, and she can sing too! I like the way she actually sings instead of lip-syncing everything. I mean, nobody wants to pay good money just to go and see somebody PRETENDING to sing!
Related Lists
Best Amy Lee Songs
Best Amy Lee Quotes

Top 10 Amy Lee Vocal Performances In Fallen
Top 10 Amy Lee Vocal Performances In the Open Door