Best Liverpool Players
The Top TenXW
1
Steven Gerrard
One of the best players football has ever seen. The name is enough.. It's lovely to watch him on the field. He is real play maker. It's not only the goals which make him world class but the quality of passes, Power behind the long shots, enthusiasm and vision that is not comparable. No one can be as loyal as him. He is real legend.
He is so good especially when he scored a hat-trick and when he scores against Man Utd. We all love you Steven Gerrard. Steve Gerrard Gerrard he scores from 40 yards he is better than Frank Lampard Steve Gerrard Gerrard
If he take a shot it goes in the back of the goal
Steven Gerard is BOSS
V88 Comments
2
Kenny Dalglish
Kenny Dalglish moved to Liverpool from Glasgow Celtic in 1977, retiring in 1991. He made 515 appearances for the Reds, scoring a total of 172 goals. He also won 55 international caps for Scotland. Date of Birth: 04-03-1951 Birthplace: Glasgow Liverpool debut: 13th August 1977 v Manchester United (N) Charity Shield: Drew 0-0 Other clubs: Playing: Celtic. Management: Blackburn Rovers, Newcastle United, Celtic Honours with Liverpool: First Division Championship: 1978/79, 1979/80, 1981/82, 1982/83, 1983/84, 1985/86 (player/manager), 1987/88 (player/manager) & 1989/90 (player/manager), FA Cup 1986 (player/manager), 1989 (manager), Charity Shield 1977 (shared), 1979, 1980, 1982, 1986 (shared), European Super Cup 1977, Screen Sport Super Cup 1986 (player/manager) European Cup 1978, 1981 & 1984 - xdogg
not only a great player and manager also cares for the club and fans
King Kenny all the way he will always be number 1. If you look at what he did for both only Liverpool but also for football in this country. 3 seasons with out missing a game. 42 games in a row.
I think it's too easy to vote for the amazing Steven Gerrard, as he's the most recent example of one of Liverpool's true greats, but he is outclassed in all departments by the class of Kenny Dalglish, who was consistently the best player on the best ever Liverpool teams.
V17 Comments
3
Ian Rush
Ian rush was well better than gerrard he should be first he scored 346 goals ever
He is the best not even suarez can beat this guy. He is unstoppable
What a great player;scoring made simple!
Because he rush
V7 Comments
4
Luis Suarez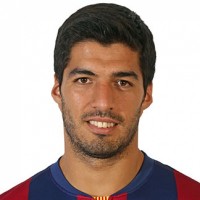 It's Luis Suarez, right? What a player! He is just fantastic, and Liverpool should try to hold on to him. He needs to have a more constant partner up front. He's not a lone ranger and has suffered from isolation this season.
Good at taking shots from inside the box and could be the next big thing and he is better than peter crouch!
This player has a good skill. He also has a good attemts. He also nimble and clever scoring from a narrow space.
Best player that has ever wore Liverpool Jersey
V50 Comments
5
Fernando Torres
Torres gave Liverpool the victories no one could have given in 3 years! He made Liverpool win against Manchester united and Chelsea several times! He was truly a Liverpool hero!
His speed and agility are beyond imagination... Though gerrard is an awesome player torres almost equals him!
Fernando Torres is an awesome player even if he betrayed liverpool he is still good.
Torres is a beast
V16 Comments
6
Robbie Fowler
he is god, one of the best to ever play at the club. the amount of goals and his loyalty were second to none
Best goal finisher ever! Remember the 3 goals against arsenal?
Robbie Fowler? He made Goalies like Placards
The best? Only Robbie Fowler!
V2 Comments
7
John Barnes
I had to add him on the list! This man is an absolute legend! One of the greatest players for Liverpool without a doubt. - madcat701
Years ahead of his time. I don't think his play would look out of place in the prem now.
Barnes had a way of exciting the Kop with his powerful runs and brilliant goals. Third best player in Liverpool FC' history.
Most technically gifted player to wear the Jersey
V3 Comments
8
Kevin Keagen
Liverpool's best because he transformed an ordinary side and left behind a great legacy - perhaps not the best pure footballer but certainly the most effective in Liverpool's history
Keegan represnts the great Liverpool success story. Kevin is still the best Kop player.
9
Michael Owen
Doesn't anybody remember how good he was for Liverpool, he scored in almost every game at his peak! Definitely in the top 20 of Liverpool's greatest ever players
Hold on I m a chelsea fan and am a great admirer of owen he made the game look like he decided everything my favourite liverpool player of all time!
He is one of the best player for liverpool. Anyboy can't forget 2001 double winner team.
He was the back bone of the team even for the national team.
He is best player
V5 Comments
10
Jamie Carragher
He has pashon for liverpool that is all u can ask for in eny liverpool players
V4 Comments
The Contenders
11
Xabi Alonso
Alonso is a grat player can cross play on the wing dm and midfield he can talke coners free kicks and penatlys he one the world cup with Spain liverpool second record when leaving the club to join real madrid for 35millon pound and he can come of the bench score and change the game round
V3 Comments
12
Graeme Souness
The attacking back bone of 70/80's
13Billy Liddell
14Steve McManaman
15
Philippe Coutinho
If he stays at Liverpool for another 3/4 seasons he could become one of the all time greats. - wolphert
Best player ever on liverpool Hala Coutinho
Best player of liverpool in this season
Best player that plays for liverpool now
V11 Comments
16Luis Garcia
17
Dirk Kuyt
He's left by now but he was amazing
Still remember the 3 goals he scored against Manu.
Kuyt and Torres were deadly upfront
V1 Comment
18
Steve Heighway
One of the greatest crossers of the ball. Loved watching him take on players down the wing and then whipping the ball into the box
Pure winger with pace and fantastic crosses. Dynamic runs down the touch line
V1 Comment
19
Jan Molby
Best passer of the ball the club has ever seen. Technically superb!
20
Djibril Cisse
he's good but not as good as torres and gerrard I voted for him because his hair is cool lol but he's good enough and ian rush and th erest of the lads are good aswell
V1 Comment
PSearch List