Best Male Tennis Player
GoRazorbacks
The Top TenXW
1
Roger Federer
At the moment, Roger Federer is the most accomplished male tennis player ever, although it's impossible to really say he's the most talented. You could easily make the argument that Rafael Nadal is actually better on that count, since Nadal has clear advantage over Federer in terms of head to head, especially in the Slams. The day may also come when Nadal could surpass Federer's insane mark of 17 Grand Slams.

I'm giving the nod to Federer partly because he dominated tennis so thoroughly and convincingly for about a five year stretch...a feat that will be nearly impossible to replicate. You might say the competition was a little inferior during most of his tennis prime, but you can only play what's out there. No tennis player was that dominant for that extended stretch of time.

In his prime, Federer was a machine. His greatest strength, among the many you could name, were his groundstrokes. He could hit the ball at such an angle with tremendous power that made it ...more - jfausti
Tennis means Federer, Federer means Tennis. He is a god of tennis. Most stylish tennis player. If he is in the other side of the court you have to have something more than tennis.
Roger Federer is the king of tennis, 16 grand slams says it all, the most prize money in tennis history is all you need to know, he may be struggling now but give him a break, 3 or 4 years ago he was unstoppable!
Thank you you have inspired me
V80 Comments
2
Rafael Nadal
When Nadal is on form there is no stopping him - I have a great respect for Federer but at the end of the day whenever he faces an in form Nadal he loses. Nadal is surely the greatest if not the most popular...
Nadal has won everything that is to win in tennis: 11 grand slams, Career Golden Slam (which Federer has not won) gold medal in Olympic for singles (Federer has not won) 3 Davis Cups (Federer has not won) has a winning record over Federer (19-8). What more does he have to do
Hopefully he can win yet another French Open and he will truly become the King of Clay. Truly one of the best Spaniards in tennis.
I don't think he'll pass federer
V51 Comments
3
Novak Djokovic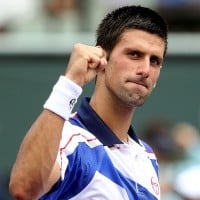 Novak Djokovic is a Serbian professional tennis player who is currently ranked world No.1 in men's singles tennis by the Association of Tennis Professionals.
He is not the most exciting player to watch but he's brilliantly consistent, better than anyone has ever been. Honestly back in the mid-late 2000's I never thought anyone would reach Federer's level any time soon but Djokovic has done just that. He'll run Roger and his 17 majors close, he might end up with 1 less, tied, or 1 more but he's definitely achieved in a more competitive era. Novak #1 for me.
I love Novak. He has been my favorite tennis player for the last 10 years. I have watched every single big match he's played, dedicated hours on hours to studying his play, memorizing his stats, woken up at crazy hours of the night to see him play in slams or masters 1000s. This man has been my hero. But he is in no way the 3rd best player of all time. Yet. He could certainly be on his way, but the likes of Laver and Sampras have him beat, with Borg having as good of a peak as him and Lendl and Connors obviously having better longevity. Still, Djokovic is an amazing player and competitor, and he has proven himself to be one of the all time greats and is still in his peak, dominating the game.
Growing talent. Will become world best after some years.
Nadal fans will see.
He is my favorite!...
V37 Comments
4
Pete Sampras
This is the only person I ever enjoyed watching playing tennis when I was a kid. It was almost unreal how he never seemed to break a sweat and just kept on winning for what I think is the longest record so far. Sampras vs. Agassi matches were the most epic. None of the current crop of players even comes close!
When Pete's game was on... He didn't need ground strokes to beat his opponents.
What about those running forehands, overhead smashes and crisp volleys. Phew...
That underrated backhand... Just look at some of his backhand winners against becker, agassi etc.. You will realise that Pete had no weakness. A TRUE PHENOM
When I was under the age of 12 tennis= Bjork for a very good reason.when I became 30 tennis=Sampras.both gods of the tennis court.I think that Bjork of the 21 century is Pete you-know-who!
Must be #3, 14 Grand Slams and second to Federer on most weeks as #1. Djokovic still not at his level.
V5 Comments
5
Bjorn Borg
His competition was fierce, as he played several men on this list and usually trumped them. I don't see the current players struggling with the likes of guys like Connors, McEnroe, and Lendl. Nadal is already physically shot at 22. And Borg did it all with a wooden racket.
Bjorn Borg not only won the french open 6 times, but he also won Wimbledon 5 times Nadal may beat his career, but for now my vote is with Borg the master of clay and the grass.
Quitting at the age of 25, when still being one of the best players in the world, is unique. For ever leaving us with the obvious question: how many grand slams could he actually have won?
Simply the best who cares about the Aussie Open.
V2 Comments
6
Andy Murray
My all time favourite player he is still getting better and has the davis cup the olympic title in his pocket until someone can prise them away
I like murray but he has to win a lot more than 2 slams to be this high in the rankings
I love andy murray but he needs to play like a champion I love this champion
Andy murray is the worlds best tennis player
V9 Comments
7
Jimmy Connors
I loved to see him play. We don't have players of his caliber today. He had a personality that appealed to the public and he backed it up with the results of his games.
I think connors should be higher he still holds records for most wins and tournaments won and spent more time in top 5 then anybody who ever played
He had asthma and still set records even though he was not a tall player.
8
Ivan Lendl
One of the hardest working tennis players most others just made it on talent but Ivan worked his butt off.
Ranked number 1 for 270 weeks between 1983 and 1990...are you kidding me, this guy was good.
9
John McEnroe
People said he complained about calls a bit. But the thing is, he was right most of time. He had game, and provided some great tennis battles over the years.
10
Rod Laver
Two Grand Slams... Interrupted by 6 years. Laver would have won at least 4 Grand Slams in his career. It is embarrassing to see him rated 13! I agree with Federer and Nadal who both have stated Laver is without peer in tennis history.
11 grand slams during his career, but even more impressively, he twice won all 4 grand slams in the same year. he should be higher I would say
I had the pleasure of seeing Laver play and he was
Stunning. He had a great forehand, backhand, and brain.
V1 Comment
The Contenders
11
Andy Roddick
Good player used be better though
Andy is so hotter than federer and novak...
I'm so disappointed!
Andy Roddick is a brilliant player from America and a real shame when he retired as I thought he would have been a great champion😊
V1 Comment
12
Boris Becker
What should I share - you never publish my opinions.
15Andre Aggassi
17
Gael Monfils
Very determined! Is not worried about losing. Just plays his best.
18
Tommy Haas
most underrated tennis player ever
19
Juan Martín del Potro
Juan martin is a brilliant flamboyant player that towering over all the opponents. Get well Juan Martin you are missed at wimbledon
V2 Comments
20
Tomas Berdych
Will win a grand slam eventfully let's go tomas
V1 Comment
PSearch List
Related Lists

Hottest Female Tennis Player

Top 10 Male Tennis Players 2015
Best Australian Male Tennis Players of All Time

Top Ten Most Overrated Male Tennis Players of 2015
List StatsUpdated 27 May 2016
3,000 votes
60 listings
8 years, 246 days old

Top Remixes (31)
1. Rafael Nadal
2. Bjorn Borg
3. Jimmy Connors
wattsy
1. Novak Djokovic
2. Rafael Nadal
3. Roger Federer
syauqi08
1. Novak Djokovic
2. Rod Laver
3. Bjorn Borg
crockydyle
View All 31
Posts
Error Reporting
See a factual error in these listings? Report it
here
.