Best Scooby Doo Animated Movies
DarkLord
The Contenders: Page 2
21
Chill Out, Scooby-Doo!
This is one of the best! Why is it not high on the list?! - Daviddv0601
The plot of this movie sucks butt.
It's the worst movie in the world and space!
22
Scooby-Doo! WrestleMania Mystery
It's real for a wrestlemania to see how a wrestle life
Why we're the main wrestlers sin cara santino marella and Brodie clay and triple h is retired. I like john cena, kane, and miz but the rest I don't know. They should switch sin cara with Rey mysterio and give 2 of the best wrestlers in it alberto del rio and big show a bigger role. Also they don't need santino marella or broddus clay as much as randy orton and cm punk.
V 1 Comment
23
Scooby-Doo Meets the Harlem Globetrotters
Always loved the Globetrotters episodes. I always thought they were the best and funny, I would always rent it when my parents took me to the rental store when I was little
24
Scooby-Doo! Mask of the Blue Falcon
The monster is amazing and blue falcon is so cool!
V 1 Comment
25
Scooby-Doo! and WWE: Curse of the Speed Demon
V 2 Comments
26
Scooby-Doo: Stage Fright
This movie is being underrated in my opinion
Great movie! Most number of the same villain-5!
This movie has a bunch of phantoms and a lot of Fraphne! This movie should be nuber 1!
Scooby doo stage fright came from the idea of the first level of scooby doo! First frights and actully it is like an episode from scooby doo! Mystery incoparated
V 5 Comments
27
Scooby Doo! Music of the Vampire
Scooby Doo! Music of the Vampire is just very interesting. I love musicals so ya that's kind of why I liked it.
Very fun, I have watched 100 times and know all the words. Just love it
V 1 Comment
28
Scooby-Doo in Arabian Nights
V 3 Comments
29
Naruto Shippuden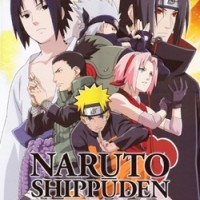 Naruto: Shippuden is the ongoing sequel to the original Naruto anime and covers the Naruto manga from volume twenty-eight on. The TV adaptation of Naruto: Shippuden debuted in Japan on February 15, 2007 on TV Tokyo. It is developed by Studio Pierrot and directed by Hayato Date.
V 3 Comments
30
Scooby-Doo
31
Scooby-Doo! and the Beach Beastie
Fabulous episode creative idea
32
Scooby-Doo! & KISS: Rock & Roll Mystery
It was an okay movie- I myself am a die-hard Scooby Doo fan, but I honestly couldn't stay awake. It focused on Kiss being superhero aliens, which was kinda out of context. It deserves to be on the list just because it could entertain younger children but as for older children, teens, and adults- they will get bored. So it's good for children between the ages of 6-9.
V 1 Comment
33
Scooby-Doo! Moon Monster Madness
V 1 Comment
34
Scooby-Doo! Frankencreepy
This one is just crazy good, and a HUGE surprise... The villain reveal is slightly cheap, but man is the plot just, insanely diabolical. The plan isn't to just scare the gang away, it is to psychologically torment and KILL them... All drama aside, the humor is still fantastic. If you love Edgar Wright films (Shaun of the Dead, Hot Fuzz, The World's End, and Scott Pilgrim vs. The World), this Scooby Doo movie shares a lot of the same humor through its editing and visual comedy, or at the very least is inspired by it. The top 10 portion of this list I find to be decent right now, but MAN does this need to be up there somewhere. Watch this underrated movie and give it an up-vote if you feel it deserves it! Lol
I just love the story plot- and I'm a Scooby Doo collector. It is honestly one of my favorite Scooby Doo movies out there. (I have it on DVD! )
Awesome movie and it should be more above
BAdd New Item
Recommended Lists
Related Lists
Top Ten Season One Episodes of The New Scooby-Doo Movies
Best Scooby Doo Movies
Best Disney Animated Movies
Top Ten Animated Movies Of All Time
Top Ten Dreamworks Animated Movies
List StatsUpdated 24 Jan 2017
1,000 votes
34 listings
5 years, 114 days old

Top Remixes (18)
1. Scooby-Doo: Stage Fright
2. Scooby-Doo! Camp Scare
3. Scooby-Doo! And the Alien Invaders
GoodNews
1. Scooby-Doo Meets the Boo Brothers
2. Scooby-Doo on Zombie Island
3. Scooby-Doo! Camp Scare
roznar97
1. Scooby-Doo! And the Alien Invaders
2. Scooby Doo and the Cyber Chase
3. Scooby-Doo on Zombie Island
Matthewn1999
View All 18
Posts
Error Reporting
See a factual error in these listings? Report it
here
.