Peru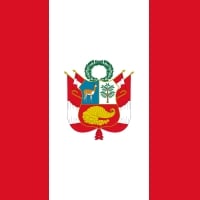 Found on wikimedia.org
Comments
Top
Newest
Great food, love the food from the coast, m, a lot of variety, the good thing about Peruvian food doesn't make me sick, like others that put many ingredients! My favorite Tiradito de Lenguado, Cebiche mixto, cebiche de conchas negras, pulpo al olivo, frijoles con seco, tallarin saltado, arroz con mariscos, arroz con pollo, dessert: arroz zambito, mazamorra, helado de lucuma, suspiro a la limena, pionono, picarones, drink: chicha morada, Pisco Sour, or Maracuya Sour, from the Selva tacacho con cezina, ensalada de chonta, Juane de gallina, Cebiche de dorado, drink, aguajina, dessert :helado de aguajina, wow is a lot of variety even if you are vegetarian, simply delicious! I don't have time for write all of the dishes!
It's a 500 years fusion of not only inca and Spanish culinary traditions but also arab, west African, Italian, Chinese, Japanese, French, German, English (and probably more). Peru is a land with one of the world's largest variety of ingredients, it has a long coast that goes from the Ecuador to Chile, deserts, the Andes, the amazon rainforest, the altiplano... Where you can grow pretty much everything you can think of and already has a lot to offer.
With the Chinese, Thai, Spanish and French, TOP 5 FOOD IN THE WORLD
Peruvian food is exquisite. It has a lot of diversity and it tastes wonderful. Actually, Peruvian food is officially one of the 5 best foods in the world. I know people is going to vote for their country, but if you give Peruvian food a chance, I'm 100% sure, you're going to love it. If you try one Peruvian dish and don't like it, try another one! As I said, there is a lot of variety. Give it a try!
The best and most original I've ever tried in the world, to me it's number one on any list, I also like chinese and french, every country has something good to offer, but not as unique and vast as this one, I see people praising burgers, wieners and chips and it just makes me laugh... Other ignorants say french and italy are the only good ones and the rest is garbage... Apparently they have not seen the world
I'm Peruvian, and I have tried food from many countries, but I have to say that Peru has a culinary flavour really special and different, I like the variety that you can find and the fresh products you can eat food from the sea, the mountains and the trees all mix in more than 1000 kinds of different delicious dishes. Of course, there are countries on where you can enjoy really good food but my favourite is Peruvian food!
Peruvian food is really matchless! I think Mexican food has been popular because their neighbors, the Americans, have litle or nothing to choose from when it comes to eating, thus the most exotic and varied kind of food near them is not the Canadian one, but the Mexican one, and this is why they have made it look good through their movies and cartoons, and accordingly very popular. If they knew what Peru food is like, Mexican food would not be in this list, as it is not that good, really.
peruvian food is considered the best in the world, there is none like it, the peruvian food has a huge varity of plates etc. you will not find any country wiht so many and so tasty.

Ps United States has no food.. but country nasty none tasting food. sorry.. jsut the truth..
The Peruvian food boasts unique flavors because of its unique ingredients and the variety of foods is amazing, each one completely distinctive.. Many other countries have repetitive ingredients that change just the title or add one or 2 more ingredients. So personally I don't find it really extraordinary. Besides France, Peru is the best.
The best food, not country cook like a peru people, its just amazing, nothing you wont like, everything is tasty and I'm a fussy person, when I went there I just couldn't believe all the food in different ingredients and they all look fine food, like you eating in a super fancy restaurant second French food
Peruvian food is delicious, unique, and also has so many different dishes, I have tried 109. Each of their three regions Coast, the Mountains and the Amazon has their own typical dishes and the mixtures among them creates yet more amazing new recipes, but it doesn't end there immigration from Asia Europe, the middle east and Africa has given an extra flavor to this magnificent Peruvian food.
It has everything and it tastes delicious every single time you try it. You never get bored with it, never! No matter where you are, you will repeat your portion once more. Peru won 2013Â's culinary award, and it is way superior to any Latin American, Asian or European country's food, although they are good, too. I miss it so much!
Unlike other Peruvian food is unique for its variety and taste, peru has different natural regions and each region brings a different style of food, only in the city of Arequipa you can find more than 200 different dishes, the taste, undoubtedly Peruvian cuisine is the best in the world
I think the best good in the world is the peruvian's food. For example: "ceviche" similar to "japanese sushi", "rice with duck", "olluquito with charki", "cau cau", "escabeche with fish", "chili of hen". Some deserts, "mazamorra morada", "rice with milk", "suspiro a la limeņa", "ranfaņote". - buengusto
BY VERY LONG THE PERUVIAN FOOD IS THE BEST OF THE OTHER 4 THAT YOU NAME. FIRST THING IS THAT IF YOU GO TO PERU FOR A YEAR YOU CAN EAT SOMETHING COMPLETELY DIFFERENT FOR LUNCH AND DINER FOR 365 DAYS AND EVERY THING WILL BE MORE MARVELOUS TASTE OF THE WORLD
Great variety! Thousands of flavors! Something for everybody. My favorite thing is that you find fresh, delicious seafood that is NOT necessarily breaded or deep fried. Makes you feel that healthy can be scrumptious. I have traveled the world and am a dedicated food lover. Peru takes the cake any day of the week! Ah! Did I mention desserts? Best in the world!
I think... who could live without peruvian food... we have all variety of dishes... sea food, one hundred ways to cook chicken, meat, we have a lot of kind of potatoes... its amazing the variety of foods, iam peruvian and always say who could live without peruvian food
Perfect good, nothing to compare with french or Italian food. Just tasty, wonder fuel, full of colors and crear combinations. Do not miss to try ceviche, papa a la huancaina, seco de cordero, chicharrones, tamales. Therese is too much to choose from. Just enjoy!
Peruvian food is the best food in the world! The best in my opinion is Papa la huacaina, Arroz can pollo, Ceviche, Lomo Saltado, and more! All of this is delicious! When you try it it will change your life forever!
Peruvian food is the best in the world it is great lomo saltado anticuchos papa a la huancaina I tried peruvian food because of my father he is Peruvian my mom is dominican everybody in my moms part of the family says dominican food is better but I think Peruvian food is a lot better

the flavor 'n explosion of them into the mouth... proves that peruvian cuisine makes us all enjoying of a unique sensation in the world... variety are its very flag for showing us the mixture of its cuisine... so so so good... I'm writing it 'n my tongue gets involve of water...
Peru has the best cuisine of the world because of the variety of the mixture from other culture influences, the variety of dishes is rich in the world compare to other countries, and the food is tasty, and rich in flavor, there is no reason for Peruvian cuisine be in the 13 spot, go find out for yourself, it is the best I have tasted so far.
Best food in the whole world. An amazing diversity of ingredients. Every region has its own unique taste. Also, Pisco, a Peruvian drink, was appointed as the best alcohol drink in the world in Brussels, Belgium. Go to Peru and you will experience the most amazing cuisine!
My reason to why Peruvian food is good is simply because it very delicious, a great taste, and yes they have a very large variety not seen in some other parts of the globe.
The fruits, vegetables, and meat are fresh. They will also let you have the recipe if you ask kindly (unless it's a family secret ). Very hospitable service is there as well.
I must say that it is so ' GOOD!
You must try it! I took an American friend to a Peruvian Restuarant
And about a month later he tells me that he had gone with his wife every single day and had all the different dishes at that restaurant. He thanked me so much and he began taking his own friends to this restaurant. Just try it... and I know you will fall in love too!
Peruvian food is the best thing in the whole world! You need to try something even just on desert! It is better then anything you will ever try and you will fall in love! &lt3 if you don't then there is something wrong with you like so serious laugh out loud