Pink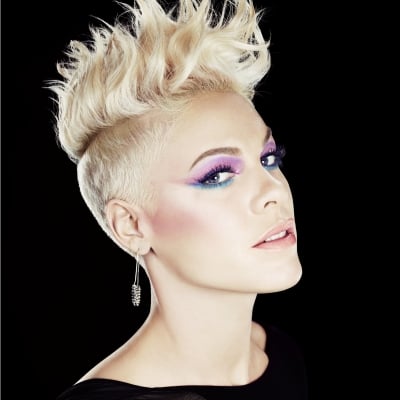 Found on amazonaws.com
Comments
Top
Newest
Really? Below Britney? Everyone knows Britney no longer uses true skill, only auto-tune. Anyway, P!Nk has one of the most original voices in the music industry that has gone through a range of genres: R&be to Pure Pop to Rock Vocals to Pop-Rock. She is PURE talent.
Pink has a pure and natural voice whoever says that she uses machines or computers for her voice that is not true. All the computing crap refers to Britney Spears. Pink is great. Her lyrics are very interesting and entertaining. I just don't see how is she lower then Gaga or Rihanna. She isn't just amazing as a singer, but also as a person- I saw some of her interviews and you can see that it's a good mother, a great friend and a creative and imaginative mind speaking! Also, she has an awesome sense of humour.
P.S. no offense, people. Just my opinion. Rihanna and Gaga are good... In their own way.
P.P.S. pink is my hero and inspiration!
P.P.P.S. pink forever!
With respect, Valeria
Pink offers a new sensation to singing. Her talent is pure and her lyrics are mind blowing. they create impact to who ever listens. she is a indivual who branches out to a wider audience then she evr thought. Pure beauty in lyrics and a understated voice of angelness xx
Her voice is phantasmagorical - totally amazing - not other female singer like it - ever. One of the greatest female vocalists you'll ever hear, and one of the best live performers you'll ever see. Totally brilliant. Will one day be regarded as one of the best female vocalists ever.
Only young, but one of the best female vocalists ever. Should be in the top 5. Deserves a lot more recognition. Can sing just about anything brilliantly, and with real emotion and energy. A great all around performer and dancer as well!


Pink is one of the few mainstream singers that I actually enjoy listening to. She puts the right amount of power into her voice, so its not weak and tuneless, but she doesn't have to yell, either. Her songs aren't all about getting drunk, and partying (cough cough kesha) and they actually have a deep and profound meaning.
She is awesome. I would raise my glass for her! Hands down. she should be higher up on the list. Songs like Sober and don't let me are great she should really be higher up way higher up than Miley Cyrus. Why won't people vote?! Well she is in the top 40...
Can't believe she's under Rihanna. To me, the best female vocalists are the ones who can deliver in live performances. I've seen Rhianna perform live and she's pretty bad. If you listen to Pink's live performances she is solid as and even does her own stunts and that's not something many artists can deliver on a live stage.
Pink!, her voice, hard work, truly human attitudes and believability of what she does and gives to audience deserves more attention and appreciation. Just to mention - is there any other vocalist so shining in Robert Plant's parts withstanding critical comparison?
P!nk is¦ The best. She is an amazing vocalist that can reach the high as well as the low tones. She also has an awesome image and she's a huge inspiration for people all over the world. I love her.
The perfect combination of rasp, smoothness, and emotion in her music. She writes her own music, and has a powerhouse voice better than Christina Aguilera's. She has often been compared to Janis Joplin for her amazing skill.
her voice is so amazing she has a pure raw talent i bet mariah cant sing like she dos she has a mighty pear of lungs and her songs are the best she is one of the best singer and song writers ever family portrait made me cry
She has an amazing voice, style and attitude. Her lyrics are very meaningful and encouraging. Last but not least she sings great while doing acrobatic actions without lip-sync! She is a legend!
Pink is the most talented female vocalist I have heard in years. And honestly much better than many of those. She easily belongs in the top 10, and probably the top 5.
P! Nk hung upside down wet and swinging during her Grammy performance and she was singing so perfectly, then you have the VMA's performance where she was doing splits, getting tossed around, and performing to what I believe to be a contemporary piece: she still sounded absolutely amazing, with barely any out out of breath or out of tune moments. She's amazing.
She sings with her heart and writes with her soul... Lyrics that people can relate to, that's the most amazing thing a singer can do
I think pink has the most talented because her songs to me are about being who you are and never give up on something important. But that's to me because on the song f##king perfect is my favorite. Because I know I'm not perfect at all.
The best female pop/rock vocalist of the last 10 years! Her songs are so meaningful and her singing had a unique emotion... Just Awesome! Love P!NK

Pink is the best singer every you always hear her music on the radio and has played at the grammys. Pink has a amazing voice if you have never heard it listen to it now it is great P!NK GO
IF YOU ARE SEARCHING FOR A TALENTED AND A SUPERIOR SINGER THEN "THAT'S P!NK, THAT'S P!NK, THAT'S P!NK

I REALLY LOVE HER

She is extra vacant..

Her song just give me a reason is very nice..

This lady his mind blowing
Very much deserves to be in the top 10 in this list.

Best pop/rock/R&B/jazz female vocalist ever.
Pink has one of those voices that can go from emotional and heartfelt to tough and edgy, that, my friends is impressive. She can sing a lot of genres too, from pop to r and be to hip hop to pop punk, which is also just awesomeness
I love that she wrote Dear Mr. President - what a wonderful song that tells such a true story. Pink you are an amazing singer - beautiful voice!
All you need to do is listen its obvious no matter what kind of music you like. She sings it all - tkdrgnon
She has an awesome voice. Not only that, she knows how to affect people with her songs, not only by her lyrics but also on the way she sings it
Related Lists
Best Pink Floyd Songs
Top 10 Pink Songs
Best Pink Floyd Albums
Best Songs From Pink Floyd's The Wall
Best Songs From Pink Floyd's Dark Side of the Moon