Funniest Disney Characters From Animated Movies
The Top Ten Funniest Characters from Animated Disney movies.
The Top TenXW
1
Genie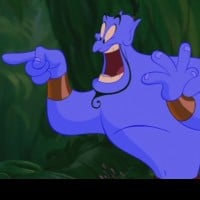 Genie is one of the funniest and most creative character I've ever imagined. Every once in a while I watched Aladdin and when the part genie appears and starts to make a lot of funny magical things, it's just simple 'never gets old'
You can't go wrong with Robin Williams. Sure his pop culture references are somewhat outdated, but I still get a laugh from them. He also gets some fun songs, "Friend Like Me," and "Prince Ali"(again by Howard Ashman and Alan Menken).
The Genie is just so funny, with all of his puns, jokes, and references! "It never fails. You get in the bath, and there's a rub of the lamp" is one of most favorite lines in Disney history. HAIL THE GENIE! :D
I wish he was my genie
V23 Comments
2
Dory
It's me... Biggest brave/tangled maybe frozen fan... Dory is Hilarious! I can't count how many times she makes someone laugh! ES-CAP-E! Funny thing it's spelled just like escape! That gets me every time, I even happen to be the best friend of Dory's biggest fan
I totally agree! I'm a brave frozen tangled fan also... I want to meet you someday. What's your name?
I love Dory! Without her this movie would be incomplete! Ellen Degeneres is hilarious! Plus, I don't think Marvin would've made it through his journey if it wasn't for her!
"Just keep swimming, just keep swimming", very good and very funny.
Just keep swimming just keep swimming... - SamuiNeko
V23 Comments
3
Olaf
This is #1. No doubts. One of the funniest Disney characters ever! "Just knock. Why aren't you knocking? Do you think she knows how to knock? " laugh out loud! How do you guys like dory better then Olaf? Not being mean or anything but seriously. I absolutely love his summer song, probably my second favorite song after let it go. Olaf is really funny!
Olaf is funny stop being mean! A snowman that loves summer is the greatest idea ever! Olaf is funnier then dory that's for sure! Olaf has several funny lines. He's number one for me!
Olaf is probably one of the most funniest character ever! "He's craazy! I'll distract them when you run! Anna since I love you, I insist you run... Why aren't you running!? "
I loved the "cute little nose" part - Navylexi
V32 Comments
4
Rex
"did anyone see my tail" you have to love "how do you spell FBI? " I love Rex and not just because he is a dino he is funny and some what cute
He's so simple minded, that makes him the funniest Toy Story character around.
"Use your head! " Rex yells, "I don't wanna use my head! " Make toy story 4 please!
Pretty much all of the quotes your using r my favorites. I heart rex forever!
V5 Comments
5
Kronk
I haven't even ever heard of this character-who is he/she?
Emperor's New Groove was the funniest Disney movie.
Kronk is really dumb sometimes but that's what makes hime hilarious. Also, His theme song is awesome
V6 Comments
6
Wall-E
The sweetest, most loveable little robot we'll ever come across. He can't speak, but you've still gotta love his clumsiness anyway. - sameera62
There is a reason he is higher on this list than olaf, he doesn't need to talk much to be funny. Plus, WALL-E came from the geniuses at pixar, not whoever decide to last secondly throw in olaf
I love the movie
Russel, Timon, and Pumbaa sucks
V7 Comments
7
Russel
He's so cute :) How could you not love him
*Russel's voice* 'Mr Fredrickson' and 'Kevin's a girl?! '
Mr. Fredricksen, am I supposed to dig the hole BEFORE or AFTER?
Good afternoon my name is Russell and I am a Wilderness explorer
I liked russel very much.
V6 Comments
8
Pumba
The first Disney character to fart - Ajkloth
Laugh out loud, listen to Pumbaa's singing voice. He's so talented! With his big mouth, Pumbaa sure can be ranked as at least top 10 in opera.

Timon: When he was a young warthog
Pumbaa: When I was a young warthog
Timon: Very good.

Such sexy Disney characters they are.
The names Mr. PIG!
V6 Comments
9
Sebastian
The thing made him funny was his accent I think
First we got to create "the mood". One of my favorite lines in any Disney movie. Love the accent. - jbuch01
I think Sebastian is awesome 'cause he escaped a guy trying to chop him up so he could be eaten! How cool is that?
His accent makes everything funny. I love him
V6 Comments
10
Mushu
I'm 14 and my brother is 18 and we still love watching this movie because of mushu he is so hilarious he literally makes your guts bust. If you haven't seen this movie you have to! It is great because of him

Mushu: Say it to my face ya lip noodle
Mushy is hilarious! How can anyone NOT think he's funny. He has a great wit and is an awesome, funny character!
Haha! Mushu makes me ROLF. "dishonor on you, dishonor on your cow." and "Punch him it's how they say hello, now slap him in the behind, they like that." how can you get any funnier!
This is not the type of funny where after you've seen it once it wares off. You can watch this movie again and again, and still laugh like a kiddo every time!
V15 Comments
The Newcomers
?
Chi-Fu
Man, I hate this guy. But he has a lot of great lines and some really great visual gags, like the picture of him shaking hands with the Emperor.
The Contenders
11
Ed
He don't say a word in lion king but his personality is hilarious. " so what do you think Ed " "oh hmm hahaaha! "
He is completely stupid!
12Princess Anna
13
Timon
He's smart and knows how to be sarcastic. Awesome!
What do you want me to do, dress in drag and do the hula?
That's a ton of energy for one little meerkat.
V4 Comments
14
Mr. Potato Head
I like him like he says do we have to hold hands, hey look I'm Picasso, and humour dumpty was pushed by woody. -
All hail potato head! - sladetilldoomsday
15
The Duke of Weselton
The funniest Disney character ever! - trsryryryry
I like his fake hair
16Edgar the Butler
17
Hades
Hades is HILARIOUS.

"I've got 24 hours to get rid of this bozo, or the entire scheme I've been setting up for 18 years goes up in smoke... and YOU... are WEARING... HIS MERCHANDISE?!?! " -Hades
Best comedic Disney villain ever!
Seriously, why isn't he on here yet? - AnnaOfArendelle332
Should be number 1
V6 Comments
18
Baymax
Hello. I am Baymax your personal healthcare companion.
24? Are you kidding me? He needs to be in the top 10 at least!
Hairy baby! Hairy baby
V7 Comments
19
Sven
# number 2 after Olaf!
20King Louie
PSearch List
Related Lists
Best Disney Animated Movies With Female Lead Characters
Best Disney Animated Movies
Hottest Female Animated Disney Characters
Top Ten Forgotten Disney Animated Movies
List StatsUpdated 25 Nov 2015
700 votes
122 listings
4 years, 162 days old

Top Remixes (12)

1. Genie
2. Sebastian
3. Kronk
Smmaloney1
1. Russel
2. Dory
3. Wall-E
masterblaster
1. Dory
2. Genie
3. Rex
Ajkloth
View All 12
Posts
Error Reporting
See a factual error in these listings? Report it
here
.