Best Guitarists Ever
The Contenders: Page 7XW
121
Jeff Loomis
Jeff Loomis is an American musician, best known for his role as lead guitarist in the progressive metal band Nevermore and death metal band Arch Enemy.
His work at Nevermore and his solo work called Zero Order Phase deserves to be recognized. He is visceral, has an incredible technique and has the ability to pass true emotions in strums. Watch him playing and you will be surprised.
Seriously one of the cleanest shredders to date, and probably the best sweeper out there. Not only are his solos amazing, he also is a great songwriter. His absence from the Top 100 proves, that this list is utter crap!
122
Pat Martino
Incredible fine notes, a really master of sound
123Matt Bachand
124
Noel Gallagher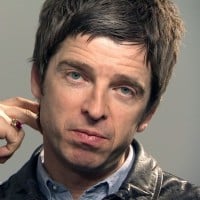 Noel Thomas David Gallagher is an English musician, singer, songwriter and guitarist. He served as the lead guitarist, co-lead vocalist and principal songwriter of the rock band Oasis.
He is the god of guitar, Noel the Son of Rock & Roll Music, every sound is different from another..
Legendary guitarist and song writer, second best to the Beatles...
He is the greatest Guitarist in the world, I love his legendary solos and his Songwriting for Oasis! PUSH!
What is this prat doing on the list? NO.
V7 Comments
125
Allen Collins
He should be in the top ten guitarists. I mean just listen to his solos, especially the free bird one. Anyone who has a bit of common sense will boost him up.
Honestly, how is this man never featured in top 100 guitarist lists, when his most famous solo is frequently rated in the top three? He may not be a shreader, but his solos had energy, power behind them, and were not just some scales thrown together in a manner in which you can't even hear the individual notes. This man does not "Shread" at all, he actually plays.
Honestly should be in the top five. He is never voted in any lists but is truly one of the best that ever lived. A lot better than Jimmie Hendrix in my humble opinion.
Great player that had a hard life, abandoned by many of his so called "Friends" in the end RIP brother.
V7 Comments
126
Jerry Garcia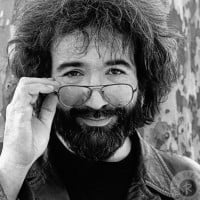 Jerome John "Jerry" Garcia was an American musician best known for his lead guitar work, singing and songwriting with the band the Grateful Dead, which came to prominence during the counterculture era in the 1960s.
As Bob Dylan elogized "There's no way to measure his greatness or magnitude as a person or as a player. I don't think eulogizing will do him justice. He was that great - much more than a superb musician with an uncanny ear and dexterity. He is the very spirit personified of whatever is muddy river country at its core and screams up into the spheres. He really had no equal. To me he wasn't only a musician and friend, he was more like a big brother who taught and showed me more than he'll ever know. There are a lot of spaces and advances between the Carter Family, Buddy Holly and, say, Ornette Coleman, a lot of universes, but he filled them all without being a member of any school. His playing was moody, awesome, sophisticated, hypnotic and subtle. There's no way to convey the loss. It just digs down really deep."
Garcia has as much grace in his playing as any guitarist, and his ability to defy conventional boundaries between rock, blues, folk, and bluegrass should put him no doubt in the top ten. He has unlimited talent, and who else could play for 2 hours straight without ever ceasing to create one new, mesmerizing riff after another. A true genius who apparently deserves more respect. This list is ridiculous.
Seriously. Seriously... I really don't know what to say. There is no such thing as artists, only art. We can be instruments ourselves and that is the closest we can get. This man was a telephone line to the great operator. His tones are amazing. I'm pretty sure he ate rainbows for breakfast.
Jerry Garcia was probably the best improviser on the guitar. - Rambles
V19 Comments
127
Scotty Moore
He was Elvis Presley's first lead guitarist. He was the best rockabilly man in his day. His riffs in That's Alright Mama were legendary.
Scotty Moore was great. He was part of Elvis Presley's backing band. He was a big reason why Elvis was so influential and great. - Rambles
V1 Comment
128
Gary Holt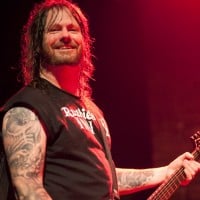 His first solo in "You Against You" is face melting, wild, and eargasmic!
V2 Comments
129
Alvin Lee
Alvin Lee plays tremendously fast and accurate (good tone). Let's not forget his performance with Ten Years After and the the amazing middle section of the song riff on I'd Love To Change The World. Alvin Lee and Ten Years After made history playing at Woodstock. - ekos
Not just speed but feeling, variety, composition, originality. He could really get you lost in his melodies. The best guitarist ever by far. Completely underrated.
Just the insane transitions in "I'm Going Home" are enough, but don't forget "Woodchopper's Ball" and their version of "Good Mornin' Little Schoolgirl". Kick Ass.
Alvin Lee is in the greatest top ten of all time. Amazing guitarist...
V10 Comments
130
Paco de Lucia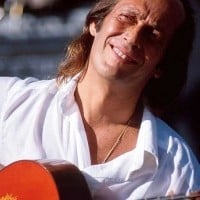 Francisco Gustavo Sánchez Gomez, known as Paco de Lucía, was a Spanish virtuoso flamenco guitarist, composer and producer.
The best in Spanish and flamenco music

Just look for it in YouTube

It's the best one we ever had in Spain
Perfect technique, full of passion; many others can play as fast as he does but the pack is not full but Paco's is.
Nothing more to say.
I see you have a bunch of 12 year olds voting who can play rock star. Paco de Lucia is far better than Slash or Hendrix, of course if you've never heard him play, than you don't know. Do yourself a favor and look him up on you tube. - sloank68
The best of all time
V25 Comments
131
Joe Bonamassa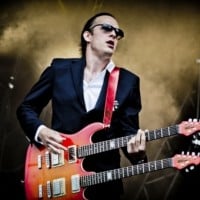 There is something special about this guy. His head is totally into his music and it has been since he was a child. Unlike other music savants, he seems to channel all of his energy and talent into "growing" in his work. I was able to see many of the amazing guitarists in the 60's and 70's and I'm not sure how anyone can vote for anyone but their own personal favorite. But I believe, if it were possible, to get all the greatest guitarists on a stage at the same time (playing in their prime) Joe very likely might be the last man standing. He's not even 40 and he's been playing professionally for over 30 years. And with his attitude and love for his work, more and more people are going to discover this huge treasure and gift to the world. If you get to know him, You'll love him.
I would say this number will change as people get to see this man play he is every bit as good as Page or Beck...
Joe is the best that I have ever seen or heard. I started listening to all types of music in the mid-50's, especially blues -based guitar starting with Robert Johnson until now. Joe embodies all that is past and present with a unique sound that is unmatched. Each note has a purpose within the songs he plays, some slow, some fast, and each remembered. Albert King, Hendrix, Clapton, and Santana come close, but at this point in time, Joe is the best. Check out the song "The Great Flood" if you don't believe me. It will bring tears to your eyes.
It's wonderful to see one so young and with so many years experience have a bottom line to put forth his best effort every time out and with a humility to want to honor those who have gone before him and have influenced him and with a crispness of notes played showing his professionalism that is not compromised by substance abuse nor by unkempt appearance. He shows respect for all people that he performs in front of. His style spans so many genres and age groups. He is the epitome of a musician who cares about his audience. Bully for him!
Just saw him...thanks again JOE!
V64 Comments
132
Larry Carlton
Pick up any one of his albums /disks, or listen to some steely dan. No one compares
V1 Comment
133
Jonny Greenwood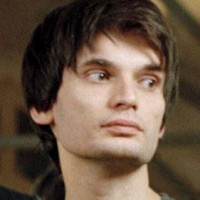 Jonathan Richard Guy, professionally known as Johnny Greenwood is an English musician and composer, mostly known for his role as the one of the lead guitarists and main keyboardist of the English alternative rock band Radiohead.
I know not everyone agrees with me when I say he's the best guitar player ever, but you have to at least acknowledge that he deserves a better place here, jonny is one of the most creative guitar players ever and for me he's definitely the best all around musician ever
I don't know how can anyone could be so ignorant! He's a legend. Lead guitarist of one of the greatest bands today, RADIOHEAD... He's just so innovative... And my inspiration to become a good guitarist
Easily in the top 10 of active artists. Dude did the soundtrack for there will be blood. Enough said
Most underrated guitarist ever - Rorywilbren
V14 Comments
134
Dave Grohl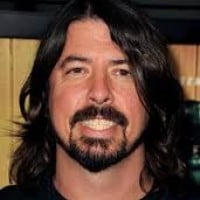 David Eric "Dave" Grohl is an American rock musician, multi-instrumentalist, singer, songwriter, and producer. He is best known as the drummer for the grunge band Nirvana and the vocalist/guitarist for the alternative rock band Foo Fighters.
If you think Dave Grohl is a bad guitarist listen to and watch the ending of "Razor" in the "Skin and Bones" live album.
140? Your kidding me right, listen to Everlong, The Pretender, Long road to Ruin and Learn to Fly then decide
Over 260 million dollars from Nirvana, Queens of the Stone Age, and Foo Fighters
Better drummer, mediocre guitarist at best...
V9 Comments
135John Goodsall
136
Steve Cropper
In 1996, Cropper was named "the greatest living guitar player" by Britain's Mojo magazine. When asked what he thought of Cropper, the guitarist Keith Richards said, "Perfect, man. "

"At this time Cropper's fame was not limited to the United States. The Beatles favoured Cropper's playing, and his production on Otis Redding records. John Lennon and Paul McCartney made tentative plans to record in Memphis, and to work with the guitarist. "

Rolling Stone lists him (Cropper) 36th on their list of the 100 Greatest Guitarists of All Time.

... And he's a relation. Need I say more? Look him up...
V1 Comment
137Eric Lambert
138
Chris Broderick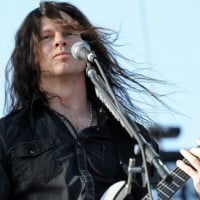 Christopher Alan Broderick is an American musician, best known as the former lead and rhythm guitarist of the American heavy metal band Megadeth.
Go look up "chris Broderick betcha can't play this" on YouTube and watch him go and he's also been with megadeth for the last few albums
#140? Lets put Kerry king In top ten.this list needs fixing. Broderick is awesome!
139
Willie Adler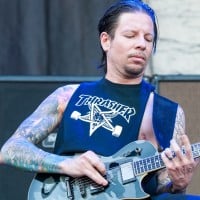 In my opinion, he is one of the best riff-writers. Take a look at them
140
Warren Haynes
Look on you tube for Warren's guest performance with the Dave Matthews band, playing Cortez the Killer ( you know Neil Young's epic song! ). After having heard this one, you'll know where Warren should be ranked.
He might be the best out there today, his covers with The Mule are amazing! He can play The Dead and Neil Young same night!
Can play some of these guitarists music in todays feel
Warren is the best hands down
V4 Comments
PSearch List
Recommended Lists
Related Lists

Best Metal Guitarists
Best Japanese Guitarists Ever

10 Most Influential Guitarists

Best Rhythm Guitarists

Greatest Electric Guitarists
List StatsUpdated 7 Dec 2016
195,000 votes
1,074 listings
10 years, 191 days old

Top Remixes (552)

1. Duane Allman
2. Jimi Hendrix
3. Eric Clapton
lordofthejimmy

1. Jimmy Page
2. Kirk Hammett
3. Dimebag Darrell
Coatsy

1. Albert King
2. Buddy Guy
3. Prince
leongregory
View All 552
Posts
Why Prince is the Greatest Guitarist Ever
admin
New considerations for the best guitarist.
windycityboy
John Frusciante
fruman
greatest guitarists
sloank68
Top 5 guitarists
southhockey8
Stevie vs. Jimi
bruski1986
On greatest guitarists.
Apollyon477
The great guitar battle.
booklover1
how a top ten list isnt a top 10 list without the best
tythoon
top 100 guitarists
russian
Slash Should Return to Guns N Roses
Alpha101
Dead Guitarists and Their Legacy
visitor
Error Reporting
See a factual error in these listings? Report it
here
.