Hardest Video Game Bosses
LucasMota
The Contenders: Page 3XW
41
Jasper Batt Jr. - No More Heroes 2
This guy is mind numbingly cheap. Just look up a Worst Bosses list on YouTube, look for one by someone named The Autarch, and the horror and rage will become evident.
This irritating little prick is just plain unfair.
Jaspers window will destroy you
42
Phantamanta - Super Mario Sunshine
I didn't think it was that difficult. Just stay on the shore and keep spraying.
43
Dark Link - Zelda II: The Adventure of Link
This makes me want to rip my T.V. to shreds in a paper shredder and throwing it in a volcano then throwing the volcano into the sun and throwing the sun into a black hole.
44Athetos - Axiom Verge
45C'Thun - World of Warcraft
46
The Yellow Devil - Mega Man
Okay, seriously, compared to the Wily Capsule from Mega Man 7, Yellow Devil is a joke. Honestly. - xandermartin98
ANNOYNG AS HELL! (but awesome music) - LucasMota
There's a difference between difficulty and annoyance. - MKBeast
You can beat him with no pausing
V1 Comment
47
Steel Mechorllia - Mother 3
This guy can hit like a truck, but he isn't too hard. - MKBeast
48
Horseback Ganondorf Fight - The Legend of Zelda: Twilight Princess
Ganondorf and his horse will run into you over and over and over again plus it's hard to hit ganondorf and his horse because of how weird the controls are
I actually thought his final phase was the hardest, this one being the easiest.
49
Yunalesca - Final Fantasy X
SHE HAS 3 FORMS HARDER THAN SEYMOUR FLUX!
50
Wizpig - Diddy's Kong Racing
If you mess up once you might as well start over
51
Boolossus - Luigi's Mansion
It starts off easy but as I got to the final boos they become almost impossible to capture. - egnomac
V1 Comment
52
Galacta Knight - Kirby Super Star Ultra
Marx Soul has nothing on this guy. It is literally impossible for me to beat it without stone... And EVEN THEN it's EXTREMELY HARD! It's really hard because of how FAST he is. Because Meta Knight wasn't hard enough...
53Red Falcon's Brain - Contra 3
54
Henry - No More Heroes
If you want No More Heroes, be careful of his Instant Kill attack.
55Zero - Kirby's Dreamland 3
56
Red - Pokémon Heartgold/Soulsilver
I had to get help from my brother because red kept hurling hail and charzard killed me
This guy has got to be the hardest boss I've ever faced. All of his Pokémon are at least level 80 with overpowered moves, not to mention there's hail (which hurts all Pokémon on the field, making it a double-edged sword), which his Lapras is immune to. I've only beaten Red with a Mewtwo, A.K.A. the cheater's Pokémon, and even then I only won because the hail killed his last Pokémon. He's much harder than in the Gameboy Color version; there, his Pokémon were 10 levels lower, there was no hail, the moves he could use were different, and he had an Espeon instead of a Lapras. Red is evil, no doubt.
57Another Joe - Viewtiful Joe
58
Ballos - Cave Story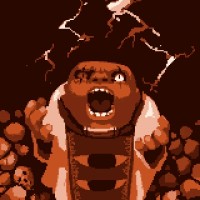 This boss is RIDICULOUSLY hard! I couldn't even believe it, when he first attacked he rammed into me and knocked off half my health and then flew around a bunch and stomped on me. He did this for a while, and then summoned lightning. Instant KO.

I died.
59
The True Arena - Kirby Super Star Ultra
V1 Comment
60Majestic Mordred - Xenoblade Chronicles
PSearch List
Recommended Lists
Related Lists
Easiest Video Game Bosses
Hardest Video Game Levels
Best Video Game Bosses of All Time

Top 10 Most Infamous Video Game Bosses

Top 10 Most Iconic Video Game Bosses
List StatsUpdated 9 Dec 2016
1,000 votes
504 listings
6 years, 105 days old

Top Remixes (38)

1. Sans - UnderTale
2. Mike Tyson - Punch Out!
3. Tabuu - Super Smash Bros. Brawl
TemmieHoi
1. General Tor - Iji
2. The Guy - I Wanna Be the Guy
3. Shadow Devil - MegaMan X5
ale4leo
1. Ghaleon - Lunar: Silver Star Story
2. Laraxia - Invasion
3. Mike Tyson - Punch Out!
MasterH
View All 38
Posts
Error Reporting
See a factual error in these listings? Report it
here
.