Anne Curtis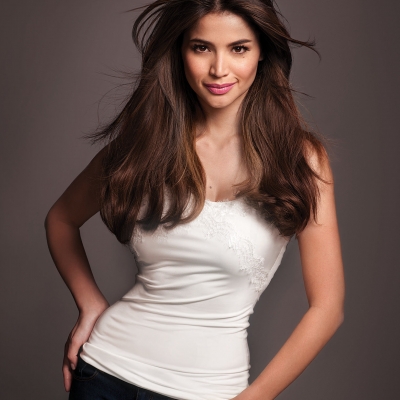 Found on files.wordpress.com
Comments
Top
Newest
I like anne curtis.. No one can defeat her beauty and sexyness.
Anne Curtis is sultry and oozing with confidence without even trying. EFFORTLESS! Anne Curtis, undoubtedly one of Philippines' Finest.
Anne Curtis is a gorgeous woman and she have an inevitable beauty, she is outstanding and very humble! She has many accomplishments in her life but still, she remains down to earth and God-loving! I love Anne Curtis! She can carry herself in front of all people. She deserves to be the hottest woman in the world!
She's very very sexy and beautiful woman.
She's the HOTTEST WOMAN ever! Having doubts? Just Google her.
Simple words to describe why she deserve to be the Hottest Women in the World. As of now, "ANNE CURTIS is the Philippines SUPERSTAR based from E! News Asia where she will have a special documentary and the FIRST and ONLY filipina actress to be featured. She is also the "FIRST filipina actress to endorsed a well-known & expensive shampoo product that also endorses the likes of J.Lo, Beyonce, Penelope Cruz, etc., which is L'Oreal". She is also the "FIRST filipina actress to reach 1 million followers on twitter and now it reached 5 MILLION FOLLOWERS and still counting". She is also the "FIRST filipina actress who is a non-singer but end to be successful one by having a Blockbuster Concert locally and internationally. With so many first to mention. ANNE CURTIS deserves to be the "NO. 1 HOTTEST WOMEN IN THE WORLD" because aside from what I just said she also have the heart of an angel who cares for the poor and help people in need and act as a role model to the youth. My words are not enough to describe such amazing, beautiful, gorgeous, stunning human being that God has created. That's why let's put Anne Curtis to the top and make her No. 1.
She's the BEST! Hot and Sexy woman! She deserve to be on TOP 1!
She is very pretty and have a very hot body, with an extraordinaire beauty anne you're on top of my list. Go Anne Curtis!
She's a total package. She's beautiful inside and out. She has an extraordinary looks and charms. She's one smoking hot actress!
She is perfect&lt3 Anne is a goddess inside and out. Has good manners, god fearing, can dance, proud that she can't sing ( but people were crazy when she was given a concert-twice), she's humble, dresses well even without make up on, family oriented, gay like attitude sometimes, loyal and true friend, simple dreams, top endorser, she goes to the gym, friendly, crazy most of the time in a good way, loving sister, best actress, versatile and she speaks good english, you can place her anywhere she'd get along just fine :) I like her. She deserves to be on top than angel locsin. Anne curtis followed by jessica alba then Cameron Diaz.
Anne Curtis is an outstanding actress and an excellent T.V. host. People Asia's National Sweetheart. She can capture your heart just by her smile alone. An amazing woman with a great personality and a kind heart. An excellent role model to the youth that everyone looks up to.
She s a great woman and she is my inspiration in my journey in my life and she is my inspiration or a model to the dreamers mother dreamer because of her believes in her life. And of course she very supportive in her family and by being kind to us and I love her very much she s the one I wanted to be in my life and she is beautiful inside and out and she is the and I am very happy because she always support her supporters and her supporters will supporter until the end of the world she will always be my inspiration idol Anne your one of a kind your crazy inside and makes people smile! I will keep supporting you idol! I love Anne Curtis
She's just really awesome and has a great personality..
She's very beautiful and now she's done shooting for the movie RANSOM BLOOD,. , our dyosa anne deserved to be recognize,. ,
The real meaning of hotness is Anne Curtis smith
Love her being who she is.. Its exceptional that's why shes sexy for me!
She's beautiful and humble as being as a normal person with a brilliant personality. I like her very much.
Anne curtis is the hottest woman here on earth, her being bubbly makes her no. 1
Anne is a good example for young generations. Very honest and down to earth
She's one of those people who can easily get along with people. She's not afraid to blend in with the masses. She is very humble and has a GREAT SENSE OF HUMOR, which not all of women with her beauty has. She's simply amazing and I really can't put in text how wonderful she is
Despite her being known and popular, Anne keep herself grounded. Anne deserves everything that she has right now and she'll be having tomorrow simply for being the same ANNE CURTiS as she was before given a big break on her career. Unlike other celebrities, Anne can go everywhere with just a shirt, short and flats on. She's simple, humble, and such an awesome woman with a brilliant personality that capture everyone's heart, her beauty is just a bonus. She's close to perfection, no doubt! Anne stands out for her incredible versatility as an actress. She has the total package of talents she acts, dance, host, and SiNG! She really has a good voice, it's that her singing style is indeed different with other artists. She's perfectly an inspiration to everyone!
She deserves it! She deserves all the blessings that came unto her and the upcoming ones. Because she is BEAUTIFUL inside and out! She was named and crowned as Philippine's Most Beautiful, Celebrity of The Year, Box-Office Queen, People Asia's National Sweethear, Princess of All Media, Concert Sweetheart, an Epitome of Beauty, and a Runway Goddess above all that she's an amazing woman and got the extraordinary beauty and charm that everybody lives she touches their hearts melts and charmed by her humbleness, great attitude, kind heartedly values, charismatic and oh so down-to-earth person.
She is the Ultimate "IT" Girl!
Anne has this untainted image of beauty and class. She is an icon for beauty with her pouty voluptuous lips and flawless skin. Everyone in her home country knows she carries herself very well and tops all of the current commercial models in the Philippines. She wears the crown for dressing up fantastically on whatever clothes she chose to wear, and surprising, they all fit well to her image. Now isn't that an interesting talent?

Everybody calls her "Dyosa", a Spanish-derived Filipino term for the word 'Goddess' when she actually had her own soap opera entitled with the same term. One of my best friends actually met her and described her as someone who can melt any guys heart and fall off their guards by just a flash of her smile. I'm actually looking forward to reach even half of her beauty. Well, come to think of it, who doesn't? - erweitee
Real beauty? She's the one! She's got charm and confidence... One whose body isn't like those skinny superficial women on magazines and movies, but that which reflects a true woman's body...

She's confident in whatever shape she's in. Not scared of getting fat or being ugly for a movie or T.V. role as long as she does her part well.

She once was asked "being one of the sexiest and most beautiful women in the Philippines, when the time comes that you get married... Are you scared of gaining weight after you give birth in the future? "
The goddess answers "no, that's me being a real woman"
She is definitely the one to be she is a wonderful person and she is my inspiration and yo everyone anasya and nag iisang dyosa she is the best person I know and she is charming she a actress and dancer a singer and she is concert princess and she is the princess of media and most of all she is sexy hot all of it for me she is a perfect person to win this so please help anne win and she is definitely the one to be the hottest woman in the world and she is inspiration since I am a little child so vote every one I wish she will win this I hope and I am proud for who I vote
Related Lists
Top 10 Anne Hathaway Movies
Best Anne Murray Songs
Best Curtis Hanson Movies
Best Mac Curtis songs