Taylor Swift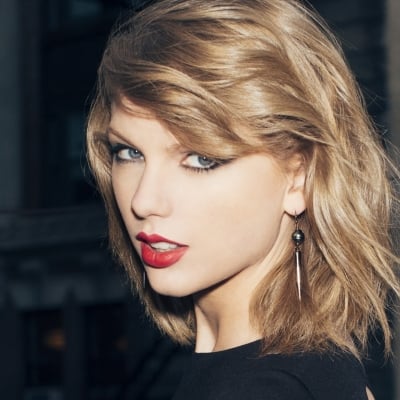 Found on static.guim.co.uk
Comments
Top
Newest
Taylor swift is a doll... She reflects hope and love.. ! Her beauty lies not just in her ever gorgeous face but poise that she has maintained even after exponential success. Her music emancipates the listener from other thoughts and listening to her gives me joy.. ! And her devotion to her music is commendable!
She's the most beautiful girl in the whole world! That's Taylor Swift! Taylor Swift is also gorgeous, kind... She has all of the characteristic in the world! And She have the most beautiful voice in the whole universe! That is also Taylor Swift! That's my girl. :) I wish she's the most sexy girl in the universe!
Taylor should be number one.. She should be on top, she's much more DROP DEAD GORGEOUS! Than any of the people on top.. SHE DESERVES IT! She looks stunning in every outfit, any hairstyle and even without make-up..
Taylor is flawless, she looks great with or without makeup too. She is absolutely the sweetest too. Why is Lindsay Lohan and Paris Hilton above this beauty? It's not logical.
Taylor Swift is literally a goddess when it comes to beauty. Red lips, blue eyes, long blonde hair, tall, and skinny with a beautiful, tiny frame. She deserves to be number one. As Taylor always says - beauty is sincerity.
SHE'S so beautiful in any kind of clothes, she doesn't need make up to be pretty. In her music video to "safe and sound" she doesn't have any on. She so gourgeous that I would give anything to look like her. And all the hairstyles she wear, and have NOT colored her hair!
She deserves to be number 1! She is definitely THE most hottest woman on the face of the earth! Come on Swift fans, vote for your NUMBER ONE GIRL! All I can say to every Swift fan is VOTE, VOTE VOTE!
Most beautiful girl I've ever saw. Taylor IS the Number 1. No need to ask. The only reason that Selena or Megan Fox are in a higher position is that they always TRY to seem SEXY! They wear SEXY dresses but Taylor wears T-Shirts!
Guys how can you resist america's sweetheart! She's perfect and she understands what teenage girls are going through and then she writes a song! T-Swift all the way!
Love her she is the most beautiful among the whole world she is the best I can't even tell she is the most sexiest among everyone... Love her sexy... Best and sexy...

She is so hot and sexy. I just love her. Her voice is so so good, her looks are so gorgeous. Her new hair style is so awesome. She is the godess of beauty. Guys come on vote her, what the hell is a gorgeous female like her doing here. She should be on the top. Taylor swift you rock and your songs are just amazing and you are definitely the hottest female ever.
She is one the best girl nominated in hottest women in the world. She's not so hot but her personality makes her up! She's very talented, she can dance, sing, act, and write a song! She's an angel! She rocks!
How can she only be on number 74?! Taylor Swift is beautiful, incredible, sweet, gorgeous and talented! Let's all vote for her
The most talented girl in the world, being able to write songs at such a young age, her voice is breathtaking, and her physic... ENCHANTING! She should be number 1!
SHE IS THE MOST SWEETEST, HOTTEST, SEXIEST:GIRL IN THE WORLD AT THE PRESENT...2012
I think I'm in love every time I see her. I wanna jump in her bed.. The new version of Nicole Kidman. Actually she looks like Nicole and faith hill mixed together. mmm. What a combo - sjparker325
She is not only beautiful, but a women with great spirit, and who cares about human emotions. She is a great singer. A beautiful girl and a great model. I love her.
Actually she isn't the hottest one, but she is the most beautiful one! With her long blond curls and nice round face is she a so pretty!
Flawless porcelain skin, gorgeous shiny blond hair, bright blue eyes...
Taylor is absolutely beautiful! And she doesn't even have to try! She should definitely be #1!
She is really sexy, great and she should be on the top not AMY LEE because AMY LEE don't deserve it TAYLOR SWIFT really deserve on top
Taylor Swift is the best. She is also talented, has a great voice. Everything about her is amazing. So Guys! Make her number 1!
Taylor Swift is definitely the prettiest girl I've seen ever. She doesn't deserve to be just on this spot.. Come on people, you should vote for her! :))
How is Taylor Swift not number one! SERIOUSLY GUYS?!?!? She is absolutely stunning! Gorgeous face, sexy eyes and a beautiful smile! She's ravishing!
She should be number one. She's the hottest woman alive and her voice is amazing. She is beautiful inside and out. Why isn't she in the top 10.
Please Lindsay lohan is better than her just because of big boobs and a big butt doesn't make you beautiful PLEASE LEARN
Related Lists
Top Ten Best Taylor Swift Songs
Top 10 Taylor Swift Love Songs
Top 10 Taylor Swift Slow Songs
Top Ten Songs from Taylor Swift's 1989
Best Songs from Miley Cyrus, Taylor Swift and Selena Gomez