Top 10 Most Annoying Cartoon Characters
The Contenders: Page 2XW
22
Patrick Starfish
Patrick Star is a fictional character in the American animated television series SpongeBob SquarePants.
He is so dislike-able these days, I mean in the earlier episodes he was dumb but you enjoyed watching it, now he is either a annoying dumb ass or acts even more annoying by being a smug smart ass. He ought be glad he can regenerate his limbs or he wont be much of a starfish when I'm done with him.
This sadist is one of the worst excuses for a character the world has ever known. (Watch The Card) - Goatworlds
The old Patrick was hilarious I cou stop laughing with him in the old episodes, but now he's a complete a hole, and the worst part is he's AWARE of how he's treating people (seriously he is watch the episode the card) I miss the old patrick
He is evil. Watch the card and u realize everything he does is intentional.
V4 Comments
23
Rigby
Most favorite character from Regular Show. Rigby is best described as a "wild teenager", even though he is well past adolescence. He becomes frustrated, frightened, confused, or sad all too easily, making his behavior very predictable. Rigby is also very arrogant, impatient, and immature at all times, giving him the personality of a child. In this way, he is a character foil of Mordecai, who demonstrates far more responsibility and temperance than him (in most conditions).
YES. How is this obnoxious, whiny beast not higher on the list? He's constantly getting everybody in trouble, thinking he's cool and whining about EVERYTHING. And let's not forget the episode where he constantly rubbed it in Mordecai's face when he asked Margret out. I seriously would love to see very bad things happen to Rigby.
He's such a butt! I don't even know why Mordecai is still friends with him. Rigby treats everyone like crap, and he seriously needs to grow up. He's like the Justin Bieber of cartoon characters.
Rigby sucks balls, he ruined the show... - 05yusuf09
V3 Comments
24
Olga Pataki - Hey Arnold!
You hate Big Sis the episode of Hey Arnold, right? Olga Pataki and Lila Sawyer together in the same episode.
25
Staci - Total Drama (ROTI)
Dude she was in like one or two episodes, she got eliminated after her first episode.
Staci deserves the top 100 AT LEAST!
Staci should SHUT UP ONCE IN A WHILE! WHY CAN'T SHE BE MORE QUIET AND NOT BE AN ABOMINATION ON AN OTHERWISE AMAZING SHOW? Sorry for using caps, that was just an important message. - Turkeyasylum
26
Sid the Science Kid
This ugly orange moron is almost as bad as Elmo himself! - Goatworlds
V2 Comments
27
Diego (Go Diego Go)
He is just so so annoying he just say will you help me you know we can't hear you idiot
What do you expect? He is dora's cousin and the last time I checked, she was first on the most annoying cartoons list.
Diego is dumbass kid I hope 1 stuff goes wrong like falling of the cliff and bleed to death hahaaha
28
Babs Bunny (Tiny Toon Adventures)
Why is she even on this list, she's one of the greatest cartoon characters ever.
I wouldn't necessary call her the greatest she is good but most of the time she just uses other people's material instead of coming up with her own. - Darkusmaximus
My Little Pony is annoying but the most annoying thing about it is Pinkie Pie
V2 Comments
29
Kaz Harada (Hi Hi Puffy AmiYumi)
"Now remember, girls! Time is money! " - mayamanga
V1 Comment
30
Sparky (Fairly Odd Parents)
Poof ruined it, but Sparky made it into a living heck! Never watch seasons 9 and above unless you want to be traumatized by the sheer stupidity of it all. Poof's introduction was bad enough. They shouldn't of decided to revive the show after the cancelled it after season 5. - Goatworlds
His introduction is the moment that the Fairly Odd Parents lost its quality. Poof did nothing wrong, Sparky did.
He Butchered Fairly OddParents SO HORRIBLY to the Point where it's UNWATCHABLE! - Ededdneddyfan55
V2 Comments
31
Map (Dora the Explorer)
Don't even get me started on it and the next three down the list, they all should be way higher on the list.
32
Jake (Adventure Time)
I actually think jake is way better than finn, and the best adventure time character ever, then marceline - IgorCarbex
Jake sucks balls YOU GUYS ARE THE IDIOTS GO AND WASTE YOUR LIFE WATCHING Naruto OR SOMETHING.
V5 Comments
33
Olive Oyl
The show is retarded enough but then there's this 50 year old lady with size 15 feet who always whines and cries about everything. Seriously what's Popeye's message for kids, Stick to old, whiny women?
Please explain to me why Popeye and Bruno actually fight over her. Do they actually have no other choices? Are they really that desperate? The world will never know...
She's a 50 years old woman with slim legs and her voice is scratching my brain
V1 Comment
34
Robin (Teen Titans Go!)
Just How The Hell Is This Poor Excuse Of A Character So Low On This List?!
He's doing his best as a leader and he became a psycho was because of his annoying team mates
He needs to go he's so obnoxious and annoying
V1 Comment
36
Special Agent Oso
He's an agent that just solves problems that are easier than anything! He creeps me out too! All the characters are idiots on the show! I forgot their names so I can't put them on here :(. Anyway if he ever joined the FBI, after 2 minutes he'd be fired already! Sorry Parents, but its best for your kids to stay away from this (Bleeping) bear and let the show be canceled! - otanersantosvelasquez
I hope Musa ninja kicks him to the face, then Wolfie starts acting like a real wolf and attacks him.
I feel bad for the other two agents who don't get to do nearly as much as Oso does, yet their IQs are much better than Oso's and that '3 special steps woman' combined. Heck, Oso can't even do up a seatbelt.
V1 Comment
37
Peter Griffin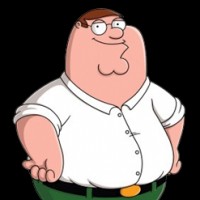 Peter Griffin is the main protagonist and titular character of the American animated sitcom Family Guy.
Why is Peter Griffin on this list he is an amazing character and I love family without him the would be boring it wouldn't be the same without him but not to say anything bad but I think this show should be called "The Griffins" and the Simpsons should be called Family guy because I don't think Peter could even be half the father Homer is Homer is more of a Family guy he actually talks to his kids and makes connections with them and doesn't try to hurt their feelings on purpose and has never said he hates being around the kids like Peter said in the April fools episode but I still love Peter Griffin and Homer Simpson.
Peter griffin is a annoying idiotic fat loser with no life all the thing he does in life is a fail with out lois or his family he would die instantly he only cares about himself and drinking it's always about him he says racist stuff like if you have a dinner around white people you will relies that whites are even better than blacks he is a typical American thinks USA is the best country in the world let me tell you this America is a great country it's just the government that makes the stupid decisions and that's peter a fat racist arsehole he's a nice bloke but over all he's annoying
Peter Griffin is so fat that he can't lift a car or drive
38Cheese (Foster's Home for Imaginary Friends)
39Gil Gunderson (The Simpsons)
40
Alfe (The Problem Solverz)
He's the worst character of the show, all the characters of the problem solverz are idiots! Especially alfe! Plus the show sucks too! It's the worst show of all time! There's nothing good about it! NOT EVEN 1 SINGLE THING! - aeromaxx777
GOD! Alfe is like the most annoying character ever! He is so annoying, and so obnoxious!
V2 Comments
PSearch List
Related Lists
Top Ten Cartoon Characters With the Most Annoying Voice
Top Ten Most Annoying Cartoon Characters of All Time
Top 10 Purposely Annoying Beloved Cartoon Characters
Top Ten Most Annoying Cartoon Network Characters
List StatsUpdated 25 May 2016
1,000 votes
360 listings
5 years, 264 days old

Top Remixes (20)

1. Peter Griffin
2. Penelope Pussycat (Garfield and Friends)
3. Jeannie the Babysitter (Tom and Jerry)
Svampbob164

1. Spongebob Squarepants
2. Patrick Starfish
3. Mr. Krabs
n00bn00bkiller

1. Spongebob Squarepants
2. Scrappy Doo
3. Fanboy (Fanboy and Chum Chum)
htoutlaws2012
View All 20
Posts
Error Reporting
See a factual error in these listings? Report it
here
.