Most Annoying Music Artist Fan Bases
Hurricane6277
The Contenders: Page 5XW
81Kamilia (Kara)
82
Hetabos
These people are scary and downright rude. They will spam everything and claim it's related to Hetalia. Dog just died? Oh that happened to blah blah blah in episode 12... SO ANNOYING.
Honestly hetalians (NOT HETABOOS) are not even that bad. we DO NOT relate everything to Hetalia. BUT, 99% of the fandom are major weeaboos. it is to the point where I cannot say I am a part of the fandom anymore.
This is for music fanbases not anime fanbases. But still. They are annoying. - RiverClanRocks
V4 Comments
83
JLS
The fans are really die-hard where I live and generally don't seem to be able to comprehend English.
They cast the opinions of others aside: I like Led Zeppelin and Jimi Hendrix, they said that they sound the same, which is ridiculously untrue.
84AnyManiacos (Anahi)
85
Babys (B.A.P.)
They're so annoying! I just say to them that I don't have interest to them, not hate them then baby's is like killing me then as if they will not talk to my anymore. They are so sensitive! Just only one word and they will kill me and bash me and everything! Sorry for my bad English... I'm working on it :/
Are you serious? We are one of the nicest fandoms.
B.A. P fans are so amazing, and I am myself a Baby! And Zelos smile though!
V1 Comment
86
Fall Out Boy Fans
Fall out boy fans hmm.. Some are annoying. Some are cool people. It depends.
I adore Fall Out Boy, but some of their fans are kind of annoying.
Fall Out Boy fans are great. Why would anyone hate on them? Go FOB!
Too many of them and they aren't open to opinions
V2 Comments
87
Little Hiltons (Paris Hilton)
These guys suck, they defend a celebrity with absolutely no talent and if u say Paris hilton sucks, they say u r either jealous or u have no life. STOP WORSHIPPING HER!
V1 Comment
88
Bring Me The Horizon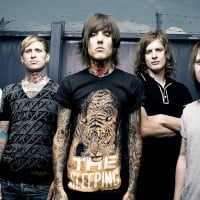 Bring Me the Horizon are a British rock band from Sheffield, Yorkshire. Formed in 2004, the group currently consists of vocalist Oliver Sykes, guitarist Lee Malia, bassist Matt Kean, drummer Matt Nicholls, and keyboardist Jordan Fish. They are signed to RCA Records globally and Columbia Records exclusively ...read more.
Some of the fans are like mega fans and that's all I have bad to say about them
The fans are cringey af like CHILL man. BMTH is a kick ass band but the fans piss me off - soulpunk
V1 Comment
89
Smashblast (Sm*sh)
Spreading a hoax, 'bashing' other fanbase, also EXTREMELY devoted to their idol to the point that they want to kill their hater...

Tl;dr : crazier than a snake on a steroid
V1 Comment
90
JLovers
They hate on other genres because they don't like jpop. Like they call American music disgusting and disgraceful and call Kpop plastic and generic
Yes, they are annoying (even though I love Jmusic... Just to be clear, we are talking about Japanese music, right? ). Well, not all of them. Only the major weeaboos that think Japan is the best place in the world, want to be Japanese or squeal "KAWAII DESU NE~", those can be downright annoying and stupid. That or the fans who think they know about Japanese music by listening to Vocaloid or Kyary Pamyu Pamyu or kinda sorta know the GazettE (I like The GazettE myself but I know there are TONS of other artists out there)
91
Crybabies (Melanie Martinez)
I also enjoy Melanie's music, but her fanbase annoys me so much. When I see comments on YouTube videos like "Any Melanie Martinez fans here? " It just frustrates me because it's on another person's channel/video, not Melanie's. And they treat her like a goddess, and if someone has a different opinion then a fan, the fan harasses them by calling them names, bashing them and saying multiple times by how "unique" Melanie is. They also bring up Melanie's fame by saying "She's more famous then you so shut up you bastard! " I also saw this clip of when Melanie was on The Voice, and she was singing "Lights" and it's was like a duet/battle between a woman named Caitlin. And everyone in the comment section was bashing Caitlin for being a "try hard" and they were treating Melanie as if her voice sounded like every celebrity that has a powerful voice all in one. In my opinion, I liked Caitlin's preformance better because her voice was more powerful, and Melanie's voice was too soft and her ...more
Don't get me wrong. I enjoy listening to Melanie's music, but her fans are so immature. I'm not talking about the mature fans. Mel's mature fans are cool. I just hate all of these immature fans who think having a mental illness is amazing. There are those fans who bash on people who don't like Melanie or her music. They need to learn how to respect someone's opinion. Most of her fans can't take criticism. These fans need to learn that criticism is not hate. If criticism didn't exist, how will anyone improve?
I personally have been to a MM concert and I loved it. It's just that her fanbase really is toxic. They deserve a spot at #3 or so to be honest. They have the whole "my taste in music is better than yours"-complex to the extent that I've seen YouTube comments saying stuff like: "Whoever disliked this is getting too close to the knife that I'm going to slit their throat with". It's pretty sad because the fanbase really has potential.
V3 Comments
92Fatinistic (Fatin Sidqia)
94
Gangster (Lana del Rey)
Lana Del Rey fans are great. I don't see why anyone would hate on them. Go lana
I don't have a problem with many fans but Lana del Rey fans need to calm down
Lana Del Rey fans clearly need to find someone else to look up to because it's pretty obvious she is too overrated.
V2 Comments
95Triple S (SS501)
96
Inspirits (Infinite)
"They're the best" ok... You need not say it to everyone like they own everyone else...
V1 Comment
97
MJJ Community (Michael Jackson)
There is nothing wrong with Loving someone. We love him for he has done. I don't here other artist now and days writing a song about Healing the World. Now and days is just curses and just plain disrespectful. Well I'm talking about the top ones it's crazy how people are into those kind of music. We are not deluded. You can hate but we will always LOVE OUR Michael JACKSON. Those words of hate won't help you and our love and inspiration from him has helped us a lot. You probably just hate because you believe in a LIE than the FULL TRUTH. We are known as the Moonwalkers and MJJ Community and we will always be happy to include people in. We don't exclude unless you are there to start an arguement with one another. Our family is about PEACE, STAYING STRONG and LOVING Michael JACKSON 'till the end. We are interested in those who want to Create Friends and Peace to this World with us, MOONWALKERS.
I love Michael Jackson. He is the king of pop and he will continue to live on through his music!
These people are utterly deluded about Michael Jackson - a perfectly talented regardless - yet feel the need to victimise a man who clearly had troubles, as well as being jealous of his young - also extremely successful - sister Janet Jackson, and only are interested in artists who have never said a word against MJ or someone MJ was friends with
Michael is the greatest
V6 Comments
98
4Nia (4Minute)
Why are they even here?! I haven't heard any bad stuff coming from them!
V1 Comment
99
Boice (CNBLUE)
Love them and their music!
100
Radke Army (Ronnie Radke)
I personally like some of his music
How Radke even HAS fans at all is beyond me. Seriously. The guys a douchebag.
PSearch List
Recommended Lists
Related Lists
Best Music Fan Bases
Most Annoying Fan Bases
Most Annoying YouTube Fan Bases

Craziest Fan Bases
Best Music Artist Fans of 2012
List StatsUpdated 2 Dec 2016
16,000 votes
209 listings
4 years, 333 days old

Top Remixes (45)

1. Directioners (One Direction)
2. Beliebers (Justin Bieber)
3. Swifties (Taylor Swift)
HollyRolo

1. Swifties (Taylor Swift)
2. Jackie Evancho Fans
3. Arianators (Ariana Grande)
BlueDiamondFromNowhere

1. Swifties (Taylor Swift)
2. Arianators (Ariana Grande)
3. Anti-Beliebers
lovingicecreams
View All 45
Posts
Me Talkin' Bout Stuff 2#: Musical Propaganda
visitor
Error Reporting
See a factual error in these listings? Report it
here
.