Top 10 Most Annoying Songs Ever
The Contenders: Page 16
301
Wannabe - Spice Girls
V 1 Comment
302
I Se Eu Te Pego - Michal Tel'o
That is just a simple love song about a boy catching a girl. What's the point in this?
303
I Need a Doctor - Dr. Dre
Why should someone sing and be proud if he needs a doctor?
V 1 Comment
304
All the Pretty Girls - Fun
Looks like fun fell in a crazy love with 1, 000, 000 girls, ha?
305
Tiny Bubbles - Don Ho
306
Versace - Migos
307
WOP - J. Dash
I actually like this song. But this song is annoying to most people.
V 1 Comment
308
My N***a - YG
I actually like Young Jeezy. But Lil Wayne must be pissed
309
Type of Way - Rich Homie Quan
310
Started from the Bottom - Drake
I haven't listened to rap since high school and the thing back then that was a no-no for rappers was to not cross over into R&B and this guy seems to break that rule.
311
Hungry Like The Wolf - Duran Duran
This should be higher than 203. And a nerdy girl once said WOLVES AREN'T ALWAYS HUNGRY!
V 1 Comment
312
Rock Lobster - The B-52s
Peter griffin is the reason I love this song
313
Give It Away - Red Hot Chili Peppers
314
Mickey - Toni Basil
A lot of people rip on 80's music and I'm not one of them. I happen to like a lot of the genre's music, but this song is not one of them! I despise this song! Ladies, never refer to a man as pretty. That's an adjective men use for you!
As a Lady, I can confirm there are pretty (I mean, gorgeous) men. Your comment sounds sexist and pretty isn't only a word for women. But thanks anyway, I get your comment.
Well you youngsters should know she's talking about a gay individual. Surprise!
V 1 Comment
315
Scatman - Scatman John
Its used on some YouTube games - kmyeakel
316
Mama Said Knock You Out - LL Cool J
317
99 Luftballons - Nena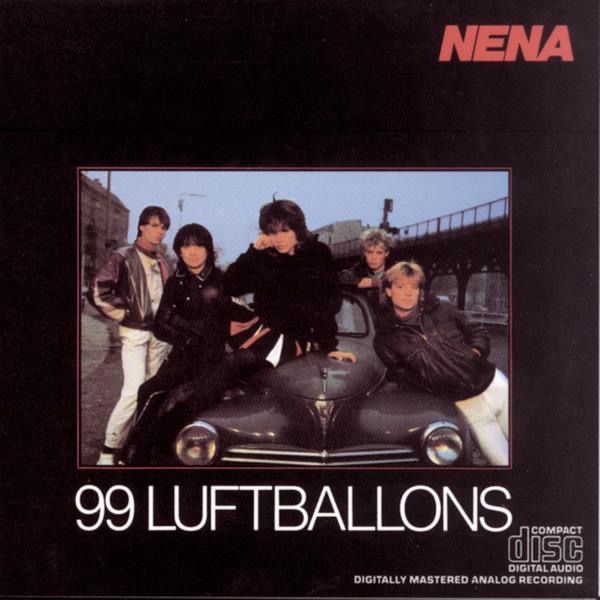 This is awesome it actually makes me want to learn how to speak German
Old songs are boring but I like this one
Annoying I would change the station
V 1 Comment
318
Bleeding Love - Leona Lewis
I think I might have been around 9 or 10 years old when this song came out! Well honestly I don't fully remember. But what I do remember was one time I was at a family gathering at a park in Seattle, Washington. And I Remember the whole time I was their one of my little cousins I had just met because we have a big family and we live so far apart from each other we only see each other mabey once every 3 years. And some of us just plain don't really know each other. But I remember the WHOLE F... ING TIME I WAS THERE, MY ANNOYING LITTLE COUSIN WAS SINGING THIS GARBAGE. Well need less to say I got tired of it and actually ended up punching him in the mouth. WHAT'S FUNNY IS, IT'S NOW 4 OR 5 YEARS LATER AND I HAVEN'T HEARD FROM HIM SINCE!
Wow, I'm surprised at all the hate for this song. I think this is an excellent song and I think Leona Lewis is a great artist with a great voice.
It's a cool song, but it get annoying and old kinda fast.
V 4 Comments
319
Cake by the Ocean - Dnce
It's by one of the Jonas Brothers...which is as bad as Bieber...this song is a no talent joke, written by a kid from a brother band like Hanson. Hacks with no talent
It's the worst song in the history of the world it makes me wanna kill DNCE
DNCE is a horrible band in general, they just keep making bad songs (Toothbrush).
It sounds awful, repetitive, dull, and annoying.
V 4 Comments
320
Someone Like You - Adele
This song is very overrated, as well as the person who sings it. Adele is not SO good. She is overrated. Her voice is kinda boring. And that song is very boring when SHE sings it. I've seen many other covers of that song on YOUTUBE and they are pretty cool, like the one Amber Riley made. But, I think that the problem with that song is the boring voice Adele has (in my opinion).
Why? This song is amazing and so is Adele.
It's a very boring song, I'm a fan of Adele, but this song is too boring.
I'm not surprised Adele sucks
V 5 Comments
PSearch List
Recommended Lists
Related Lists

TV Shows With the Most Annoying Theme Songs
Top 10 Most Annoying Songs Played on the Radio
The Top 10 Most Annoying Songs from the 70s to Today
Top Ten Least Annoying Kidz Bop Songs
Top Ten Most Annoying Songs On YouTube
List StatsUpdated 16 Jan 2017
3,000 votes
331 listings
8 years, 225 days old

Top Remixes (25)
1. Friday - Rebecca Black
2. Tik Tok - Kesha
3. (It's Time To) Beat Dat Beat - DJ Pauly D
DJTerrible
1. Call Me Maybe - Carly Rae Jepsen
2. Diamonds - Rihanna
3. The Final Countdown - Europe
DarkAngelxox
1. Achy Breaky Heart - Billy Ray Cyrus
2. Footloose - Kenny Loggins
3. Respect - Aretha Franklin
deeznuts78
View All 25
Posts
Error Reporting
See a factual error in these listings? Report it
here
.