Most Annoying Video Game Enemies
The Contenders: Page 3
41 Butes - Cave Story
42
The Cannibals - The Forest
(I wasn't logged in when I made this quote so I'm doing it al over again) Admittedly I've never played The Forest but my sister has and it's about a guy who was on a plane and then it crashes in the forest and so you have to survive until you're rescued and that is pretty hard because of three things:

1. Finding food is pretty hard because some plants and berries are poisonous so you have to figure out which ones are safe and which ones are not, and animals will for the most part run away from you if they see you.

2. You have to keep your energy, health and food at a decent level and you have to make sure you don't starve.

3. - And the biggest problem as to why surviving is hard: The "Cannibals" - at least that's what they're called!

I haven't played this game but just by watching my sister play this game I can tell that these things are a forest-sized nuisance! I think the person who made this game based these thing off of the hobbits from the ...more - Virtualman
Admittedly I've never played The Forest but my sister has and it's about a guy who was on a plane and then it crashes in the forest and you have to survive until you're rescued and that is pretty hard because of three things:

1. Finding food is pretty hard because some plants and berries are poisonous so you have to figure out which ones are safe and which ones are not, and animals will for the most part run away from you if they see you.

2. You have to keep your energy, health and food at a decent level and you have to make sure you don't starve.

3. - And the biggest problem as to why surviving is hard: The "Cannibals" - at least that's what they're called!

I haven't platen this game but just by watching my sister play this game I can tell that these things are a forest-sized nuisance! I think the person who made this game based these thing off of the hobbits from the Animal Planet special: The Cannibal in the Jungle, where two out of three ...more
43
Cazadores - Fallout New Vegas
These nasty bugs are one big thing you should watch out for. They are big, fast and deadly. Only thing you can do to weaken them is to cripple the wings. But that is not all! They can poison you! So it is a good idea to have anti-venom, or the poison kills you, fast. Examples of named ones are the Legendary Cazadore and Specimen 73 in Old World Blues DLC. So do steer clear of them. They will be the bane of your existence. They're already mine.
44
Balloon Boy: Five Nights at Freddy's 2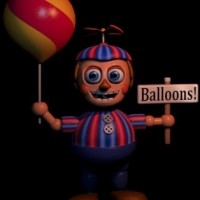 Yeah, he's pretty annoying. He laughs at you and steal your batteries.
Annoying little brat. He just can't keep his damn mouth shut!
V 1 Comment
45 Mechon: Xenoblade Chronicles
46
Servant Grunt: Amnesia: The Dark Descent
V 1 Comment
47 Yakuza: No More Heroes
48
Caterpillars: Sonic the Hedgehog
These little things are so damn annoying only because the only area you can hit them at is the head, which is hard to attack them at. They are also annoying because sometimes your just running, and then stop at a beat where a catipillar is. Then you like bump into it and lose rings. The last reason is because if you attempt to hit them in any area beside the head, there body goes everywhere, and you bump into one and get hurt.
49
ReDeads: The Legend of Zelda Franchise
They are so annoying the worse part is when they scream they can't move and the way they attack you is just perverted
They look like they're raping your upper body when they attack you...
That scream gave me nightmares for days. - aarond9010
V 1 Comment
50 Spiky Parabuzzy - Paper Mario
51 Sour Pinatas - Viva Pinata
52 Balverine: Fable II
53
Metal Golem: Dragon's Dogma
There are two types of Golem in Dragon's Dogma, the regular Stone Golem (Golem) is pretty easy. You just have to climb up it's body and destroy all of the glowing amulets on it, and throughout the battle it attacks very slowly and don't do much damage unless you enrage it by destroying the amulet that glows more than the others which causes it to freeze for a while and then makes the Golem angry for a while until it calms down. But then there is the Metal Golem, which I never want to face again. Why? Well for starters: the amulets that you have to destroy are not on the Metal Golem's body, but instead are scattered throughout the area you fight it in. Now that wouldn't be so bad except for the placement of the amulets, The first Metal Golem most people got to fight who played this game (me included) was in the Witchwood after completing the side quest "Witch Hunt" and the 7 amulets are in some of the worst places imaginable: one is behind a tree, one is in the far end of the ...more
55
Suicide Grunts - Halo
Why, oh God why? Always blowing you up and screwing you over.
57 Spiteful Crow - Earthbound
58 Keese: The Legend of Zelda Series
59 Snakes: Touch Pets Dogs 2
60 Fission Metroids: Metroid Prime
PSearch List
Recommended Lists
Related Lists

Most Annoying Video Game Characters

Most Horrifying Video Game Enemies
Top Ten Scariest Video Game Enemies
Top 10 Most Annoying and Overrated Video Game Memes
Top 10 Purposefully Annoying Video Game Characters
List StatsUpdated 17 Jan 2017
100 votes
100 listings
3 years, 238 days old

Top Remixes (4)
1. Fireballs: Donkey Kong
2. Like-Likes: The Legend of Zelda Series
3. Lakitu: Mario Series
egnomac
1. Lakitu: Mario Series
2. Fireballs: Donkey Kong
3. Big Eye: Mega Man
ZZDOORAL
1. Headcrab: Half-Life
2. Giant Knights: Sonic and the Black Knight
3. Turrets - Portal
Horrible_Username
View All 4
Posts
Error Reporting
See a factual error in these listings? Report it
here
.