Top Ten Most Evil Leaders in History
Templar
I want the worst of the worst, give me the most evil, heartless, inhumane leaders in history!!!
The Top TenXW
1
Adolf Hitler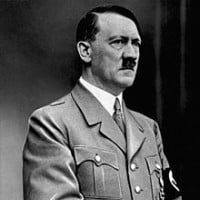 He killed 6 million jews, started a second world war, tried to conquer the world, he even tried to create a nuclear bomb. He will go done in history as the greatest monster democracy stopped ever. People feared when the heard over a million people in Nuremburg shout HEIL ADOLF HITLER FUHRER OF GERMANY MASTER OF ALL GERMANS MARTYR FOR KILLING THE JEWISH ENEMY!
He blamed the Jews for Germany's problems. He wanted revenge because the thought Germany was treated unfairly after the first world war. Hitler was a good leader in some ways but he lead his country the wrong way
This man was Satan, himself for killing millions of innocent people.
I look up to him for trying to conquer the world
V45 Comments
2
Joseph Stalin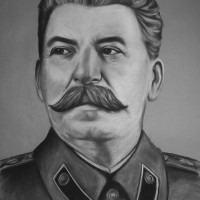 Anyone who didn't agree with the communist ruling were sent to the Gulag or Tortured and executed. One survivor tells that a woman walked into a prison torture chamber and found her husband in a chair with his feet burned so the skin had been peeled off. Also his eyes had been gouged out and his lips had been cut off.
I do know that nazi scientists made experiments on twins in the concentration camps and tried to switch eye colour on prisoners.
After all I have read about world war 2 I have to say that Josef Stalin was the worst. Remember that he also did'nt like jews and sent them to the gulag. It didn't matter who you were if you didn't agree with the Soviet rule you would be tortured or killed. Stalin let the KGB kill people that he saw as a threat, because he wanted to rule Soviet.
When his wife died nobody could see any reaction from Stalin. He didn't cry, he didn't get angry. When his own son were captured by the germans he didn't even try to negotiate. He told the ...more - JonteNo
How is barrack obama worse than this man. Do you people know anything of history. Obama didn't kill twenty million people of his own country because he wanted to stay in power. Am I the only young person in this world that knows anything about history.
HE IS THE WORST MAN ON EARTH!
cOMPARING HIM TO HITLER, HITLER IS A LITTLE BABY.
iT IS REALLY SAD THAT MANY PEOPLE LIKE HIM

I'm fine with other countries using communism as long as they don't try to make everyone else adopt it because it isn't going to affect us. But Stalin was one of those people that wanted the entire world to become communist.
V32 Comments
3
Vlad the Impaler
Well I saw a lot more Georg W Bush and Barack Obama, but there not evil there just morons now Vlad the Impaler is the real deal. He was so evil that it is rumored that not even Satin welcomed him to hell. Point number 1 he had a very homicidal character. Point number 2 he killed thousands of innocent people those who were not Catholic, he killed people for entertainment, he would literally roast little children and make there parents eat them (that is far worse than abortion), and for capital punishment he would impale his victims with a wooden pool by jabbing them from the groin or vagina all the way to the inside of the brain and harvest there blood for wine. Point number 3 it's because of his brutality that had inspire the story of Count Dracula.
1) Vlad ate in the fields of impaled rotting corpses, dipping his bread in a bowl of their blood. He even had one of his guest's nose cut off and impaled the man for simply plugging his nose during dinner because of the rotting smell.

2) These fields were mix between people hanging on spikes, and those who received the round end. The round end was inserted in anally and were hung there for days until before dying from the weather or dehydration.

Think about it. A field of rotting corpses, hundreds of people screaming in agony, and this guy doesn't lose his appetite, it actually makes him hungry?

3) Most of the other evil people in history ordered mass killing for political gain or to exploit free labor. It got to the point where Vlad was taking innocent people to impale just b/c he gets off on it laugh out loud.
This was not a terrible monster in the way most of these crazy, power hungry, people. This was a sad, sad man bent on revenge for his treatment after witnessing the atrocities of war and valorously saving his people from slaughter. Coming home crippled his battle torn mind. Think of this, we have solders today coming back from war scared for life without injury and we use weapons that either blow people up or tear through people from a distance. Now imagine having to go into battle with the weapons of that time and the damage that would cause after war with no morals. He also had as close to NO CRIME during his reign.
He is pure evil.
V15 Comments
4
Pol Pot
He is stupid killed over 4, 000, 000 innocent people for power he has a had a huge prison with only 16 people emerged alive
He should be number 1. He literally did anything he could to stomp happiness and emotion out of society.
Really should be number 1 on this list, he was the worst of Nazi Germany, Soviet Russia and Mao's China combined.
V4 Comments
5
Mao Zedong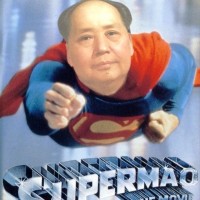 Geeze, that dude is evil! Ignoring the fact that he killed a bunch of citizens, the people he killed are mostly university students and doctors, can you believe that? He actually sort of drugged the solders to turn them against their own people, he's darn crazy I tell u! And he's the dude who lets the students to object him in the first place, what?! Except that he totally ruined the country by causing a famine (killed ~20percent people off), destroying thousands of old articrafts, brainwashing the people to kill off scholars and famous artists and writers in the great cultural revolution. he's probably losing his touch as he gets older!
This guy killed 30 million to 100 million innocent people, what a devil from hell.
No leader killed more of his own people than mao
Plus people in china think he is a hero because the lies they watch on T.V.
This guy REALLY mass-murdered his own people
V17 Comments
6
Idi Amin
This man was truly Satanic. He even ate the meat of his victims. Can you just imagine the way those people were tormented by being treated as animals for food.
I can only say that he was just evil. If he is to come back on this earth, even satan would repent.
This guy would chop up his enemies/people he'd punished, keep their remains in his fridge as trophies and laugh at them. If anything he should be up there next to Vlad the Impaler.
V5 Comments
7
George W. Bush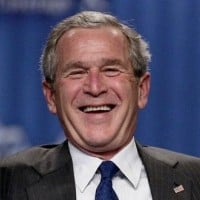 Brought utter destruction upon a great nation. One of the worst ever. Worst on the economy, started a war based on lies (murder), brought cronyism to a new level, unprecedented tax breaks for the rich leading to the middle class starting to fade. Horrible failure as a communicator, spoke like a dimwitted fool. It will take a generation or more for the USA to recover from Bush. He should be jailed.
When the two towers of New York City were bombed he blamed the whole religion of Islam instead of just the Alcada Group. Due to this Christians and Muslims hates each other and their are lots of wars in Iraq and other foreign countries. Instead of killing lots of innocent and random people can't he just kill the group instead of random targets?
Barack Obama makes George W. Bush seem like Sir Winston Churchill.
I think it is right, we suffer from his ignorance today. Not only America the whole world
V13 Comments
8
Ivan the Terrible
No Wonder Why He Is Called Ivan The "Terrible"!
He killed people for entertainment
He killed his own son!
V4 Comments
9
Muhammad
This is ridiculous! Prophet Muhammad (pbuh) was a loving, gentle man! If he was evil, do you think that millions of people around the world would be following the religion sent for him to preach by Allah? Just read this and decide whether or not you think that words like this would come out of an evil mans mouth: "You do not do evil to those who do evil to you, but you deal with them with forgiveness and kindness"
I am a fourteen year old girl, and even I know that an evil man would not have said such meaningful and beautiful words. I think you need to use your brain and redefine the meaning of "evil" in your naïve little world.
By far the most evil man in history (child rapist, mass murderer, thief and deranged liar) and the most dangerous His legacy of hate murders thousands every year.
I do not know much about Islam, but I have a book about success, and there are a LOT of quotes by Muhammad. He said so much good, how could he be evil?
A deranged killer and sex beast who called himself the last prophet despite being illiterate. Spread his cult by war and death.
V20 Comments
10
Genghis Khan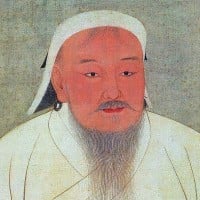 He also became one of the first leaders to adopt free religion and created a set of laws that sound more like the commandments then evil murderous laws. Just go to the Genghis Khan exhibit that will help you see the real Genghis not the cruel monster every wants him to be
Genghis khan slaughtered (babies men women did not matter who) the entire population of a village but 1 person or 2 who he allowed to run away after burning down the entire city/village all so the next city would surrender with out fighting even if they where much stronger then the invading Mongolian army.
He slaughtered more people than hitler. When he was attacking the shaw tribe their was a moat around there castle his horses could not get around so he made a bridge of his drowned captives
Yup, this one is evil
V11 Comments
The Contenders
11
Leopold II
Killed millions of Congolese colonial subjects through forced labor to support his rubber-fueled economy afloat
12
Barack Obama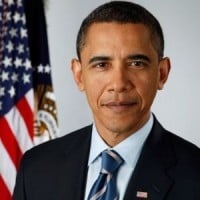 Blah. Blah. Blah. REALLY. One dude is really the bane of America? I thought the "top 10" list was cure until I saw GW Bush and Obama on the list. - get over it already. The both supported the military. They both presided over the Great Recession. They both sanctioned clandestine operations (just like every other President). They both took on a Congress lead by the other party (and blamed everything on them). They both were elected by a majority of citizens (well, except the whole 2000 Gore thing...).

If you're existence is so bad that the US President is individually responsible, maybe it's not him. Just say'n. Just keep waiting for a Government or President to show up and do exactly what you want. And while you're waiting notice the lights are still on, the grocery store is still stocked and there's a Starbucks on every corner.

What a joke some of these posts are!
Yes, and you know what else? Ebola broke out when Obama was in power. The Seahawks crapped the end of their game, Millions of people starved to death in foreign countries, North Korea hacked sony and global warming started. He has managed to keep his identity secret despite being one of the most famous people in the US, but spies have informed us he is half martian and has a third nipple. OBAMA=AWFUL. OBAMA IS THE CAUSE OF ALL PAIN AND TROUBLES TO THE United States.

Just kidding. That's what you look like though, blaming one human being for your problems.
Barack Hussein Obama is the least experienced person to be be elected to the highest office in the land. And he has not disappointed. During his first four years in office, he will have presided over the highest deficits, highest unemployment, highest poverty/welfare levels, and highest levels of class and racial division in US history. In addition, relations with Israel are at historic lows, Russia has gained in power and world standing, and Iran will likely have developed nuclear weapons under his watch.
Actually, employment was lowest during the 1970s, during the great depression, and during 2004 when George W. Bush was in office. The highest levels of poverty in this nation was 90 years ago, and the highest level of class and racial division was during the civil rights movement. Our relations with Israel have been pretty lenient and the same for the past 20 years, Russia has been a world power since the 19th century, and Iran has already developed nuclear weapons, 20 years ago, you're thinking of Iraq.
An amoral individual who espouses infanticide, and deeply detests America and Christianity
V30 Comments
13
Saddam Hussein
Actually, Saddam didn't have nukes. Read a newspaper, geez! While he didn't have WMD's, he did use gas attacks, under the guise of testing them, in an attempt to wipe out the Kurdish people who populate northern Iraq. He was a monster, and I'm glad he's dead.

Saddam may not have killed as many as Stalin or Hitler did, but when he kill people he asked his mercenaries in the most brutal ways, Burn, bury them alive, Acid pools, throw them off the third floor. Besides when you commit a &quotsin&quot against the great leader, not only that you will be executed by yourself but you father and uncles will suffer the same fate.
He used nuclear weapons on his own people to attack the army but it hardly did any thing apart from let every one see how much of a monster he was and he won on deadliest warrior so this guy is king of the monsters
14
Kim Jong Un
Evil.Small.Fat.stupid. How can the usa start thousands of problems in the middle east and NOT blow out his brains I think he deserves it most he's like adolf hitler 2.0... Anyone agree? How can anybody think putting a crazy maniac teletubby in control of anything is a good idea? I don't get it, I'm going to put him in the drawer that I put osama, adolf and justin bieber in...
He is a crimes against humanity and torture his own fellow north Korean.
The North Korean No1 Pig = Kim Jong Un
His hair is bad we should not be lead by someone with bad hair
V7 Comments
15
Jesus Christ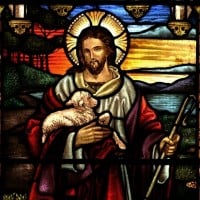 Its not jesus that's the problem, its his followers that have twisted the religion into something else
Have you even read the bible? Jesus is an amazing person. Those keyboard warriors you see on yahoo answers (the troll headquarters) are not an accurate representation of Christians.
He's the best Man who ever lived! Wrong here in this list!
He is returning to the Earth very soon. Not to forgive, but to destroy. All of you evil bastards will burn!
V14 Comments
16
Attila the Hun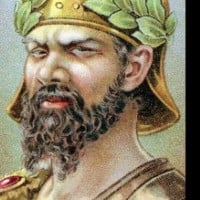 He eats people alive
Killed 10 million people
17
Ronald Reagan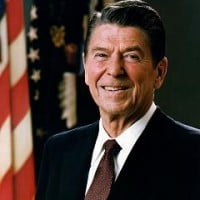 Sure, Reagan was a great man: he stood up for the greatest of us. Those who actually needed government help were of no concern to him. Spreading lies about welfare recipients and lowering taxes for people who needed no more money, Reagan was heartless.
He was truly evil. He advocated the use of economic terror through suppression of the poor, and he got away with it.
He wears a crown in Heaven. He may be the future judge of some of you parasites!
If you look him up in an unbiased encyclopedia its guaranteed you will be traumatized for months. He is actually worse than Hitler
V5 Comments
18
Richard Nixon
Really? Evil? He was a liar but he certainly wasn't one of the top ten evil leaders ever.
Dick was a champion,
Between Vietnam and Watergate it just shows you how evil he can be... Plus he tried to hide it from the people... Watse of skin all around
19
Napoleon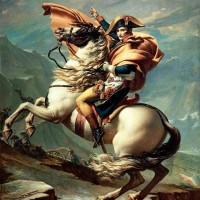 Napoleon started the Napoleonic wars which were probably worse than world war 1 and 2 caused thousands of his own troops to freeze to death. He killed millions of people because he's a disposable and he tried to conquer the world
He was good and bad.
He invaded lots of country's and that caused 300000million deaths
20
Dick Cheney
He pushed for war with his own agenda and let Bush take the heat for it. He manipulated Bush like a puppet, and made millions from selling arms to the US military.
He has a dick head
PSearch List
Related Lists

Top Ten Most Evil People in History
Top 10 Most Evil Women In History
Top Ten Most Important Leaders In World History
10 Greatest Women Leaders In History
List StatsUpdated 24 Nov 2015
2,000 votes
106 listings
6 years, 276 days old

Top Remixes (5)

1. Adolf Hitler
2. Osama bin Laden
3. Joseph Stalin
Heatnix23

1. Joseph Stalin
2. Adolf Hitler
3. Osama bin Laden
Aidanjhart
1. Vlad the Impaler
2. Joseph Stalin
3. Adolf Hitler
pryan96
View All 5
Posts
Error Reporting
See a factual error in these listings? Report it
here
.