Top Ten Most Evil People in History
lucifer666
July 30, 2015 -
Don't agree with the list? Vote for an existing item you think should be ranked higher or if you are a logged in,
add a new item
for others to vote on or
create your own version
of this list.
The Top Ten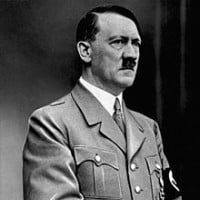 9
Saddam Hussein
saaarsdej
The Contenders
15
Heinrich Himmler
SirSkeletorThe3rd
16
Benito Mussolini
Calebng
19
Attila the Hun
DarkLord
20
Grigory Rasputin
Duality
Comments About This List
Featured Lists
Popular Lists
New Lists
Top Remixes of This List
sammysausage95
LegoMan
Tylerlangford1234
SuperheroSith
see more...
Posts About This List
List Info
This list was created 6 years, 180 days ago and has been voted on over 8,000 times. This top ten list contains 506 items, has been remixed 70 times and has been blogged about 1 times.

Updated Thursday, July 30, 2015


List Error Reporting
See an item on this list that's misspelled, duplicated, or doesn't belong? Let us know.
Click here
to report the error.