Top Ten Most Legendary Supermodels
Alexandr
The Top TenXW
1
Gia Carangi
There will never be enough words said about her beauty. She really was one of the best models who ever lived, and she managed to attain that status in less than five years of working in the industry and despite having a, shall we say, dangerous way of living.
With all due respect to the Creator of this site Ms carangi should be at the top of your list... She set the standard for all the supermodels after her... The fashion industry's standard of what beauty and edginess is today...
I agree she should be at the top of this list she is a one of a kind unique beauty, she was the original the best and the trend setter for all models coming after her, she did everything with ease cause it all came naturally, so sad to of lost her so young I'm sure she would of been somewhere big in film if she had to still be with us, cause she wanted to do movies.
Gia Carangi was the model who rose to fame in a short time and broke the lock that blue eyed blondes had on the modeling industry. She was incredibly beautiful and her posing came naturally. A real beauty that the world lost too soon. Simply the most gorgeous model ever.
V68 Comments
2
Cindy Crawford
Her Trade Mark is Mole above her lip.
Has been on the cover of more than 600 magazines worldwide, including "Vogue", "W", "People", "Harper's Bazaar", "ELLE" and "Allure".
First modern supermodel to pose for "Playboy".
Ranked #5 on "Playboy"'s list of the 100 Sexiest Stars of the Century.

- Alexandr
This sexy chick is on top of the food chain on the top tens! As Quagmire say, "Giggity! "
Cindy used to be so gorgeous and that body... Wow.. Naomi, Gisele and Kate? No thanks.
She is so beautiful and gifted
V6 Comments
3
Tyra Banks
she is owesome... juz let go what is going through herself even she had suffered from eating disorder b4(eat too much)... inspire other people... brave.. crazy in minded thinking but really gud.. strong enough.. and I love tyra now (out and inside)!
She's the best in the world! Her show &quotAmerica's Next Top Model&quot just reached Cycle 18 and Tyra Banks Show is one of the best talk shows in the world. She's also more than a millionaire. Her black beauty is undefeated!
I watch America's Next Top Model ALL the time. And I just think she is the most beautiful person in the WHOLE UNIVERSE! I just wish I could be like her. She is the best!
She is Stunning and down to earth love her! Amazing human being!
V9 Comments
4
Naomi Campbell
First black female model on the cover of French Vogue, British Vogue, and Time Magazine. Chosen by People magazine as one of the 50 Most Beautiful People in the world. - Alexandr
You cannot beat Naomi. Her walk is legendary. Her personal life is legendary. She's been at the top of the game since the 80's. The Black Panther!
The perfect runway model! With her amazing confident and panther-like walk she is so striking. More that 20 years after her debut she puts to shame young models.
She has the walk.. The glam.. the witt and the beauty to be on the top!
V5 Comments
5
Linda Evangelista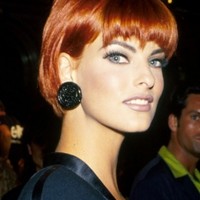 Was ranked #2 (after Cindy Crawford) on MTV's &quotHouse of Style&quot (1989) list of the top models of the 1990's.
Has changed her hair color a minimum of twelve times.
Was ranked #8 in Channel 5's &quotWorld's greatest supermodel&quot.
Her Quote &quotI don't get out of bed for less than $10,000 a day&quot was one of the best PR steps in history. - Alexandr
Face, Attitude, and Body. She is what supermodels strive to be! When ever you opened a fashion mag in the 80's and 90's she was in. She was on every runway show there was!
Linda should be #1. No other could be such a chameleon like she was and still is to this day. Absolutely stunning like no other
She can change her looks as often as changing her hair color. who else ever did that?
V6 Comments
6
Heidi Klum
Voted as #9 on the Top 100 Sexiest Women 2004 in FHM
In 2008, she earned $3,800,000 as a model/spokesperson for Victoria's Secret.
In 2008, Forbes reported her income from various interests at $14 million.
Was named one of the 50 Most Beautiful People by People Magazine in 2001. - Alexandr
Heidi is naturally beautiful. A real looking woman who needs no artificial anything.
7
Kate Moss
One of the more controversial supermodels, primarily because of her unusually low weight during the early part of her career.
Although she is one of the world's top fashion models. - Alexandr
Ask anybody a name of a top model they would answer Kate Moss. Certainly one of the most controversial and famous model ever. And that face, she is so magnetic and mysterious!
Kate Moss for me is the Best... Nobody even compares to her.. Her zero figure was such a rage and can ever create the rage again
My favorite model! She is incredible!
V6 Comments
8
Gisele Bundchen
Model of the millenium! Made Victoria Secret look fashionable. The body! Over a decade as the highest paid model! Come on! She¬'s it!
Simply the best
One of the best at all times...
V4 Comments
9
Twiggy
I am old enough to know that Twiggy was the world's first supermodel. She was the first to become a household name and only 5'6! Twiggy and Cheryl Tiegs,who was 5 inches taller than Twiggy,were and are the original supermodels. They started it all. The magazine covers,cosmetic contracts,ads and you know when you have become a supermodel when you become a household name.
10
Claudia Schiffer
What? She isn't #1? By a long shot the most iconic, legendary and influential supermodel of the 90's!
She should be a the top! 500 magazine covers come on!
500 magazine covers? You should "update" your facts. She was on 1 MILLION magazine covers. This Absolute record is not beaten to date! - Abel123
Hot girl. If you don't know you better ask somebody. Top five in the 90s for sure.
The Newcomers
?Bar Refaeli
BAdd New Item
The Contenders
11Suzy Parker
12
Elle Macpherson
One of the world's top fashion models. - Alexandr
13Iman
14Christie Brinkley
15
Christy Turlington
Appeared in the nude for a PETA poster stating, "I'd rather go naked than wear fur".
On of People Magazine's 50 Most Beautiful People.
Has been on the cover of nearly 1, 000 magazines since 1987 including Vouge, Allure, Harper's Bazaar, Esquire, and Elle. - Alexandr
Yep, she's does look sexy in those panties from the Calvin Klein's company! I might just wanna make out with her right now!
Damn, she looks sexy in her panties when I was browsing Google looking up on Christy! :D
Member of the trinity with Naomi and Linda. For me she is one of the most beautiful model ever.
V5 Comments
16
Verushuka
Before Cindy, Naomi, Gia, Linda and any of those other wonderful models were even born, there was VERUSHUKA.

She is one of a kind even among her contemporaries like Twiggy, Jean Shrimpton, etc. Verushuka approached each job like an artist and didn't just model and look beautiful, but became the image of beauty to fit every photo.

She is alive and creating to this day and is an inspiration for all the models of today. That's why she should be number one. Not because she is hot, or looks cute in her panties, or had a lot of P.R. people working hard to give her popularity in the media. But because she set the standard of what a model is. Going beyond just being a pretty face. Many of you have never heard of her and do not know the history of the modeling world, so please go to Google Images and write the name VERUSHUKA and look and see what a true Super model is all about.
She started it all! Verushuka is number one!
Absolutely eye catching beauty.
17Helena Christensen
18
Paulina Porizkova
She is beautiful. Great eyes. Great features. Perfect symmetry and bone structure. She is striking. Any fool could see that.
Dear master porizkova. Your alien eyes have turned me into a square faced alien like you. You are not from earth and you and I will alienate the world
She has hypnotized me into being her slave. All hail master porizkova you have seduced me.
Master we meet again. My face is now square like yours
V7 Comments
19
Jean Shrimpton
The best face ever, never tire of looking at her photos. I have been fascinated by her for 50 years. I gave my daughter her middle name of Jean in her honor. She will always be the most beautiful model ever to me. I love the photos of her as an "old woman", she certainly aged better than I. I wish her happiness.
I think that is was and still is beautiful she has the most stunning eyes and mouth and she made everything she wore look twice as good as any other model and she never compromised her morals by posing half nude. she didn't need to do that, she had class and probably still does
20
Laetitia Casta
She has appeared on over 100 covers of fashion magazines such as Cosmopolitan and Glamour, as well as doing commercials for the cosmetics company L'Oreal.
Has a brown belt in judo.
Laetitia made her feature film debut in Asterix & Obelix vs. Caesar(1999), the most expensive French film ever made and a smash hit in Europe.
Laetitia is good actress too.
- Alexandr
The word glamour itself is French, so it's entirely appropriate that the most legendary model should be French herself. - laotahn
BAdd New Item
Related Lists

Top Ten Legendary Pokemon
Best Legendary Heroes In Castle Clash
Top Ten Non Legendary Fire Pokemon
Top Ten Best Non-legendary Sinnoh Pokemon
List StatsUpdated 6 Oct 2015
1,000 votes
51 listings
6 years, 52 days old

Top Remixes (13)
1. Tyra Banks
2. Gisele Bundchen
3. Naomi Campbell
kikibanks
1. Gia Carangi
2. Cindy Crawford
3. Verushuka
apples1872
1. Claudia Schiffer
2. Linda Evangelista
3. Cindy Crawford
AtlasUniverse
View All 13
Posts
Error Reporting
See a factual error in these listings? Report it
here
.