Snoop Dogg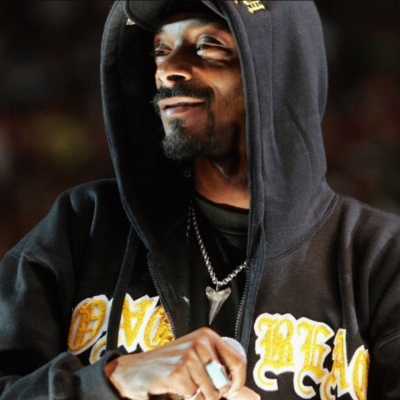 Uploaded by DaLizts
Info
Cordozar Calvin Broadus, Jr., known professionally as Snoop Dogg, is an American rapper and actor from Long Beach, California.
Comments
Top
Popular
Newest
Snoop Dogg is 16?! Tupac and Lil Wayne agreed they can't mess with him! This is utter bull! He's the boss dogg. 15 albums and mix tapes. He rules the genre and has been in the business for 23 years now man. He has even acted in 15 movies as the lead with either Dr. Dre or Eminem. The Wash, Baby Boy, Training Day, and many many more. Vote for Snoop Dogg.
I dont think alot of people would put snoop in their top ten but snoop made some of the most cohesive rap music of all time (most notably-(doggystyle). His style was straight out of a 70's blaxpistation film, Even though ablums sales is not as great as it was. But when he was on top he was the most influential. He is raps (Sixth-man)!!!
Snoop Dogg is awesome. In terms of putting out albums for his fans, Snoop Dogg is very consistent and I believe that he thoroughly enjoys what he does, being a rapper. His flow is great and his natural ability to rap is extremely smooth. If there's anyone that belongs in "the rap hall of fame, " it's most certainly Snoop.
Snoop Dogg is another rapper from the West Coast, but he was able to set himself apart from the others with his one of a kind style: G-Funk. Snoop's laid back attitude contributed to his one of a kind delivery. Let it be said that Snoop is also fluent in -izzle speak. - GangstaReppinDaCPT
What I can't even say this is a good site if you say Lil Wayne and 50 cent and all of these are over snoop dogg... 2 pac 1. St biggie 2. And snoop 3rd. Bad site don't rely on anything here because these guys don't know anything about real rap...
There is really nothing negative to say about Snoop and his delivery. This OG has been poppin off hits for 20 years. Fo shizzle he's top 5 yo! - Mcbloom
Snoop Dogg has always been popular for his gangsta music, and has been a successful and known rapper in lots of places, he has had many people in his songs AND has made many, many songs.
Snoop Dogg should be higher than eighth because he has created some great rap anthems if not the best! Just because he doesn't rap fast or crazily complex doesn't mean he is bad! He's famous for rapping relaxed and hazily! It's his vibe and delivery which makes him amazing!
Flip if we'd had to vote for the king of rap, I'd vote for Snoop, not saying his the illest , but I just would. Snoop tops the list for me.

Snoop Dogg is the king of west coast rap. He is probably one of the most known rappers in history. Why the heck is he not at number one along with Dr. Dre. -M
People do know who snoop dogg is right? Guy hasn't been hot since the year started with a 1 and a 9. He put out so much rubbish and fell off so early in his career I find it hard to see how he's top 10.
Snoop Dogg is an amazing rapper. His flow and lyrics are great. I think he should be higher up in this list.
Snoop dogg is the best rapper of all times ain't nobody can make such music. The personality he has, the way he talks, acts is just incredible. Snoop you are the best and I don't care what other people think
He is not the best rapper for sure, but the old snoop from Doggystyle is and will always be my favorite rapper and doggystyle will always be my favourite album.
sitll one of the ones reppin the west because basically the rest of them are dead but old man can still come out the pocket and flow.
Why is he placed below Drake, I agree Drake's an awfully good rapper but Snoop has the best flow in industry
Snoop has been rapping for over 20 years he's always at performing at concerts nonstop this proves he loves rapping.
This guy is the best rapper ever to born he's changed a lot of people he should be in first in front of everyone, he also has the sickest voice
Who the crap is Norm Ender, Snoop is a rap legend and some Persian Eminem Rip-Off should not be ahead of him!
Definately a 5 or 6 rapper. Great raps with a sick flow. One of the bests to live.
Snoop Dogg is Old School, Original, And Still keeps it going. He is Funny, And His Lyrics make Sense Unlike Many Other Rappers. Snoop Dogg is Professional.
Snoop should be 1. that's screwed up him and Dr. Dre 2, tupac 3 Eminem should be like 5. Can't believe snoop is not 1
He is amazing and damn good at freestyle people vote jayz Lil Wayne Eminem and kanye over snoop because they don't listen to him people think Eminem is better just because em is more mainstream
Snoop Dogg must be in top 5. he has a cool flow, great rapper probably one of the faces of this rap era snoopy doggy dogg great
Doggystyle is a great album, his countless songs with Dre are great, Id place him 6th all time
Related Lists
Best Snoop Dogg Songs
Best Snoop Dogg Albums
Best Songs On Snoop Dogg's Doggystyle
Best Songs On Snoop Dogg's R&G (Rhythm & Gangsta): The Masterpiece