Avenged Sevenfold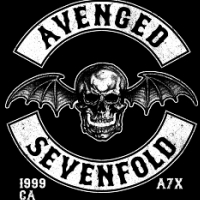 Found on cargocollective.com
Comments
Top
Newest
Okay. I like Linkin Park and 30 Seconds to Mars and all, but they're not the best band of all time. And I'm not just some emo kid randomly voting for my favorite band (even though they are my favorite, but for the reasons I'm about to tell you. )

M. Shadows has one of the most unique voices to this date and is great at writing lyrics that actually have meaning to them unlike some bands (no names) where its just like &quotoh baby I love you&quot over and over again. He can scream, he can sing softly, and he can sing aggressively. My favorite vocals from him are from So Far Away- you can tell they're straight from the heart even though Syn wrote them.

Synyster Gates is terribly underestimated for a lot of stupid reasons- age, looks, the fact that he sometimes acts a little crazy when he's drunk, a ton of things that are irrelevant to his actual guitar playing skills. Listen to the solos in Buried Alive, I Won't See You Tonight Pt. 2 and Afterlife and then try to tell me he doesn't deserve his hard-earned place on the Best Guitarists Ever list on this site. You'd be surprised how many people say he doesn't belong there- obviously, none of them have ears.

Zacky Vengeance taught himself to play by ear on a right handed guitar though he had to play upside down because he was left handed. It's pretty sad to see how low he is on the Best Guitarists Ever list because even though he may not be able to play as fast as Syn, he learned without the aid of a teacher and having his dad be a guitarist already.

A lot of people I know say bass players are pretty much useless because you can't hear them in a song. My response? Bullcrap. You can hear them perfectly fine in a lot of songs, and the best one I know is Johnny Christ. If you need specific songs where you can hear him playing, then listen closer to Afterlife, Critical Acclaim, Welcome to the Family, and a lot more.

The Rev was, in my opinion, the best drummer of all time. He was a natural at the drums and could make the best melodies that were catchy but intricate and complex. If you don't believe me, listen to Scream, Nightmare or Bat Country. It's such a shame that he had to die so early in life... Avenged then hired his favorite drummer, Mike Portnoy, to help finish up Nightmare and play a few shows. It's going to be hard for Arin Ilejay, their new drummer, to live up to Jimmy, but he's probably got talent and spunk of his own, since he's in the best band ever.
This band is one of the best bands, not as good as Led Zeppelin and Metallica, they are Extremely good, I'll the you the Reason why.
(1) They Had The Best Drummer, Who Passed away, but with the new drummer, they're doing good I Guess.
(2) They have the best Guitar line up, You have one Who goes As fast a Train another who Catches the train, Zacky and Syn are considered to Be one of the Greatest Guitarist
(3) They Have a SINGER who IS A. W. E. S. O. M. E, he has a REally Hard Voice, but songs like Seize the day, Dear god and Buried Alive Are So Well Constructed, for a Singer who has a Broken Voice singing Songs like This is Un-Believeable
(4) The Meaning of the songs, The Songs that A7X Created, Have Changed My life, What they Expressed has Changed My life, Songs like So Far Away, Dear god have Epic Meaning
(5) The guitar solo's, W.0. W, Solo's of Bat Country, Afterlife and Seize The Day, Scream, Nightmare, WoW You just can't Stop, Their Solos are Incredible,
(6) This where, they act as a band, In This Band, Everyone Does Vocal, InCluding the Drummer, Songs like Afterlife, Critical Acclaim, Dude! They sound so good with Different New COmbo's

The Only DownFall For them Was The &quotRev&quots Death, If He hadn't Died, A7x Would have been in Heaven right now, For An A7x Fan like me, A7x is my Life! FoREVer!
Amazing band that has shown the world that rock/metal bands of the 2000s are not all very bad. Avenged Sevenfold's songs can be compared with those of other amazing bands, such as Metallica, Iron Maiden (why is it not on this list? ), Black Sabbath, Guns N Roses, Judas Priest and more. Their first two albums were primarily metalcore, which I do not like, but neither do I dislike it too much.

although I just can't seem to start liking their first album, the second one, which includes famous songs such as Unholy Confessions, Chapter Four, Remenissions and Second Heartbeat, is partly screaming and partly beautiful vocals by M. Shadows.

Their next four albums are a lot cleaner and are almost 100% clean vocals. The thing that separates them from other bands is that they're always looking at their songs with the intention of making them even better. Also noticeable is the immense variety in their songs. They have very heavy songs (Beast & the Harlot, Trashed and Scattered, Critical Acclaim, Nightmare, Buried Alive, God Hates Us and more), they have songs with amazingly well done usage of their instruments (Afterlife, A little piece of heaven, brompton cocktail) they have very touching lyrics (Seize the Day, MIA, Gunslinger, Dear God, Danger line, So Far Away, Fiction, Save Me)

I think Avenged Sevenfold is just getting started and will produce many more albums.
Avenged Sevenfold is obviously the best band out there. What can you say about the vocals, drums, guitars, bass, huh? Listen to the studio recorded songs and compare it to live performances of this band. You can see why AVENGED SEVENFOLD IS THE BEST BAND IN THE WORLD. With melodic guitar solos, bass solos, heavy drum beats and I don't know how to say this, most awesome VOCALS ever! They make the band the best out there but its lonely that The Rev is now dead. Long live AVENGED SEVENFOLD! KEEP BANGING! This band deserves to be in the top 5 best bands man. VOTE FOR IT!
Avenged Sevenfold... I can't even describe in full comprehension how good their music is. If anything it's not my choice, or right to say that they should have more votes and a higher position than the bands up their, since is would just be my opinion, but their is something about Avenged Sevenfold that strikes us all.
Okay, maybe some of us just see them as some half-screamo, half-metal band, but wouldn't you just give a chance to listen to their music. Their proof of quality matches those up on the top ten (&ltBiased) Yet if you listen to the lyrics they speak to you. Not only do they speak to you, yet they actually inspire you, and encourage you to be able to move on. Honestly I can't say you can trust me when I say this, but when I was a freshman in High School, I was doing pretty damn bad. I can't say it was all their job that helped me succeed, but after I started to listen to them, the inspiration drove me to be able to do my work, pass tests and different things that I really needed.
I hope many of you give thought to how great Avenged Sevenfold really is.
Best drummer EVER. You got Shadz here singing his black-as-night- heart out, Syn playing til his fingers catch on fire, Zacky in all his left handed glory checkin out Syn's package with x-ray vision and STILL hitting EVERY. NOTE. Now you got Johnny Christ here rippin the bass up with that bloody awesome sound. I saved the best for last. You have this lovely -and beautiful- drummer here named James 'Jimmy' &quotThe Reverend Tholomew Plague&quot Sullivan who poured his soul into everything. He worked his best, and look where it got him. It got him the title of the best drummer. R.I.P. The Rev. foREV
THEY ARE KEEPING METAL ALIVE! Shadows can work the mic better than anyone else, there's nothing syn can't do on that axe, zacky is a left handed rhythm god, the rev was the best but now they have arin ilejay who is amazing on that set as well, and johnny christ is very underrated and if you want to hear his true skill listen to Blinded In Chains off City Of Evil.
TEN? Only TEN?!?! This is just too low for men as talented as these guys. Come on, 30 Seconds to Mars? And Linkin Park WAS good, but then they dropped their signature EVERYTHING and turned into a completely different band. Avenged Sevenfold has never made a bad song. Maybe a weak one or one that has to grow on you, but I've come to love every last one of them

M. Shadows has one of the most unique voices to this date, Synyster Gates is probably the best modern guitar player out there and will someday become the greatest of all time. From what I understand, Zacky Vengeance taught himself to play upside- down on a right handed guitar because he's left handed. Even though it's sometimes hard to hear the bass in A7X's music, Johnny Christ is also very talented and probably the best bass player out there. Finally, The Rev was the best drummer of all time- liste to the drums in Scream and the intro of A Litlle Piece of Heaven and then try to tell me otherwise. It's such a shame he had to die at 28... We'll miss him foREVer.

Even my ten-year-old sister, despiser of all music of all genres, said this- "Avenged Sevenfold should be considered the best band of all time. I mean, how the heck do you get that good? " They should be in the top 5, if not at least the top 3. - foREVer-Z
AVENGED SEVENFOLD SHOULD BE # 1!
even though they are known they aren't OVER RATED OR SELL OUTS!
we are like a big family and thats what makes them such a great kick ass band
unlike others who say they care about their fans a7x truly does care about their fans
they will and have done anything to please and make their fans happy. they're one of
the truest realest bands ever and their music, their lyrics I can always compare
to them and every time I'm upset all I gotta do is give them a listen
and all my worries are gone. avenged sevenfold you're one of the
best things to ever happen to this world
A7X is pure awesomeness! They're not like most bands who have only a couple of good songs. All most of their songs are brilliant! Each and every one of their albums has awesome songs Sounding the seventh trumpet - Streets (which for a debut album was AWESOME! ) Waking the fallen - Unholy confessions, second heartbeat, critical acclaim and many others! I hardly need to talk about their famous albums! And they have an awesome drummer brilliant guitarists and a hell of a vocalist! They're not a one man show like a lot of other bands.
The most talented band in the world
Vocalist = Matthew Shadow : the cleanest scream in the world
Drummer = R.I.P Jimmy the rev Sullivan : double pedal so on... Can play over 198 BPM, now (mike portnoy)but mike portnoy, included in top 10 drummer in the world
Guitarist : synyster gates : the fastest guitar shredder
2nd guitarist : zacky vengeance, he use his left hand to strum, called it BEST TRASH METAL
Bassist :Johnny christ : don't have any talent but still good in play
One could say that A7X is one of the best bands since their start. They have and amazing guitar player who can shred through incredible songs. The bassist and second guitar do just as good.
Their vocalist has an incredible and unique voice.
Their recently deceased drummer played incredibly fast, and accurate.
ALL of their songs have meaning behind them. Whether it be about our troops in Iraq or about love.
you have to be extremely open-minded to listen to this band and truly appreciate them and Thank God I am. Hands down mind blowing. Their lyrics are like nothing I've ever heard. They started with a solid foundation and sadly lost one of their members but they know they're too talented to give up. If they don't continue for themselves they'll for sure do it for jimmy, they know if they don't he would he pissed - ambrosia5400
Avenged sevenfold is the best band ever cause it's the only band with all the best players no other bands have the best two guitarist like synyster gates and zacky vengeance with the rev(late) who was the best drummer in the world and shadows the best vocalist their songs are just too meaningful and great tokio hotel don't deserve that place along with 30 seconds to mars their songs suck they are no match to avenged sevenfold 2012 the best live band was avenged sevenfold the best band with the most public support was also given to avenged sevenfold at the golden god awards
a7x is the best the rest
Avenged Sevenfold is the result of taking the best current lead guitarist (syn gates), the best rhythm guitarist (zacky veangence), M. Shadows who has an awesome voice and can reach way higher notes than the other current male vocalists, and johnny Christ is a fine bassist, listen to Blinded In Chains, The Rev's skill perfected their songs making them require only the best drummer.
Avenged Sevenfold are all around one of the greatest bands in music history and today. All members exceeding everybody else in what they do. M. Shadows in my opinion puts James Hetfield to shame (no offense to james he's amazing) and when it comes to Ulrich vs. Jimmy that's no contest, jimmy hands down. And then we have Mr. Syn Gates. NO guitarist on this earth is better than that guy. I mean it. All in all Avenged Sevenfold belongs at #1 in any contest, they're just that good. &quotAnd if you don't know, now you know. &quot
This band is amazing! Their music is crazy and has a &quotscary&quot and intimidating beat to it. They're all loyal band members since 2001. Everything about them is very unique. I think this band should at least be at number six. They came up with their names, write their own songs, and play their own instruments. Some of their songs have also helped me through tough times. They have own of the most incredible guitarists of all time. Avenged Sevenfold is a great band! They're real and have a lot of good songs. Sure most aren't at the top, they still go it.
Avenged Sevenfold foREVer.
Avenged sevenfold has the world's best drummer, the worlds best guitarist the best vocalist ever!
A7X don't have a lot of history like, jimmy hendrix, beatles or metallcia for example, but we have a lot of very good song, and m. shadows is one of the greatest singers, and synyster is a very good guitarrist I know that synyster can be the next jimmy hendrix, or slash
Okay, the love I have for this band isn't describable. I find myself humming, tapping, and singing A Little Piece of Heaven. At first, I thought I had heard So Far Away before, but I'm pretty sure I was just thinking of the version by Staind with completely different lyrics. I also like Nightmare, and Afterlife, and M Shadows' scream at the beginning of Bat Country, Hail to The King, Shepard of Fire, This Means War, Almost Easy, Beast and The Harlot, Carry On, Buried Alive, Critical Acclaim... WELCOME TO THE FAMILY! Don't even get me started on that song. I don't even read that song title, I sing it to the tune of the song. If we went on listing all their songs I like, we'd be here all day. Or at least until I got done listing ALL their songs.
Oh come on, this band surely is better that all those above. Ok maybe not but in my opinion they are. Their my favourite band of all time. They had the best drummer I've ever heard in my life who brought passion and rhythm to avenged sevenfold. Yes I am talking about the rev as he used to be called. Avenged sevenfold make great music. Their style is unbeatable and and their songs are a huge hit. I especially like all the guitar solos synyster gates has done. The vocals for M. Shadows are great two. This band is at least in the top 5
Ok what! Why is linkin park higher on this list than A7X? They are both good bands but you would have to be deaf to think that linkin park could in any way be even slightly better than avenged sevenfold! It just seems like a fact to me, but I guess that there have to be some people out there that like linkin park or they wouldn't be as successful as they are. Avenged Sevenfold kicks ass! My favorite songs of theirs are unholy confession, beast and the harlot, and critical acclaim.
It was really a hard choice to select the best rock band out of these, cause all of them are just so great. Queen, Led Zeppelin, The Beatles, Linkin Park, Guns N' Roses, and so on. But Avenged Sevenfold is just something else. A7X has got the most unique songs ever. The guitar is so amazing! And the drums, oh, how do I even begin? Jimmy was the best drummer ever! And the vocals are so great, too. I love all of their songs, and I mean ALL. From A Little Piece Of Heaven to So Far Away to Afterlife to Dear God to Bat Country and what not. They are so unlike the songs of other bands and some of them have so many emotions in them that it makes me cry sometimes. Truly a genius. - PlatinumTheHitgirl
I would like to emphasize that these guys were better than most established rock bands by the time they were 20 years old. They started out of highschool at an extremely high level and have only improved since then. Plain and simple, these guys were born to play. They don't just make music, they make works of art. Incredible lyrics and instrumentals. This band should be higher than 10 on this list in my opinion.

P.S. 30 seconds to mars at #6? Who runs this site, 15 year olds?
Avenged Sevenfold is by far the most explicitly sensational rock band I have ever had the honor of listening to. Songs like Blinded in Chains actually stir the elements of rock within you. I listen to songs like nightmare, almost easy, unholy confessions whenever I'm in a bad mood. They deserve to be in the top 10 rather than 13 and easily out-trump linkin park and Green Day who haven't even begun to encapsulate the true essence of rock/metal in their songs. A7X excels hands down.
Related Lists
Best Avenged Sevenfold Songs
Best Avenged Sevenfold Albums
Top 10 Avenged Sevenfold Slow Songs
Best Lesser Known Avenged Sevenfold Songs