Nirvana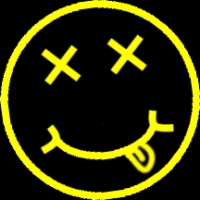 Found on wikimedia.org
Comments
Top
Newest
I'm sure that the band called 30 Seconds to Mars is worse than Nirvana. I think.. Kurt Cobain was the real rocker. Not like Jared Leto. Jared Leto wants to be like Kurt Cobain. But Cobain was only one and always will be.. And I think that the band 30 STM doesn't play rock, plays maybe pop-rock. I don't like this style of music. It hasn't nothing together with rock.
I'm sure, that Kurt Cobain was the last real rock star. And Nirvana the real rock band. Yeah.. I know that Nirvana doesn't mean only Kurt Cobain. Dave was really great drummer! Without him wouldn't be songs like Smells like teen spirit (this song I don't like, but only because everyone know only this song.. I know - It's really great song, but.. If Kurt Cobain known what will be after the MTV played the song &quotTeen spirit&quot he never wanted it.. He didn't want to play this song on concerts because there were going mainly people who wanted hear this song. Just:&quotOhh.. Nirvana! I know the song Smells like teen ...more
It's not often that a band such as Nirvana comes around and changes a genre to a complete new style of play. Kurt Cobain, a young man coming out of Aberdeen Washington, had one goal on his mind. That goal was to make an impact of the music industry that would last forever. After years of building popularity and turning heads of label companies he finally achieved his goal. He created a whole new genre. Many people may have, and probably still do, see him as just a bad influence to kids. Yes, he did do drugs, drink and unfortunately wind up committing suicide. However, he still is a musical genius. No matter if you like grunge or not, you still need to show Kurt Cobain, Dave Grohl and Krist Novoselic the respect they deserve. There has been to many times when I hear people talking about how much they hate Nirvana and Kurt Cobain especially. You don't have to like them but at least show some respect. I don't think I can name another time that when a man killed himself that it impacted ...more
I wouldn't say Nirvana should be number 1 because they shouldn't be. However, they should certainly be up there. Nirvana is often overlooked on lists like this because they are from a different generation than most bands on the list. Some people view them as too recent to deserve recognition. Personally, I believe it shows how they actually in a way saved the genre. When pop and hip hop began to take over, rock was a fading genre, but Nirvana brought it back into prominence. Some say Cobain was the last great rock star, and that certainly is a true statement. Raw music and angst made him the voice of a generation. Someone like him nowadays would be almost unheard of. Nirvana put alternative rock in the spotlight and inspired a lot of bands to keep making music with rock elements. Nirvana speaks to a younger generation and helps the legacy of rock and roll live on. This makes them one of the greatest acts of all time in my opinion because even though they weren't a part of rock at its ...more
Changed music forever, I think Led Zeppelin is the best rock band of all time. But Nirvana is so low on this list I had to vote for them! Their music is raw but has hooks and is catchy. Nevermind is commercial yes, but is one of those albums where every song is amazing and there is not one single song that you feel should be skipped. Another thing, it's amazing how they were not around for long but still made a huge impact in the music business. Most bands take a few years but Nirvana blew up right away and helped kick that generic poser glam metal and put honest rock n roll back in the mainstream. And there lineup is like an all star team, Kurt Cobain, simple but awesome guitar riffs which is great for beginners to learn, very talented songwriter as well but not the best vocalist. Dave Grohl absolutely fantastic drummer, some say the best one of all time, Kurt said he had never seen somebody so amazing, with great timing and someone who pounded the drums so hard. Krist Novelic ...more - superluke10000
Ok, ok, ok. Nirvana may not be the BEST band. But they are definitely fighting with The Fab Four, The Sex Pistols, Led Zepplin, and The Rolling Stones for that position! The Beatles made rock music an enjoyable everyday part of people's lives, the Rolling Stones kept that going for the longest time, Led Zepplin reinvented the music everyone knew in the 60's, the Sex Pistols turned music into an everyday lifestyle applicable to every single aspect of life and attitude. But Nirvana, Nirvana. To prove they were truly great, they didn't seek or even respond kindly to all of the publicity that they acquired. Because they ARE the greats. All of their fabulous compositions (Smells Like Teen Spirit, Come As You Are, In Bloom, etc. ) were so could that Kurt-and even David and Krist-rejected those songs because of how popular they were. Nirvana made it not about fame, performing, and the audience, but as a conduct of the writer and the joy of the musician. John Lennon was good, but had ...more
Nirvana is the best band ever. For an alternative band to come completely out of nowhere and then to crossover onto billboards pop charts is completely unheard of. Not only did the crossover but the pulled ahead of Micheal Jackson on the pop charts in 1991. I highly doubt that will happen again. Kurt Cobain was one of the best lyricist in music history, Krist Noveselic is the most underrated bass player, and Dave Grohl is not only a great drummer but also a great musician and the Foo Fighters should be higher up on this list too

Nirvana, at the 10 place of this list? , I can't believe it! This band was awesome, guys. Did you have ever listen to? The most of the lyrics of this band were like Wow! They are just perfectly weird and the music? We couldn't say nothing, it was just perfect. As I ever say, Nirvana was the best band I have ever listen, and it wont change never. When I came into this page, I thought Nirvana would be at the second or third place. How can you compare Linkin Park, guns and roses with Nirvana!? Ok, lets be fair, Linkin Park and guns and roses were good, but as good as nirvana? Are you crazy? They werent!. Nirvana changed the common rock to another type of rock, Grunge, It changed the world!. But relax guys, this is just a top ten where we can vote to the band that we want, but, if this page will be posted by a professional musician, we could see Nirvana at the first, second or third places.
Is this a joke? I clicked on this list expecting to see Nirvana in the top three. I was extremely surprised when I saw that it was twenty! A-ha?! Tokio Hotel?! The GazettE?! There's bands ahead of Nirvana that 99.99% of America has never even heard of! Everyone has heard of Kurt Kobain and Nirvana! Smells Like Teen Spirit was the battle cry for an entire generation. They made grunge! The only band that had more of an impact than them on this list is The Beatles (and I am even more surprised they are not number one). But really? Thirty Seconds to Mars at 3? Really?
Nirvana was Kurt Cobain. Krist Novoselic and Dave Grohl were only along for the ride when they hit the mainstream in 1991. I find it hard to believe just how much they accomplished and how many great songs Kurt was able to write in such a short amount of time. Even the songs that Kurt had scrapped should have been classics. It makes me wonder how great the band would be considered today if they, rather if Kurt Cobain, had lasted 5 or 10 years longer.
Live fast, Die young, burn brightly, and burn forever. Nirvana was the defining band of the 90s. Kurt Cobain was one of the last true artists. From Bleach to MtV live: they created not one bad song. Defining songs: Smells like Teen Spirit, About a Girl, Come as you are, Lounge Act, Rape me, Heart shaped box, Frances Farmer will have her revenge on Seattle, All Apologies, Where did you sleep last night...
Nirvana CANNOT be 20! It MUST be higher! At least in the top ten some where! &quotMinimum comment quality not yet reached&quot but I have no more words. It is as simple as that Nirvana CANNOT be 20! It must be higher! So please HELP me! It must be better! Especially with Metallica and Led Zeppelin all the way up at the top! Thank you for having patience with me
NIRVANA is so awesome. Krist Novoselic is a really cool person with a lot of humour and Dave Grohl is the best drummer I've ever seen! And of course, the frontman Kurt Cobain is one of the best songwriters ever! Even though he doesn't have the best voice, or 'super rad' guitar skills, he writes awesome songs, and puts LOTS of emotion in them. And if you want to know what NIRVANA is REALLY about, you MUST check out all the least known songs. They are the absolute best.
In fewer than three years, Nirvana became the centerpiece of a major revolution in popular musical taste, the effects of which can be felt to this day. The guitarist/composer Kurt Cobain led this dynamic trio toward mainstreaming the punk rock style that became known as grunge. With Nirvana's success in the early 1990s, alternative rock moved into the hearts and minds of a whole generation. Like Buddy Holly, Jimi Hendrix, and too many musical innovators before him, Kurt Cobain did not live to see the full effects of Nirvana's musical legacy, which still lives on. - cox
This list is so close to being almost perfect. Nirvana is a great band, and should be way ahead of Linkin Park and AC/DC. Maybe even Guns 'n' Roses. But still, Nirvana changed rock and roll completely, my friend. Kurt Cobain added an entirely different sound to vocals, that increased the intensity of their music by a crap ton. Dave Grohl's drumming was also some of the best ever seen by man, and he still rocks on. And then of course, there's Krist, the guy that doesn't really get credit for anything, even though he was the one that made the band who they are, just flat out amazing. It's sad to see these guys at #10.
BEST BAND EVER! Kurt Cobain was coolest guy to live, his lyrics, passion and general aura would blow away any band lead singer you could dream of. To think that the drummer could go away and form a band as big as the Foo Fighter says it all. Anyone who puts the likes of 30 seconds to Mars in higher regard than Nirvana are idiots.
It never was about rock n roll with nirvana. The big picture we all are missing is that, they had a message for the current generation (then) on how to overlook life. They did something that was the MO for Beatles and queen. Its never all about glitter lifestyle and the variety of girls or the reckless drug infused lifestyle, it was about looking into ourselves, and confronting the demon in a pretty humorous way. They are the ones who never needed any lists, MISFITS in a totally new way. Guns and Roses are pretty, but nirvana is life man.
I see many good bands in the Top 10 but don't you think Nirvana is better than them? I've listened to songs by all of those bands and I do think Nirvana should be somewhere there. Tokio Hotel? They're good but Nirvana is better than them in any day of the year. 30 Seconds to Mars are pretty good, but compare them to Nirvana and please, they're nothing. Nirvana should be in Top 5 and we all know that.
I think they were the best band of the 90's. I don't listen to tons of rock, but there is no way that they could only be 22. For the few years that Kurt and the band were kicking, they put out many classic hits that revolutionized rock and roll. They should be higher for sure!
Since thirteen I have not gone a day without listening to Nirvana. I have listened to every song they have ever recorded and loved everyone. It feels like such a cliche but I can totally relate to the music. I can't even explain my love for this band. They brought me onto other amazing artist's like Pixies, Sonic Youth, Velvet Underground, a whole array of band's. They changed my life completely. When I'm angry and life is to hard listening to them makes thing's so much better.
Nirvana pretty much changed the whole landscape of music, after Smells like teen spirit was released, several Grunge bands came out of nowhere, like: Pearl Jam, Alice In Chains, Soundgarden, Creed, Silverchair, Foo Fighters, Nickelback and more: what does that say?
The best group ever! Thanks Kurt for this wonderful experience.

I prefer other bands on this list to Nirvana but there is no doubt in my mind that they are the best rock band of all time, simply because of how they popularised alternative rock and how their music still resonates with fans 20 years after they last performed, despite the fact they were only together for a short space of time, they were known worldwide and are one of the most influential bands ever. - adammarc98
It's horrible that they are this low without them there wouldn't be alternative rock and the amazing lyrics if Kurt cobain need to be heard
Kurt cobain was one of the best singers this world has ever seen nirvana was one of the most best bands since the Beatles all his songs mean so much and are so complex I can't say anything about them that no one else said already and how can linkin park be better than nirvana they shouldn't even be called a rock band the other bands are still cool but nirvana is of the best full stop
It is insulting to have this band ranked anything but number 1. If you stupid people with no taste in music feel the need to stimulate your pathetic excuse for a penis with extremely unintelligent opinions on a topic you clearly know nothing about-music, I will personally see to it that I play "Smells like teen spirit" whilst stuffing you cute little toothpick balls up you own ass. :) have a good day!
Related Lists
Best Nirvana Songs
Top Ten Nirvana and Metallica Songs
Best Songs From Nirvana's Nevermind
Best Nirvana Singles