Saddest Deaths In Call of Duty
Alpha101
The only reason I didn't put Ghost or Woods in here is because they aren't dead.
The Top Ten
1
Soap
Why did he have to die? I loved this guy! - Alpha101
We rescue him for a few chapters, we worry about him, and then he dies. Thanks for those who made this game, after his death I felt nothing good in MW 3. We want back him.
The thing that was really heroic about before his death was when he wanted price to patch him up and put him back in the fight
Once he died, Call of Duty game up... Now they ran out of ideas and come up with this futuristic Infinite Warfare.
V 22 Comments
2
Ghost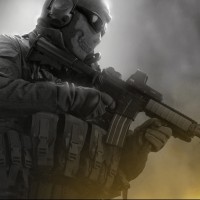 Shepard's betrayal was 100% unpredictable, and Ghost was bad ASS. Wish I Could've died alone, and not Ghost. People say Soap was the saddest, and I respect that, but I think Ghost barely made it out as the winner of saddest death.
Most badass character gets betrayed... Sad
I was so shocked when he died and I just didn't see it coming. ghosts shall live forever in our hearts. rip
Ghost was the awesomest charecter ever. Why would you kill him off he was a legend. RIP
V 11 Comments
3
Yuri
Yuri was awesome. I wish he was still alive. - Alpha101
Yuri should not have went out like that
Captain price should've sacrificed himself!
4
Gaz
People thinks that Gaz is Ghost but I don't think so. Anyway, Gaz was awesome. Why is everybody dying? Yuri, Soap, Sandman, Reznov... If Price or Mason or Woods dies I will be dissapointed and mayby stop buying these games. - Alpha101
Will why in the last level of Call of Duty 4.
I loved gas he was awesome and cool
V 1 Comment
5
Reznov
Viktor Reznov, made quite an appearance in Call of Duty WAW
My favourite character in the whole series but he died a bad death, shot trying to escape from prison. Sad story!
He died in Vorkuta. My favorite Black Ops level! My favorite level ruined bu him dying! - Alpha101
V 2 Comments
6
Sandman
He gave his life for price, yuri, and the president. I just played mw3
V 2 Comments
7
Dimitri Petrenko
He dies by dragovich in bo1 by gas. Reznov says he died like nothing. an animal. He also said. He should of died worthy back in Berlin. RIP. Dimitri Petrenko
Remember Heart of the Reich? This guy (so basically, us) did some badass stuff in Call of Duty WaW, and so when I saw him in the BO 1 mission, my heart jumped! And then he dies one of the worst deaths in Call of Duty history. I agree with Reznov, he should have died back in Berlin.
Dimitri Petrenko gave his life to ensure the USSR was always victorious but instead he died for nothing because of the traitorous acts committed on him and his comrades RIP comrade Dimitri Petrenko RIP hero of Stalingrad
8
Alex Mason
He only dies if you choose a certain path, which, by the way, should be obvious enough to avoid. However, David's face when he sees him is true enough to shed one man-tear.
9
Bowman
Got beat in the head till death. RIP. - Alpha101
Don't know if he actually died... There is a possibility that bowman survived... He could be Russman from black ops 2 since Russman can't remember anything too...
V 1 Comment
10
Frank Woods
He saves mason by jumping though the window with the bad guy and explodes himself to death with the bad guy so sad
V 1 Comment
The Newcomers
? Ethan
?
Captain Reyes
He sacrificed himself for the good of his crew
The Contenders
11
Ludvig Maxis
Maxis died protecting Samantha from the "Hell hounds."
I don't know what happened to him?
V 1 Comment
12
Griggs
Should be way higher, he risk his life for Soap and died, he could of been the captain in MW2 if he didn't come out and start shooting, he could of stayed in cover and act dead
V 2 Comments
13
Bloomfield
The way he died shocked me, just because he was a fun character, and it was in the final mission in the game. He was one of my favorite characters in the game.
He was my favorite character in the whole series!
14
Riley
Guys! Its Simon Riley aka "GHOST". I wonder still why he has two spots in this list...
We've had soap, yuri, gaz but now a dog in Call of Duty ghosts! Just stupid now
V 4 Comments
15
Roach
Roach is and was my favourite Call of Duty character. Even though most people think that Ghost was better, Roach is always my favourite. He was trusted by his team (Task Force 141) and he was their family as well as they were his. I basically died when Roach (and Ghost) died from betrayal of all things.
Why is this man bit as high as Ghost, they both died at the same damn time and both had a free cremation
16
Harper
In the Mission 8 in BO2 you can choose to kill harper I did so and I almost cried Harper's death is very sad I of course rewinded the story and sVed him
V 1 Comment
17 Mike Dixon
18
Jason Hudson
When he put on those glasses in number, I pissed myself
V 1 Comment
19
Makarov
Cause now there is no more modern warfare games. Seriously, what will Call of Duty do after black ops 2
Who the heck put him on here. I don't mean to be offensive, but why would you put him on here
PSearch List
Recommended Lists
Related Lists
Best Call of Duty Games

Top Ten Saddest Warrior Cat Deaths

Saddest Anime Deaths
Top Ten Saddest Deaths In Video Games

Top Ten Saddest Musician Deaths
List StatsUpdated 20 Jan 2017
200 votes
42 listings
4 years, 151 days old

Top Remixes (7)
1. Soap
2. Gaz
3. Yuri
haza712
1. Soap
2. Sandman
3. Yuri
navyseals12
1. Soap
2. Riley
3. Harper
TheMcKing1003
View All 7
Posts
Error Reporting
See a factual error in these listings? Report it
here
.