Top Ten Saddest Deaths In Video Games
LucasMota
The Contenders: Page 13XW
241
Kenny - South Park: The Stick of Truth
He has died the MOST times out of anyone, guaranteed. There should be an award for that. - LaserSharkYT
242Frank Tenpenny - Grand Theft Auto: San Andreas
243Your Character - Dark Souls
244
Tombstone - Battlefield 4
When you choose to pick Irish (or a Chinese woman), they die and you get their dog tag. So please choose to let the Valkyrie blow up.
245
Tobi - Okami
Everyone's favourite demon character coming to life and how his fate really moved them.
246
Tsuzurao - Okami
She was such a beautiful priestess tied with Queen Himiko. When Ninetails reveals her true form within the poor woman's garb and I discovered the skeleton of the real Tsuzurao, I am still with grief.
247
Tails - Sonic the Hedgehog 2 (8-bit)
Tails died?! NO! That is just sad! At least he's still alive in canon.
Man... You are about to finish the game and rescue Tails, but you don't have all the emeralds... Tails... Died?!
And that song in the background... Even though Tails didn't cannonicaly die, this was the only bad ending in Sonic history that really motivated me to play the game all over again. Sonic stops and see Tails' face in the stars... This was so sad... ;_; - corisco42
248
Victor Vance - GTA Vice City Stories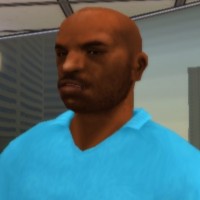 249
Alexei Stukov - StarCraft
First appearence starcraft brood war if you haven't played brood war - whodafuqisthisguy
250
Scarecrow - Batman: Arkham Asylum
He got eaton by croc SPOILER! - whodafuqisthisguy
That's my old account ı posted that Comment BEFORE I saw the Arkham Knight - Aguythatpeopleignores
251Alvin - Telltale's Walking Dead: Season 2
252Detective David Tapp - Saw (The Video Game)
253Claire Fontanelli - Crysis 3
254
Betty - inFamous: Second Son
At the evil ending Saving Betty is a waste of time
255
Mark - The Walking Dead
They cut his legs then cook his legs
256
Popop - Dust: An Elysian Tail
At this moment one may feel as Fidget does, disappointed and confused. You did everything you were supposed to, but you failed. And the shock you get when Dust expresses his anger add to the emotion in this scene.
257
Big Smoke - GTA: San Andreas
He is having his 2 NUMBER 9s A NUMBER 9 LARGE A NUMBER 6 WITH EXTRA DIP A NUMBER 7 2 NUMBER 45s ONE WITH CHEESE - AND A LARGE SODA in heaven bless his soul.
258Sigurd - Fire Emblem: Genealogy of the Holy War
259
Emily Kaldwin - Dishonored
I know that this wasn't a particularly sad ending for some people, but this one really teared me up. I literally shouted NO! When she was thrown of the lighthouse :(

It was probably the most intense and simply brilliant storyline in a game I have ever seen, just the way it gets you so attached to characters, and then after you've completed the game when you realise who the admiral really is.

Brilliant. Just. Brilliant.
260
James Taylor - House of the Dead 4
To sacrifice yourself just to shut Pandora's Box, is one noble thing to give humans a new hope despite what Goldman (and his successor) said about humans
PSearch List
Recommended Lists
Related Lists
Top Ten Saddest Video Games
Saddest Deaths In the Hunger Games
Top 10 Most Brutal, Gruesome Deaths In Video Games
Top 10 Video Games With the Cheapest Deaths
Top 10 Saddest Hunger Games Deaths
List StatsUpdated 6 Dec 2016
4,000 votes
336 listings
6 years, 95 days old

Top Remixes (32)

1. Zack Fair - Crisis Core
2. Aerith - Final Fantasy VII
3. Lee Everett - The Walking Dead Video Game
FinalChaos
1. Aerith - Final Fantasy VII
2. Nicole Brennan - Dead Space
3. Jack - BioShock
egnomac
1. Luna - Zero Escape: Virtues Last Reward
2. Lena - Everlasting Summer
3. Zack Fair - Crisis Core
wjacob313
View All 32
Posts
Error Reporting
See a factual error in these listings? Report it
here
.