Top Ten Saddest Deaths In Video Games
LucasMota
The Contenders: Page 3XW
41
Isara - Valkyria Chronicles
Definitely one of the saddest scene. Isara is quite a likeable character since she managed to accomplish so much at such a young age. More so, when she accomplish them with so much adversities in her life.

She is also likeable in that the discrimination she has faced in her life did not make her bitter. Instead, she had dreams such as of having her kind be accepted and invent an aircraft to fly with her brother.

What made her death so sad is that Isara had so much going for her. Isara had many talents and quite skill at her trade. Now she will never reach her dreams.
I will always cry when I see this scene because Isara is one of my favorite characters and a lot of stuff has happened to her during her short life time. She is my favorite underrated video game character and her death makes me cry every time just like Noble 6's death in Halo: Reach. RIP Isara (1919-1935). - wjacob313
The games characters are all so endearing they all make an emotional connection with the gamer. Isara's death is so sudden and unexpected of such an innocent and likable character it is incredibly sad. It serves as a good example of the deaths and sacrifices that occur in any conflict.
Why Isara. Just as everything started to turn for the better... The ending scene where she basically saves Welkin and Alicia was even worse for the feel.
V2 Comments
42
Cole Phelps - L.A. Noire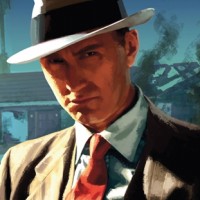 This was the first time I had cried in a video game, next being Lee from the walking dead
I agree the only death in a game (along with Lee) that made me tear up
God. I couldn't believe it when Cole died :'(
V2 Comments
43
Sandman - Modern Warfare 3
Sandman's death was my second favorite death in the Call of Duty series. He, Truck, and Grinch fought to the very end to do what was right. Side by side kicking ass saving Price. Ghost and Roach was my favorite death. I felt so emotional about all these deaths. They were all my favorite characters. Don't forget about Roach either. He survived death multiple times.
It was terrible! The whole time I was playing that part, I was yelling, "Get on the ' chopper, dude! " Then when he said to just go, I was screaming in my head, "NO! I STARTED TO LOVE YOU! WHY YOU MAKE SUCH SACRIFICE FOR ME AND RussiaN PRESIDENT?! " D':
From the very beginning when he threw you that first clip you got emotionally attached to sandman. And then after all of the mission time played with him I found myself wishing over and over again after he died that you would hear his voice on the radio only to be let down.
They all could shoot the enemies from the helicopter and escape but it was another reason for the directors to destroy another good guy!
V2 Comments
44
Axel - Kingdom Hearts 2
This death was one of the saddest deaths I have ever seen! Axel has had both his best friends taken away from him and now he sacrifices himself to save Sora because of the resemblance to his best friend Roxas. Poor Axel...
Best KH character and he did not deserve to die he was just trying to get his best friend back
V1 Comment
45
Kratos - God of War
Where is God of War 4? Kratos just disappeared after the credits. Is he alive? Or what? - Chaotixhero
The death scene may be sad but the ending sucks
This should be in the top ten. Kratos did everything to get his memories of him killin his own family out of his head and he didn't get what he wanted and later discovers it to be his fault that Pandora dies and believes she died in vein after he kills Zeus so he stabbs himself in the chest with his sword and bleeds out. It doesn't grt much more sad than that.
V2 Comments
46
Booker Dewitt - BioShock Infinite
Booker DeWitt might have been a bad guy who frequently gambled and sold his daughter in order to clear his debt, but still watching him drown had me in tears.
How was he not even on here until I added him. I was shaking by the time the ordeal was over, so sad.
Oh my word
You spend the whole game getting to know him then "BAM"
Right there, dead
47
Jorge - Halo: Reach
Someone give this guy a fifty-gun salute! But really, This broke my heart more than noble 6's death.
Died in vain thinking he saved Reach. That makes it all the more tragic.
He thought he saved Reach, but alas if he only knew the truth.
V2 Comments
48
Toroko - Cave Story
Cutest goddamned thing ever in a video game. She was a sweet, adorable, unbelievably innocent, cuddly little furball...who just HAD to die. Because Cave Story. - xandermartin98
V1 Comment
49Richard Aiken - Resident Evil
50Thane Krios - Mass Effect 3
51
Roland - Borderlands 2
, you play as him in the first game, and he come back and you're like "cool, roland back" I screamed "NOOO! " When he died. It wasn't a game anymore. It was a quest to kill jack.
I loved the first borderlands and actully played as roland so this death bull
V2 Comments
52
Johnny - To the Moon
"Because one day, I'm going to befriend one of them". When or if you already played this you will/would know the true sadness of that quote. To The Moon in my opinion is the saddest game, well the I have played and highly-highly recommend it for those who have not played it yet. Made by Free Bird Gaming and sold very cheaply not buying it would be a moral insult. So leaving on that, it is a very good, emotional, well thought out game unchallenged by what others see them selves to be considered challengers of this game, but its all up to YOU.
Okay, so I watched PewDiePie play this and I never usually from video games, but I watched that and I couldn't help but just break down and ball my eyes out. I went to bed in tears. And ever since then I have turned into the person that crys at the little things... But I'm fine with it... I'm tearing now :'c
Damnit why isn't this with the top 10? I guess fancy graphics is what attracts people to playing video games now. The story of To The Moon is funny, sad, happy... I can't describe it in words. One of the best games I've ever played. You get really attached to Johnny since you see him grow up and you really feel for the the guy. By the end your heart is already torn to pieces and then the game just puts those pieces on fire. Highly recommended to anyone.
First time I cried in a game :(
V5 Comments
53Curly Brace - Cave Story
54
Roth - Tomb Raider
This should be number 1 :( man really annoying
55
Johnny Gat - Saint's Row: The Third
Johnny Gat has been my favourite character since the start of Saints Row and he died by helping his friends. Always miss him
Even after Gat out of hell I still feel sad when I think of his death. You really bond with him over the other saints row games so when he dies. It was just so insane I never assumed he could die. He was like just too dang powerful...
Johnny Gat was/is awesome and no one could ever take that away form him. He will forever be a crazy guy that everyone loves.
He's actually not dead, play Saints Row 4, or when Saints Row: Gat Out Of Hell releases - CasinLetsGoBowling
V4 Comments
56
Luis Sera - Resident Evil 4
This is the saddest death not just in videogames, but it is sadder than any death in a movie
I posted this when it was below 106. Now I found it on 37 when I came back to this site thank you fans of re 4 and welcome. - tawhabinnasir
Even though he didn't appear that much, he was still an important character and his sudden death was so unexpected that it brought tears to my eyes.
Death was sad, but not as sad as people describe it to be. RE4 was a good game.
V1 Comment
57The Baby Metroid - Super Metroid
58
Yuri - Modern Warfare 3
Yuri dedicated his life to avenge his own self (in a way). Captain Price Doubted him and that was so sad how he was left dead. =(
Yuri wasn't in the series for long except he was a great character
V2 Comments
59
Maria - Gears of War 2
I was all like "Yay Dom found her! " and then I was like, " wait, what's happening? " and then I was all like, "That's so weird! " and then I was all like, "No, that can't happen! " *sob*
RIP
Maria - TheNewGuy132
I think that what makes so sad is that, from a dynamic gruff type of shooter like gears, Marias death and the emotional way it happened was at least unespected, the fact that the scene was incredibly well played helps a lot too.
60
Carter-A259 - Halo Reach
I love this guy only he dies because he help his team and he is an a**
V2 Comments
PSearch List
Related Lists
Top Ten Saddest Video Games
Top 10 Most Brutal, Gruesome Deaths In Video Games
Top 10 Video Games With the Cheapest Deaths
Top 10 Saddest Hunger Games Deaths
List StatsUpdated 24 Oct 2016
4,000 votes
335 listings
6 years, 52 days old

Top Remixes (30)
1. Aerith - Final Fantasy VII
2. Nicole Brennan - Dead Space
3. Jack - BioShock
egnomac
1. Luna - Zero Escape: Virtues Last Reward
2. Lena - Everlasting Summer
3. Zack Fair - Crisis Core
wjacob313
1. Lee Everett - The Walking Dead Video Game
2. John Marston - Red Dead Redemption
3. Ethan Mars - Heavy Rain
Cimendaro
View All 30
Posts
Error Reporting
See a factual error in these listings? Report it
here
.