Saddest Rock Songs of All Time
The Contenders: Page 3XW
41Down Where I Am - Demons & Wizards
42
Comfortably Numb - Pink Floyd
43
Coma White - Marilyn Manson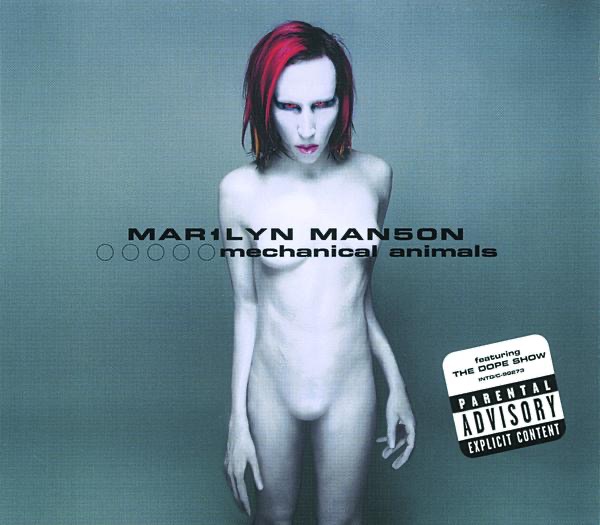 44
Losing You - Dead by April
This song should be given a reward for the saddest song ever. Do you know what it's like to lose someone you love more than yourself? This song showcases it all, it makes everybody who have lost someone whom they loved dearly cry. Very very touching lyrics with beautiful vocals and screams of sorrow with chill-giving melodies, just AWESOME. It has been two years since I have know this song and I still love it, as if I'm listening to this song for the first time. This song earns my full respect, other people should learn to respect this band/song, because they're on of the few bands that make so unique and touchy songs. Please support them :) By the way this song rocks.
This is the only song that makes me cry every time I listen to it. Never listened to such an awesome song, it makes me think of how I was slowly losing my love. Such awesome singing, great melody and the screams are just epic, every time I listen to the screams in this song it makes me cry. It makes me think of how I was begging my love to stay. This song has such great lyrics, it makes you cry when you only read it. Please vote for this song. This is the best EPIC sad song I've ever heard
V2 Comments
45
Black Hole Sun - Soundgarden
Psychedelic sounding for a grunge band. Just the feeling you get when you want the world to be sucked up. Wow. - TheAwesomeBrosVotes
It's a beautiful song that's perfectly listenable, but man, the feels.
46
Hymn for the Missing - Red
This song is really meaningful and sad. Its meant for anyone who has ever lost someone in any way. THe beautiful lyrics with haunting voices this song might be the saddest
A very underrated band. Almost all their songs have beautiful, deep lyrics
V2 Comments
47
In Loving Memory - Alter Bridge

This song brings about a flood of tears. Don't try listening to it in public. The lyrics, the music and the vocals are all very moving. It will make you mourn the loss of a loved one, a mentor, a friend or miss any good times from your past. I listen to it whenever I feel the need to cry and release any suppressed emotions.
This song is the summary of everything that mark tremonty could feel when he lost his mother, that everyone could feel when we lost someone
How is this not in the top 10! Beautiful song full of raw emotion.
V1 Comment
48
Acid Rain - Avenged Sevenfold

This song is the manifestation of passing away. Absolutely stunning, and beautiful.
49
Man That You Fear - Marilyn Manson
Song that describes how Manson turned into what he is now. Definitely give it a listen. It's very gloomy.
50
Terrible Things - Mayday Parade
The second time I heard it, I was actually listening to the lyrics and I started crying. Its such a sad heart-felt song about a father teaching his son about heartbreak.
By far the saddest song ever. Has much truth within with the lyrics with so much emotion and along with a heart breaking melody. I think it should be in the top 5 or top 10.
Why is this song not higher on the list? The only song in existence that moved me to tears, all the other ones are just depressing
This song should be higher on the list
V3 Comments
51
Don't Go - Bring Me the Horizon
Oli is one of those singers that have pure emotion in their voices. I think this song should be higher in the list. It was written about Oli's cousin and cousin's friends who murdered Oli's friend.
This is one of those songs that really hit you hard. It was in my playlist even though I had never heard it before, and now its one of the songs I've listened to the most.
A lot of Bring Me The Horizon songs have a lot of emotion but this song has a special place in my heart.
This is by far the greatest song ever.
V2 Comments
52
You Know You're Right - Nirvana
In this song I feel like you can feel Kurt falling apart
This song was literally about depression
V3 Comments
53
Lonely Day - System of a Down
How is this at 206. One of the saddest songs ever written.
Such simple lyrics but most meaning I couldn't find anywhere else.
For everyone who suffers from loneliness,like me,this is a great song.
V2 Comments
54
Lying Is the Most Fun a Girl Can Have Without Taking Her Clothes Off - Panic! At the Disco

V1 Comment
55
Watch Over You - Alter Bridge
One Of Great Song Of Alter Bridge And My Favourite.
The best alter bridge song in my opinion shoul be higher in this list
56
Never Too Late - Three Days Grace
Good song, but more inspiring than it is depressing
Never too later rules it's my fave song.
One of three days graces best songs
V3 Comments
57
The Bleeding - Five Finger Death Punch

Should be higher this is a beautiful and sad song
58
The Ghost of You - My Chemical Romance
Not only is the song sad, so is the fate of the band.
You think the song is sad? Look at the video!
59
Lithium - Nirvana
Loneliness vocalized. Energetic song, yet, an extreme lack of companionship is the lingering theme
60
And All That Could Have Been - Nine Inch Nails
PSearch List
Recommended Lists
Related Lists
Most Romantic Rock Songs of All Time
Top 10 Mellow Rock Songs of All Time
Most Mind Blowing Rock Songs of All Time
Top Ten Greatest Non-Rock Songs of All Time
Top Ten Most Well Known Rock Songs of All Time
List StatsUpdated 5 Dec 2016
2,000 votes
266 listings
3 years, 233 days old

Top Remixes (9)
1. Snuff - Slipknot
2. Lucy - Skillet
3. I Won't See You Tonight Part 1 - Avenged Sevenfold
CaninFever5
1. To Live is to Die - Metallica
Skmckfmrmc

1. Here Without You - 3 Doors Down
2. Call Me - Shinedown
3. Can't Take It - All-American Rejects
stickmonster
View All 9
Posts
Error Reporting
See a factual error in these listings? Report it
here
.