My Chemical Romance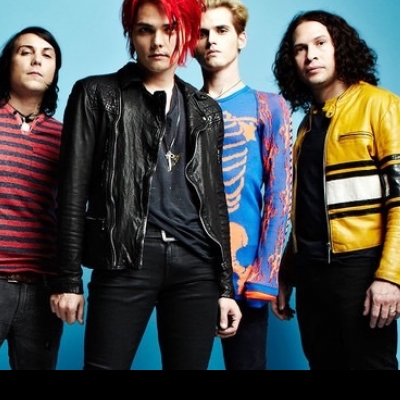 Uploaded by MontyPython
Comments
Top
Newest
My Chemical Romance have much more meaning to them than just music. My Chemical Romance is arguably the most inspiring band on the planet and have saved the lives of hundreds and thousands of people. They even started the band in the first place to save lives of people and change lives for the better, I hate to say it but unlike so many 'artists' they don't do it for the fame or money and they actually write and compose their own songs. Their music is so varied and original - nothing else touches upon it. My Chemical Romance are true artists.
There are too many amazing things to mention in regards to what My Chemical Romance have done for me - but you don't need me alone to prove just how inspiring they are - just take a look at their ever-growing fanbase because each individual member has their own story of triumph accredited to the music this band has produced and their story of success
Saviors of broken, beaten and damned. They saved my life
KEEP RUNNING (Keep voting )!
My Chemical Romance!.. They are the best band ever... And they have an amazing talent they will make a great show... Because they're awesome and they have a cool style... I love them because they saved my life... Their music, their lyrics and their words... Their songs.. Were there when I needed someone
BEST BAND IN THE WORLD! My words cannot express the happiness I would feel if My Chem. Played at the 2012 Olympics! My life would be complete. And all the people that watch the Olympics would see their performance, which is always amazing, and the MCRmy would grow in size, saving more lives.
They honestly deserves this. My Chemical Romance has saved a lot of lives. In fact, even this morning they saved my life. I love them so much and I know that they love and care about us. And they are amazing artistes as well. It is just such a shame that they aren't higher up on the list. They honestly deserve this publicity. They will be statement to all those who are being bullied, all those who are being judged, all those who are being ridiculed, all those who want to die. They are such an inspiration to me and millions of people. I love them so much. KILLJOYS, MAKE SOME NOISE!
My chemical romance is absolutely the best band ever! Their lyrics are about life and love, not giving up in life not even when problems seems to be impossible to solve, there is always hope and a reason to be there and fight for what it's worth! My chemical romance will burn the house down!
They speak in a language understandable to everyone. Their last album about a man, against the routine and about finding your place in our world. They do not lie and do not promise a wonderful life, but I want to believe them. They give us the strength to fight and win.
My Chemical Romance is one of the best bands ever, because they have work really hard to be in the place they are right now. My Chemical Romance doesn't care about making money but to do what they love... Music. My Chemical Romance deserves a lot to be in there because when Justin Beiber sings "Baby, baby, baby oh! " a lot of times... My Chemical Romance is playing and singing "I am NOT afraid to keep on living, I am NOT afraid to walk this world alone" Let's vote! It's time to do it now and do it loud... KILLJOYS MAKE SOME NOISE!
My chemical romance talks about how life can suck sometimes but that does not mean you should go and think your life is over. Life is way more then that! You should live life to the fullest no matter what. I know that know because of my chemical romance.
I Love them and that's all you need to know! They're perfect
Nobody can do it better than they
This band was there for me when I was on the verge of everything. They kept me together in my time of need.. When I needed someone to support me. This band has saved countless lives through the powerful messages in there lyrics. They also are very worldly (Reading and Leeds festival headliners/ sing it for Japan for earthquake relief) This band has made my life better.
Is an amazing band from USA. And I think if they sing this will be AWESOME! And their new album is spectacular Danger Days: the true lives of the fabulous killjoys! But don't forget their album: The Black Parade, Three Cheers for sweet revenge, and bullets... Only the best band than can sing in the Olympics can be (of course)MY CHEMICAL ROMANCE! VOTE FOR THEM! IF YOU WANT THE OLYMPICS ARE AWESOME, YOU NEED VOTE FOR MY CHEMICAL ROMANCE! _ IS AMAZING!
I love them. Their songs can make me excited and I really want to hear them singing in the Olympic

My Chemical Romance is THE GREATEST BAND to ever step foot into the music industry! My Chemical Romance has saved my life, probably the same way it will save yours! Please vote for My Chemical Romance, "The savior of the broken, the beaten and the damned. " You need to vote for these guys... The world needs to hear their music and understand that they have better reasons to live and love, rather than to hate and die.
"If for one minute you think you're better than a sixteen year old girl in a Green Day t-shirt, you are sorely mistaken. Remember the first time you went to a show and saw your favorite band. You wore their shirt, and sang every word. You didn't know anything about scene politics, haircuts, or what was cool. All you knew was that this music made you feel different from anyone you shared a locker with. Someone finally understood you. This is what music is about. -Gerard Way"
My Chemical Romance saved my life and it saved many others. They deserve to be in the Olympics
If you never see another concert in your life, don't sweat it. My Chemical Romance will blow every other band out of the water. Every word, every note, every movement on stage comes from their hearts and souls. Watch them closely: they're not only playing for their fans, but they're also playing for themselves. And everybody enjoys it.
My Chemical Romance is truly an amazing band. The members have been through so much, and it really shows through the songs they write. Their music has saved the lives of many of their fans who are going through tough times. Their music is inspiring, perfect for the Olympics.
My chemical romance as been an inspiration to a lot of people. They represent what people go through and love their fans. They have a message to all of their fans, and essentially everyone. That message is that everyone is amazing in their own way, and isn't that what the Olympics are about? People being amazing at what they do. They are true to who they are, so please, vote for them. They will bring a great message to the Olympics.
Their sound is original and inspirational, it makes you want to get up and dance, cry, and headband all at the same time. They redefine music in the best possible way. They have saved lives of millions of people out there, and their music is really inspiring. They put their all into each and every one of their shows, and teach people that it's okay to be different, that you need to keep running, never let them take you alive.
They save my life everyday, not just their music but everything they are about! Their message to everyone is that the world is NOT better off with out you no matter what everyone else says! They could inspire the whole world and are much better than those fake pop artists who stand there and sing about some random girl. My chemical romance sing about real life and save peoples life everyday! They deserve this!
My Chemical Romance is a phenomenon in today's music world. Their general song quality is astronomical, and their lyrics, general message, etc, has literally saved lives - many of them, including my own. Come on, give the sexy, talented men what they deserve! KILLJOYS, MAKE SOME NOISE.
The most inspiring band of the century! Absolutely amazing, the best live band there has ever been! They helped save my life and will continue to do so with millions of other beautiful fans that My Chemical Romance hold so close to their heart!
I seriously LOVE it when I see My Chemical Romance playing on T.V. or when I hear them on the radio because people get a chance to hear the amazing music that they create. Otherwise people are still hung up on lady gaga p or bruno mars. Why not listen to something new? It might be better. It definitely is in my opinion. Plus My Chemical Romance is a fantastic live band unlike these other people that lipsing the whole time.
They're so catchy and inspirational! To not have them at the opening would be a HUGE mistake! If you're a fan of alternative, rock or just plain music - vote for them!