Taylor Swift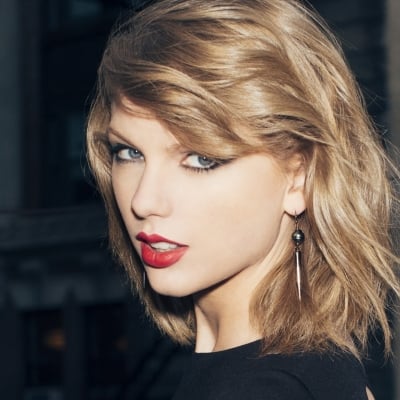 Found on static.guim.co.uk
Comments
Top
Newest
I don't care what this damn list says but she is #1 any way:1- the way she write songs. I mean the way she makes a song of at most 4 min seem like a complete story with certain start and ending is admirable! No one can write like this! No one! Not even mj or adele or enrique... Neither or them have lyrics like blank space or style or bad blood she expresses whatever is in her mind with unbelieving phrases and sentences which have benn put in a perfect beat matching the exact words and tone. It's a common belief that says : taylor swift says whatever a girl want to say and hear 2-her voice is perfect. while I believe this matters completely on each one's favorite, no one can claim that her voice has got technical problem 3-her work style and the way she makes the music videos is of her own creativity and her active mind in assembling and matching the lyric with the scenes and images. I can definitely say that the music have never seen videos like 22 and we are never ever getting back together or even you belong with me witch are different and do NOT FOLLOW THOSE TYPICAL FRAMES OF MV these were a few and most common thing about taylor that can be discussed ABOUT every single singer'S CAREER and these 3 are not the only reason 'WHY WE LOVE T. S &quot of course there are thousands of reason which makes ts a different singer, but those 3 above are logical and profession reasons. VERY IMP NOTE : FOR THOSE WHO SAY SHE JUST WRITE SONG ABOUT BREAK UPS AND LOVE... oh sorry! I didn't know about 99% of the whole music around the world (even) is about philosophy and logic of the mathematical! Oh come on! Most of the topics in music is about love tay just expresses it best! If you don't agree give me a negative argument! Not more time to continue! Send love to all real swifties!
Taylor Swift is the best, come on everybody knows that, she absolutely knows what is life, and sings about it, she has a beautiful kind voice, which she can make be pretty adrenaline too, she is the queen of the songs and nobody will steal her crown, not even Michael Jackson, she will always be the best, and nobody can say that she is a b*tch like the commenter on youtube, but I gave him a lesson, so anyways, she is the best with the best voice and everything, so I subscribed her VEVO. Hey, #1 fan of Taylor Swift, we are both #1 fans of her!
Taylor Swift should be #1! NO DOUBT! Her fan base is huge, she sings about the real things in life like love and horrible break-ups, she can sing about what everyone relates to and it's like she knows you without even knowing you. She's gorgeous, fantastic live and she has one of the best personalities in the music world. &lt13 Make Taylor #1!
Based purely on the awards she has won and the records she has set, she is definitely in the top 10. Even people who are not fans of her music can't disagree with this. She writes all of her own songs. In 2008 and 2010 she sold more albums than any other artist in ANY genre of music. The worlds top selling CD in 2009 was her album Fearless.
Taylor Swift should be #1! She is my absolute role model and she has the most beautiful voice. Her lyrics inspire people around the world and I love her albums! Especially Speak Now because it shows Taylor Swift singing her heart out and she is the most awesome singer ever! She deserves to be in the top 10! I love her songs because she is so real about them and she writes songs that I can relate to. It is as if she looks through people's diaries and she gets her inspiration from people like me.
Taylor Swift is amazing! I don't get how people are saying she's a bad singer, she's so good live! Not only is she a terrific singer, she also writes her own songs. She wrote Speak Now entirely by herself! And she is THE best songwriter around. No doubt.
"Please don't be in love with someone else Please don't have somebody waiting on you"
"I'd tell you I miss you but I don't know how I've never heard silence quite this loud"
That's just a few. If you listen to the rest, you can be rest assured she is a genius and a songwriting prodigy.
Enchanted
Haunted
Mine
Back to December
Mean
You Belong With Me
Love Story
Teardrops On My Guitar
I Knew You Were Trouble
Begin Again
Last Kiss
Long Live
Those are just a few of her most amazing songs ever!
Why is Taylor Swift number 91? Come on! At least top 20. I love Taylor Swift and her music. I may only be a kid, but all of her songs means so much to me, weather I can relate to it, or it reminds me of something that has happened to someone I know. The songs that she writes really connects with all her fans, and everyone that listens to the songs. I can guarantee that at some point of everyone's lives, they'll be able to share some sort of connection with all of her songs.
She is the biggest disgrace to real pop singers like katy perry,kesha, and lady gaga and many more who deserve more credit than her. She steals all the credit from those singers and her pop songs are the worst I've ever heard. She needs to go back to country, even though her songs were boring but she put effort in it and not simple lyrics and horrible beats. I did not like her music in country but I didn't hate her with burning passion. Now I hate her so much that I want her to retire, I can't stand her and she is so annoying. I wish she can quit making music. She can't sing and her songs are rude she only has a few songs that are different. She looks fake and she is mean to people that never meant to hurt her. Bo!
Taylor Swift... So good... Every songs are more than super. I am the biggest fan of her. She is the best of the best. The first song I heard in english was 'enchanted'. From then I just am her biggestt fan. I am just wondering when the next album will be released. She is so beautiful... I have heard all her songs more than 50-100 times. Still, I can't stop hearing them. Taylor swift must be number 1. None can steal her position. And, please vote for her.
Amazing singer who should be at least top 5, no other singer makes a fan relate better then TAYLOR SWIFT! And she is by far one of the best singers out there... Taylor should definitely be #1
Taylor Swift has an amzing voice. Her songs are so unique and fun to sing along with Taylor, if you ever read this, you are my role model. Your a singer who wants to sing. You're not like everyone else who has this bad reputation for doing bad things, or someone who tries to get attention to theirselves, not their singing. Keep singing Taylor, you deserve #1! Your personality and attitude are amazing! Your so pretty. God has blessed you so much. Good luck with your career!
Taylor Swift does not rock

Despite good voice quality, she wastes all her talent on making break up songs, and there is no way a woman who makes money out of her boyfriends is a great singer

The Top Ten singers here isn't just about voice quality, the material of the songs she make and her accomplishments also matter A LOT. That's why Michael Jackson and Freddy Mercury are the two best singers in this list, both men apply creativity in their songs and they have accomplished quite a lot in their time.
Taylor swift you are the best singer in the world! I love your songs so much! Taylor swift should be number one. I love you Taylor swift. To me you're the best singer ever seen and heard of! I love you Taylor swift you're the best! Taylor swift has a great and loving voice! I want to be like Taylor swift! She is too kind! Love you Taylor swift you're the best and you always will be the best! I can't explain how much I actually love you Taylor swift!
It seems like people in this particular chat are letting personal feelings affect their decision. This forum is about "The Best Singers of All Time", not "Our Favorite Artists." Don't get me wrong, Taylor Swift has a decent voice, but her music isn't creative, its integrity is non-existent. But then again, a good songwriter does not necessarily make a good singer. Even with that in mind, she is in no way, shape or form the greatest singer of all time.
Her songs are so relatable, and like someone said, "It's like she's looking at her diaries or reading our minds". She is pretty, and she is not only pretty, she is pretty talented. Compared to other celebrities such as Rihanna, Justin Bieber, and Kesha, she is virtuous and an excellent role model. I agree with someone else here, the one that said "I hope I grow up to be just like her". She is catching up to the ones that are in the top 10. Who agrees with me?
No one can match Taylor Swift's songs. She is just awesome. She is far better than Lady gaga. She is very beautiful too. Her all songs are heart touching!
Everyone know that she is the best singer with just the right lyrics which touches everyone's heart. I just love her song, love those lyrics, her music and love how beautiful she is. I just know she deserves to be one of the greatest singer of all time. Whenever I see her sing a song, I just wonder that all her songs are so great. I can spend my whole time just listening to her song.
She is at least top 20! Come on! She is so emotional and inspirational! She is my idol! Her songs are so special. She is definitely top 20. She has a great voice and is a wonderful role model. I want to be like her when I grow up. She rocks and everybody knows. She understands girls feelings and knows people can suffer break ups. So she writes song so they fell better! - Taylorswiftfan
Taylor Swift is not just an inspiration among the new generation she is THE inspiration of the new generation. Her songs reflect so much of what happens in the lives of teens and young adults alike when combined with her knack for writing her own music and her dedication to her listeners, it's hard not to say she's got to be at least in the top 10.
SHE IS THE BEST SINGER EVER
7 TIMES GRAMMY AWARD WINNER
4 BEST SELLING ALBUMS
DO YOU THINK SHE DESERVES THIS
OPEN YOUR EYES PEOPLE YOUR STAR NEEDS VOTES
SAVE HER REPUTATION
I agree 100% she has an amazing voice and shes pretty! All her fans know it to 127 please more like #1. I'm just saying if I did this thing taylor swift top of the list just like that! Seriously you should change this I'm not hating or anything just being honest!
Taylor Swift is definitely number 1. Her awesome music makes you think very deeply and have very important lessons. Her songs are really inspirational and catchy in a good way. Just when she has released 1989, and AMAZING album, what happens next? Wonderland, my favorite song ever. Taylor is amazing and has every right to be number one
Oh my god. Lady gaga and katy perry are ahead of her? You're kidding! Taylor swift isn't overly flashy or pointless. Her songs are beautiful and have meaning and they're amazing. She started when she was 12, people. HOW COULD YOU PUT LADY GAGA IN FRONT OF HER. I love taylor swift!
Taylor is good with writing emotional lyrics that truly capture the raw feelings of different stages in her life. She also attempts to try new styles of music which is something that many artists rarely do. Not only does she try she also succeeds. Her songwriting and voice are both maturing as she continues to make music. Outside of making music, she seems like such as sweet girl and is truly a queen when it comes to social media. Don't get me started on Swiftmas, Taylurking, the 1989 Secret Sessions and a bajillion other amazing things she has done for her fans. Taylor Swift is the only pop star that really matters in this era of music. She deserves to be much higher on the list.
Sad face! This ranking is way off! She should definitely be ranked much higher! I love this young lady and I am extremely impressed with how far she has come! It was kind of a shock when she started going pop and then completely did but I still love her!
Related Lists
Top Ten Best Taylor Swift Songs
Top 10 Taylor Swift Love Songs
Top 10 Taylor Swift Slow Songs
Top Ten Songs from Taylor Swift's 1989
Best Songs from Miley Cyrus, Taylor Swift and Selena Gomez