Top 10 Things You'd Like to Throw at Elsa from Frozen
FrozenisOverrated
The Contenders: Page 2
21
Miley Cyrus's wrecking ball
Elsa gets launched miles into the air after being smacked by the biggest wrecking ball in existence sending her all the way into space where she dies due to lack of oxygen.
I wish the fanciful could kill elsa.
Elsa:let it go...let it go...
Miley Cyrus(She's horrible):I CAME IN LIKE A WRECKING BALL!
Elsa gets hit and dies. - SamuiNeko
V 5 Comments
22
A Rat
Today I got a picture of Elsa! I put it in the fire place! - Ihateelsa
That stupid comment in all caps is dumb.
I think Elsa would scream so hard,
Hopefully the rat spreads a disease to Elsa that kills her.
V 6 Comments
24 A Crab
25 The moon
26
A Car
I think the Hulk would go that " hulk... TIRED OF HEARING LET IT GO! "
Oh my god, replier. You're comment is so stupid! We know cars are heavy! And no elsa won't cry SHE WOULD DIE. Also... WE don't CARE - SammySpore
Me: Hey look it's elsa! Oops I crushed for with my car!
Elsa Fangirl: WHY WOULD you THROW A CAR AT PRETTY SWEET ELSA! SHES GOING TO HAVE BRUISES AND CRY!
Me: Shut up no one cares.
Elsa: Maybe singing a song will help! LET IT GO-- die
Me: Hahahehehehe
Elsa Fangirl: YOUR SO MEAN I'm MISTAKING you FOR PRINCE HANS YOUR SO --
Me: Oops I crushed them both. Oopsy. - SammySpore
V 6 Comments
27
Nicki Minaj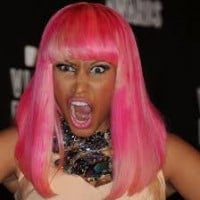 Nicki Minaj is an American rapper / pop music artist. Nicki is most known for songs like "Anaconda", "Truffle Butter", "Super Bass" and "Stupid Hoe". Her real name is Onika Tanya Maraj. She was born on December 8, 1982 in Saint James Trinidad and Tobago. ...read more.
Elsa's and Anna's face would be severely crushed if Nicki Minaj sat on them.
Hey, fake Anna: It is funny to throw things at Elsa, so back off.
You know Nicki Minaj is a person, right?
Princess Anna of Arendelle: (bravely) Nobody can hurt my big sister Elsa and gets away with it. You think it's funny to throw things at my sister Elsa, but it's not.
OH NO! YOU WILL NEVER THROW NICKI MINAJ AT PRETTY, SWEET ELSA. SHE WILL GET BRUISES AND THEN SHE'LL CRY. DON'T YOU EVER THROW NICKI MINAJ AT ELSA. QUIT BEING MEAN TO ELSA!
V 5 Comments
28
Meteor Shower
Yeah, surely she'll be in pain, great idea but... you can't throw a meteor shower. Maybe a METEOR, but... it'll never work =/ ;(

-ThePinkieMaster
V 1 Comment
29
Fire
Zuko and Katara should be the ones to that. - Anonymousxcxc
Hey guys why not Flame Princess from Adventure Time should do the trick.
I am Salamander the Fire God and YOU SHALL BURN!
V 3 Comments
30 Kim Kardashian's Butt
31
Flandre Scarlet
The (to me) best way to kill Elsa is by making Flandre 'Kyuu' her. A.K.A. make her explode. - ExxonWireless
V 1 Comment
32
A Pie
Caps girl.
ELSA.
AND.
ANNA.
ARE.
NOT.
REAL.
SO.
STOP.
WORRYING
AND.
WHINING.
AND.
GET.
A.
LIFE.
If you like Frozen so much, why don't you work at Disneyland? Or create your OWN "Frozen World"! I don't think anyone would come, anyways.
Let's bake a pie out of the fake anna and raging fangirl. And then throw it at Elsa. The pie will explode with such stupidity and immaturity that Elsa's head will explode. - SammySpore
Pie in the Face! Pie in the Face! Elsa has Pie in her Face! - playstationfan66
No, pies are delicious. We need something better, like her own ice castle. The spikes can impale her! INHALE IT FANGIRL!
V 5 Comments
33
Hot Soup
Throwing hot soup at Elsa may drain her magical snow powers, enabling everything snowy to become melted with hot soup. - playstationfan66
Why would want to throw a hot soup at sweet Elsa? You know Elsa is very sensitive, right? Elsa wouldn't look pretty, beautiful and cute if you ever threw a soup at Elsa. She'll look messy if she was thrown at by a hot soup. You're so mean to Elsa, aren't you? Whatever are you blaming Elsa for?
Come on, you're just wasting your free time doing this. Please, Elsa is just an fictional character. You're being such a bully to all of us and we're ALL tired of your so called comments. What you're going to do? Huh? Insulting us isn't going to work. - JaysTop10List
ELSA DOES NOT DESERVE TO BE THROWN AT BY A HOT SOUP. IF YOU THROW A HOT SOUP AT ELSA, SHE'LL GET BURNED, GET BRUISES, AND CRY. ELSA IS SENSITIVE AND DOES NOT DESERVE TO BE THROWN AT BY A HOT SOUP. A HOT SOUP IS FOR EATING AND DRINKING, NOT THROWING AT ELSA. YOU ELSA HATING BONEHEADS NEED TO STOP HATING ON ELSA. QUIT INSULTING ELSA, YOU ELSA HATING INTEGRATES.
Calm down. Elsa isn't real. If you like Frozen so much, then why are you even on this list? - Ghostbunny
V 5 Comments
34
Anaconda
YOU WILL NEVER THROW AN ANACONDA AT ELSA. ANACONDA IS FOR COOKING AND EATING. NOT FOR THROWING AT ELSA. YOU ELSA HATERS ARE FAR WORSE THAN PRINCE HANS. PRINCE HANS TRIED TO KILL ELSA THANKFULLY ANNA WAS BRAVE AND STRONG ENOUGH TO STOP HANS FROM MURDERING ELSA. THANKFULLY, ANNA SAVED HER ELSA'S LIFE BY SACRIFICING HERSELF FOR ELSA SO IN YOUR FACE ELSA HATERS. TOO BAD FOR YOU ELSA HATERS. I'M SO GLAD ELSA DIDN'T GET KILLED. STOP IT RIGHT NOW.
Throw Nicki Minaj and her Anaconda (as in the snake) on her fez.
Actually, sewer rats are deadlier because they have FLEAS, spreading the bubonic plague (it is still in existence). But still, imagine this? Yah
V 4 Comments
35
Anna of Arendelle
To be honest, I don't really mind Anna, but Elsa seriously needs to let it go. Talking about that thought that she's so perfect. - FennikenFan9
Uh I need to make a plan come on haters lets make a plan
Yeah, let's help Anna get revenge on Elsa.
Princess Anna of Arendelle: You will not throw me at my own big sister Elsa because If you ever did that, we'll both get bruises and we'll both cry too. I'm warning you not to do that. My sister and I are both very sensitive in our different ways.

Same goes for you too, Anna haters.
V 2 Comments
36
Mud
Get Green Day to throw mud at Elsa
Maybe. Well I'm not trying to be offensive, but Elsa is a fictional character and I know that and I like Idina Menzel, though I really don't like Elsa. Maybe if Elsa listens to Green Day she'll finally stop singing Let It Go on commercials and the radio and people will stop playing it then. Like I said I know she's fictional, but still. - Anonymousxcxc
I'm going to throw all of the top 30 at elsa and elsa fangirl - SammySpore
If a wasp is flying around Elsa, I'd probably throw mud at her only to protect her body against painful stings. - playstationfan66
V 1 Comment
37
Machete
Princess Anna of Arendelle: I'll never ever even forgive you for throwing machetes at my sister Elsa. You know machetes are dangerous. If you ever threw a machete at my sister Elsa, then she'll bleed to death and she'll die and I'll never forgive you for that.
How about throw Machete (Danny Trejo) to Elsa, and he'll hack her limbs relentlessly. - TheRegular1227
38
Bowling Ball
Are they gone? The frozen fans? Did I scroll down far enough? - Flamesofsilver
Good, it will crush her ugly face.
39
George W. Bush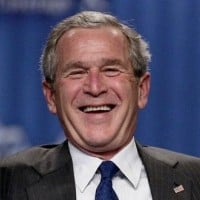 George Walker Bush is an American politician who served as the 43rd President of the United States from 2001 to 2009 and 46th Governor of Texas from 1995 to 2000. The eldest son of Barbara and George H. W.
Maybe then his brother can drop out of the election. - Anonymousxcxc
You must notice that I hate George W. Bush. - Anonymousxcxc
40
Pink Swim Rings
And a Swim Duck Ring, then Put it on her, Put Scuba Gear on her, and then STRIP HER DOWN TO A BIKINI! And then Take her to a HOT Beach... - Ededdneddyfan55
PSearch List
Recommended Lists