Top Ten Worst Mario Bros. Characters
The Contenders: Page 4XW
61
Roy Koopa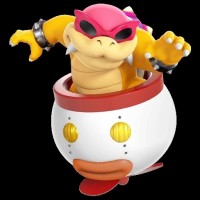 Roy is a bland character and a terrible boss. He does the same thing over and over again in all of the games. - DCfnaf
He keeps roaring In NSMB Wii and keeps killing me in the castle battle
V6 Comments
62
Baby Wario
So fat he couldn't come out his mommas tummy
They didn't put him yet they put that baby blue peach. Dumb.
V1 Comment
63
Koopa Kid
I hate him so much! He should be much higher! - DCfnaf
V1 Comment
64
Chain Chomp
I HATE THE CHAIN CHOMPS. Ever came across a large, ball on a chain with teeth that try to bite you? Those are chain chompers. They are very annoying, but kinda cool.
What? Chain chomps are awesome! They are dogs.
65
Cheep-Cheep
So easy to dodge in SNES Koopa Beach 1 and 2.
66
Block Bowser
Block bowser and regular bowser are the same turtle/dragon! Sure you could say the battle is stupid but if your talking about personality just put bowser instead of DAMN block bowser. Yah, I said DAMN so what.
Woah! Chill out Man! There could be kids on here. No need to teach them new words!
67
Professor E. Gadd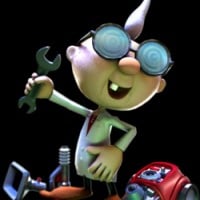 Need more professors. Only 2. E Gadd and his child, Pico Gadd. There should be a boy for Pico. But E. Gadd looks all ghetto and sick. Pico looks all like a baby face.
professors are awesome. But this character is underused and needs a head redesign - Harri666
He is Captain Rainbow's dad. Google it
He is annoying and ugly.
V7 Comments
68Bullet Bill
69
Toadsworth
He's always getting on Peaches nerves as well as mine he's just generally annoying why couldn't peach have taken luigi along instead of that annoying character
He's supposed to be Peach's Stuard but he always relies on Mario and Luigi to save her. He's thinks he knows best and is probably the reason why Peach is weak and always being an annoying damsel; she was with him since she was a baby and his annoying ways have rubbed off on her.

PS Captain Toad is way better
V1 Comment
70Kammy Koopa
71Noki
72
Blue Toad
One if the most uncreative character in the Mario series alongside yellow toad, why not toad and Toadette or wario and waluigi be player 3 and 4 in NSMB Wii?
V2 Comments
74
Larry Koopa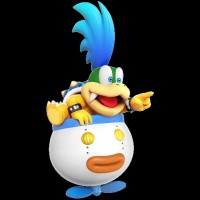 Larry is really lame since all of his bosses are the same thing over and over again. In super Mario bros 3, Super Mario world, and the NSMB games, we jumped on his head and he spun in his shell. - DCfnaf
V3 Comments
75
Ludwig von Koopa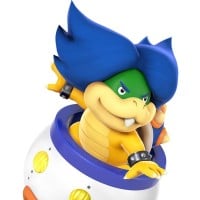 Ludwig Von Koopa is a villain in the Super Mario Franchise. He is the self-proclaimed leader of the Koopalings and has a pompous and arrogant personality. He is said to have all the powers of the other six Koopalings. He can clone himself, cause earthquakes, teleport, and shoot lightning bolts from ...read more.
I think it's funny he thinks he is so awesome and that he is a great leader. Mainly because he isn't a good leader or a leader of anything. He's a lousy a lousy boss. Can't they just give us a new way to beat him and his other six comrades? - DCfnaf
Why is he really smart? And his hair is ugly.
I like his hair...but seriously. If he's so smart, why did he use the projectile fling and shell spin routine in five games? Worst boss character ever (along with his six siblings). - DCfnaf
5 different games of projectile flinging and shell spinning. This fool need to die.
Lousy character and boss.
Okay personality, but terrible boss and terrible character development. - DCfnaf
V8 Comments
76
Pom Pom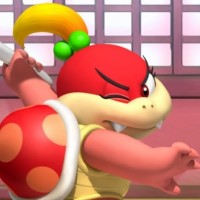 78Cackletta
79
Funky Kong
A completely unnecessary addition to Mario Kart Wii. He's not a Mario character and therefore doesn't belong in the series. As if invading Mario Kart Wii wasn't enough, he was made to be the fastest character in the game and was so incredibly overused through no credit of his own. People hate the princesses for being 'clones' while Funky Kong is often overlooked/excused for being a Donkey Kong clone just because he's 'male'. It's not fair and I hope other people come to the relation that he is irritating (especially his voice) or at least accept that he should remain a Donkey Kong exclusive character.
Funky Kong was an important character in the Kong Country series. Without him, the Kong Jungle would've been ruined. So, take him off this list.
Just use Dry Bowser or King Boo in the Torpedo and kick Funky Kong's flame runner idiot in Mario Kart Wii so that online gameplay will be saved.
Why did they get rid of him? He's better than the trash in Mario Kart 8.
V2 Comments
80Baby Pico
PSearch List
Recommended Lists
Related Lists

Top Ten Most Annoying Super Mario Bros Characters

Strongest Mario Bros. Characters

Top 10 Favourite Mario Bros. Characters for Girls

Top 10 Mario Bros. and Crash Bandicoot Characters

Best Super Mario Bros. Crossover Characters
List StatsUpdated 9 Dec 2016
2,000 votes
203 listings
8 years, 133 days old

Top Remixes (58)

1. Larry Koopa
2. Baby Rosalina
3. Pink Gold Peach
DCfnaf

1. Rosalina
2. Waluigi
3. Daisy
Wario

1. Waluigi
2. Kamek
3. Pink Gold Peach
DaisyandRosalina
View All 58
Posts
Screw this List
DCfnaf
This hate is out of control
DaisyandRosalina
Error Reporting
See a factual error in these listings? Report it
here
.