Ritchie Blackmore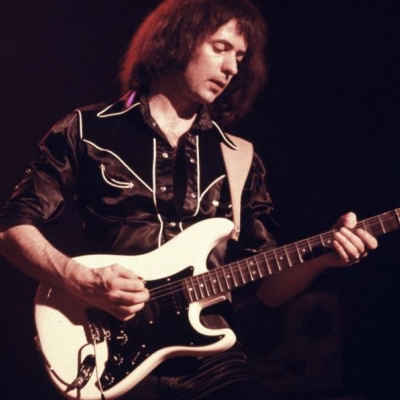 Uploaded by zxm
Info
Richard Hugh "Ritchie" Blackmore is an English guitarist and songwriter, best known for his work in the hard rock/metal bands Deep Purple and Rainbow. He was ranked number 16 on Guitar World's "100 Greatest Metal Guitarists of All Time" in 2004, and number 50 in Rolling Stone magazine's list of the ...
read more
.
Comments
Top
Popular
Newest
Troubled, moody, misunderstood. Ritchie was a FAST player 20 years before the word shredding had any meaning. But he had an ability to be smooth & yet staccato at the same time, whilst playing blindingly quick, blues based, classically bent, definitely melodic solos that had purpose & told stories. He was also an entertainer on stage, often sacrificing skill for showmanship. He didn't invent heavy metal, but he perfected the art of the RIFF. A giant of a guitar player. Should be near the top of the list.
Ritchie Blackmore is, as a fact, the man who created the heavy metal guitar solo. With speed, precision and charisma he shaped the modern art of what we today know as guitar solos. With his knack of innovation, he is probably the only guitarist who can play a single note for 16 bars and still make it sound interesting.

Ritchie never needed any special effects, any special built custom guitars, plastic fingers or a violin bow to emulate a sound that, not only caught the interest of many aspiring guitarists such as Yngwie Malmsteen, but also make it sound new and refreshing. All he needed was his Stratocaster and a Marshall stack and he would move mountains!
After 40 odd years,Richie is still producing his inimitable signature music. Hugely talented and individual, he has walked the walk and chosen his own path, a real breath of fresh air in this very false industry. His solos are never repeated, each night produces a totally new version of his songs. All the others can solo, and become boring whilst consistently producing screaming noise. Ritchie Blackmore solos are incredibly melodic, playing what he wants us to hear with the minimum number of notes, yet allowing us to drift into his world without us realising we are being transported... Its refreshing that someone with so much raw talent and enthusiasm for 'music' choses his own path and shies away from the dollar signs, instead following his heart and still enjoying it all so much. His most recent project with Candice, together with a stable of very capable musicians, is something very very special. Fans are able to become so involved with them thanks to Ritchies preference to perform ...more
I think Ritchie Blackmore is an inspiration to everyone you play the guitar, the guitarist knows how to be tougher and faster than ever with songs like Man On The Silver Mountain etc. but at the same time the most sweet and deep (Maybe next time) when he was 25 the competition was already caught more than musicamente knew all kinds of music, from the neo-baroque or classical music which he introduced in songs of power rock extreme as Burn, everything accompanied by a unique sound although virtually clean are its fingers and the mastery of his instrument to make a difference... unlike others he still knows how to surprise us in a continuous and evolving more and more beautiful with its fabulous group Blackmore's Night
Probably the most important and best rock guitarist ever to have lived on Earth. This man can play any style and skip between them effortlessly, He has complete control of his instrument and moves from high volumed fuelled solo's to so subtle low volumes tones it makes the hair on the back of your neck stand up. If you listen to classical music at all then Ritchie has to counted amongst these guys too because he is that good not just because of the neo classic thing but by the way he can actually play like a one man orchestra.
Rich will you please tour again and play the wonderful songs you created! You don't owe anyone anything, but what a kind gesture it would be for the millions of kids who waited in line for tickets hours on end, and purchased everything you recorded. It would be great to see you perform all eras of your career and the fans I speak with feel the same. Don't worry about all the reunion crap, just do your own thing like you always have done. And your fans will support you! In doing so you can give great joy to others, at a time when some of us are nearing the end of our life.
Ritchie is totally underrated compared to other guitar legends. He has the immaculate technique if a classical instrumentalist, the composing skills of Molars, and improvisational skill of the finest jazz players. A true virtuoso. Get has produced some if the most memorable riffs in rock and he introduced techniques that are sometimes wrongly contributed to other players. Rock and Metal owe everything to Richie!
Whether he play's fast or slow, he always plays solo's that make sense to that particular song and not just an load of notes that start and go nowhere like many other so called superstar guitarists.
Listen to temple of the king on first Rainbow album or Wasted sunsets, Perfect Strangers album Deep Purple for feeling. Then there's the other side with full on shredding of the title track from Burn, or Highway star, Knocking at your Backdoor.
Then we go to the live recordings but where to start. In concert maybe. This version of Wring that neck must be the best instrumental of all all time. Mandrake root. How he's playing some of the things on this track is
Helped create hard rock heavy metal (Deep Purple in Rock). First shredder before Eddie and the rest (Wring that neck). Most well known riff in rock history (smoke on the water). Live he's a monster improvising like only a few can (made in Japan). The songs, the riffs, the solos, the stage presence, the white strat and black stage clothes. The missing link between Jimi Hendrix and Van Halen: the forgotten genius Ritchie Blackmore
A mixture of virtuosity, tasteful feel and the fact he laid down the blueprint for much of the heavy metal that was to follow makes him a towering figure in rock.
In Deep Purple he was both cutting edge and wildly popular, in Rainbow he created a new neo-classic metal style that would be more influential than his work with Purple, and even with contemporary bands including Led Zeppelin. With Blackmore's Night he is exploring the medieval music he loves while giving it a contemporary twist.
A fantastic all-rounder, whose quality as a songwriter is only eclipsed by his excellence as a improvisational and technically superior live guitarist.
Ritchie Blackmore is the renaissance man of guitar. His unique style paved the way for many styles of rock music and countless bands. He is the absolute master of improv and feel, all of his solo's are off the top of his head each time he plays them. His fret work is astonishing, the grace and dexterity that flows from his fingers is like a fine ballet. I could go on and on but all you need to do is listen to him play that Strat and you'll know what I'm going on about. The man's a genius the likes of which we may never see again.
What can I say, I have been listen to Ritchie ever since the mid seventies. I saw him last year with Blackmore's Night and it was excellent. I like the way he moves on in style and has not taken the easy path like others in reforming and trading off of past glories. If you are ever in doubt about his right to reign listen to any live performance such as Made in Japan, Made in Europe or the second side of Rainbow Rising- Stargazer followed by Light in the Black.
Although in the spotlight during the 70's and early 80's, people tend to forget that he's still around. A true musician that has stuck to his guns, by doing what he enjoys, not what is expected of him. He could have played the nostalgia card for the last 20 years, but has kept creating new music. If you like Blackmore and are not listening to Blackmore's Knights, you are truly missing out, he is as relevant a player now as he was in the 70's.
A guitarist myself, I fell in love with his mind-blowing style about 45 years ago when playing Strange Kind of Woman. Ever since he has been an ever-inspiring source for me for he always has melody and soul in his playing and not only "tricks" and "speed". I am definitely looking forward to his announced rock tour in 2016, hoping this is not only a rumour being spread by German rock magazine Rock It. To cut a long story short: Despite literally thousands of really gifted players, he is the one on top!
The mark of a legendary guitarist - when you hear playing you know exactly who is playing, and there is no mistaking the genius of Ritchie. Others may play chords and notes, but Ritchie breathes soul into the music. From 'Light in the Black', (my favorite), and then a soulful 'diamonds and rust' shows you the shear unchallenged talent this guy exudes. I just wish he made a trip to Australia, instead of always playing in Europe.
Richie has been an inspiration for years. Clean sound and precise with a lot of his riffs based in the classics. Musical solos, thought through and embedded in the songs with craft. Fantastic heavy guitarist but can slow it down in the blues or now Renaissance music. The guy practices every day and never takes his craft for granted.
No doubt there are faster and more technically adept rock guitarists, but no one has produced as many memorable solos and riffs as Blackmore. Not everything he has done has been good. Indeed, there have been times when he has been infuriatingly bad. But that which he has got right is unsurpassable. He shows enormous variety in his playing style - and yet always sounds like himself. How he does that I will never understand.
Amazing phrasing and GREAT technique for a guitarist of his generation. He could play in the studio AND he could play live. No one could keep up with him as far as fast runs, thundering licks, and so on... just listen to Child in Time solo and tell me of one single guitarist who could come up with such a phenomenal crescendo of tension (for more than 2 minutes)... Just no one.
However the most remarkable work in my opinion was with the "Dio-era" Rainbow. Incredible majesty was displayed in his neo-classicl riffs and phrasing, with Stargazer and Gates of Babylon being two of the greatest representatives of his talent.

As a side note, his tone has always been mind-blowing.
Ritchie Blackmore combines great intensity with wonderful subtlety and makes it look effortless. His writing and improvisational skills are second to none. Put simply, he just knows what note to play next. I've had the pleasure to see him three times with Deep Purple, once with Rainbow and three times with Blackmore's Night. When you see him on stage you know you're in the presence of greatness.
Ritchie for me was and is the best I have ever heard. Hendrix was a pioneer, others played blues better than Ritchie but he has a musicality that so many Rock musicians don't have. Heavily influenced by classical, music, inspired by the blues and the improvisation of a jazz player, now playing much more folky renaissance rock. The man has it all
The guy with the scalloped neck Strat, who created the riff to smoke on the water, and created new techniques that was never seen before. He was a Pioneer of heavy rock guitar playing
Although Ritchie was himself influenced by Jimi Hendrix, his combining of classical, blues and rock musical styles was pure genius and went on to influence countless other guitarists who followed, I believe more so than Jimmy Page who, although a great guitarist, was a bit more one dimensional.
I was at the battle rages on tour ( the one which was filmed ) they started playing highway star and Blackmore was no where to be seen until the guitar riff. He sauntered on stage and the place erupted. That's the power of the man. He had it all and influenced a generation. He and deep purple should be in the hall of fame and should have been a long time ago.
Where to begin? His tone, his 'feel', his presence, his technique, his dexterity, his persona, his songs and his scorching beauty... Blackmore is more a force of nature with a six string in his hand - He is to rock and roll what a tornado is to a shack by the rail road tracks, he's a nexus for modern players even if they don't realise the original connection. Underrated and not given the credit he deserves, I hope the music press don't wait until it's too late to embrace his influence on the world of rock. Stargazer, Burn, Highway Star, Mistreated, Stormbringer, Gates of Babylon... The list really is endless. Thank you Ritchie and long live rock and roll.
His tone is clean yet distorted, his phrasing and choice of notes make his solos melodic and memorable - you can actually sing them!
He doesn't like the media and they don't like him. Most of his peers don't like him but acknowledge that he is a superb guitar player.
He can be frustrating for us fans - shunning rock in '97, knocking back Live Aid in '85, never getting round to that blues album - but when he was at his peak he was better than anyone else. His talent on guitar outshines everything else.
Related Lists
Top 10 Songs on Ritchie Blackmore's Rainbow
Top 10 Ritchie Blackmore Songs

Songs With the Best Ritchie Blackmore Solos
Top 10 Ritchie Blackmore Albums
Top 10 Genres Ritchie Blackmore Has Played