Connie Talbot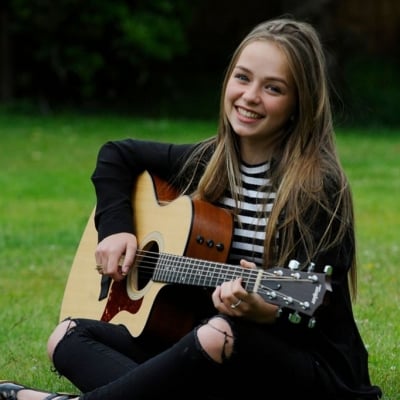 Found on connietalbot.com
Info
Connie Talbot (Born November 20th, 2000) is an English child singer, who rose to fame as a finalist on the first season of Britain's Got Talent. She is currently active as an independent music artist on YouTube.
Comments
Top
Popular
Newest
Connie is a hugely talented singer. She can sing all sorts of music without problems, from her own original ballads to pop songs (Beautiful World, I'm Here For You, Gravity, Inner Beauty, etc.) and it is always a pleasure to hear her sing. Connie loves singing as much as we love supporting her. Along with her peerless vocal talent, I think it is also important to consider how she has learnt to play both the piano and guitar to some degree and that she can write very meaningful and touching songs (Nobody's Fool) and really show the emotional breadth behind her own music and lyrics. Connie is definitely the best singer of the century as well as a very kind person, no elaboration needed.
There is something about this young girl's voice which is so compelling and enchanting. I love other singers, but to me, Connie's singing is incomparable to anyone else.
Connie is also just a happy girl who attends school just like many others her age, however, her compassion and kindness is unlike anyone else at her age. As well as singing; she plays the piano, guitar and the drums, she even paints, she is just so talented!
Connie is always smiling, and gives to others, which is unusual for someone who is so gifted in what they do. She even has a school named after her, which is not what an everyday 13 year old could say. Nevermind the number of votes she'll receive from this, She'll always be Conniefriend's Number 1 singer and I'm sure she'll be flattered and happy no matter what.
Connie is a sensationally professional singer with no doubt! She always amazes me with her singing. By watching her making huge process from 2007 to now, I know she's going to achieve even bigger things in the near future. And fortunately having met Connie in person, I cannot think of anyone who has a kinder heart and sweeter personalities than Connie! Love her so much!
The fist time I heard her voice, I was so amazed and had no words.
When I hear her singing, I always feel happy.
The most amazing fact about her is she's just 13 years old now.
We have to admit that she's not the best singer in the world now, but no doubt about she's gonna be.
I really wanna see her and hear her singing in real!
Unforgettable six years old Connie is a treasure in my heart. I've collected her pictures during years and I made a file. When I want something to cheer my soul I look at her and listen to her songs.
Happy New Year Connie, and good luck in all your life purposes.
I love Connie Talbot so much. She's not only a great singer but also a role model for me. She always helps people in need and never stops caring about other people! I love all of her pictures and videos. All the best for this perfect girl♥ She's one of the best singers I've ever known. She deserves everything she had. Connie we love you. We will always be here for you.
Connie is a super talented girl. She has an amazing voice, with her beautiful and cute face. She is a friendly girl. She sings beautifully and can entertain us. She is a funny girl. She is only 13 but is an almost perfect girl. She is the best singer I've ever known. I love her so much
Connie talbot is the best singer ever she can is getter than some famous singers she's my idol I love her so much and I hope she comes to Manchester! ❤
Beautiful voice, wonderful God given talent, enjoy her songs, giggles. Wish Connie all the best for her career and her life!
She gets better and better all over the years. IN JUST ONE YEAR HER VOICE GETS IMPROVED SO MUCH and WITHOUT SINGING LESSONS..

And she WAS FOR 1 WEEK TO Korea FOR 3 CONCERTS ALL THEM SOLD OUT.. ALL THE PROFITS FROM THE 3 CONCERTS SHE GAVE THEM TO THE PEOPLE OF THE FERRY ACIDENT FROM Korea.

She is preparing her summer tour ON Korea, Japan... and go there again in NOVEMBER and soon will be out her 5 album that she is preparing with big names of song writers who write for big names of music... (beyonce, Miley Cyrus.. )
She meet Carly Rae Jepsen, George Clooney and The Wanted :D

She has a natural talent for music..

Think she is singing since she was 2 years old, today has 13 years old and she has a BIG Heart and always think on others.

HER YouTube CHANNEL HAS MORE THAN 610.000 SUBSCRIPTIONS AND 143 999 625 VIEWS

More than 5 videos for her HAS MORE than 1 MILLION VIEWS

SHE IS GONNA BE HUGE
Connie at age 13 has one of the most impressive entertainment resumes I have ever seen for a young singer. She stole a nations heart at the age of 6, She rocked the USA with a Bob Marley cover of Three Little Birds and is a mega superstar in Asia. She also holds two confirmed Guinness World Records. If you do a Google search on this wonderfully talented young lady you would be impressed also.
Connie talbot is a really amazing singer she was born to be a singer have been a fan since the beginning
Connie makes me happy. She's not just a great singer, she's a great kid. She makes me smile every time I hear her sing or watch a video, even if she's just playing with Minty or flipping pancakes.
Connie is the best singer in the world and overly beautiful I love her so much and she is going to go so far in life and I hope she has the best future than others
Long singing career and she is still very young! Excellent pitch control for her age. Great Britain.
Great singer great performer great personality and a kind person for all people young or old. She makes me happy when I listen to hey singing and love her songs.
I think Connie is one of the best singers of the 21 century
In my opinon Connie is the best singer her age. She has a voice that can melt stones. She is humble, sweet and she doesn't even know just how great she is. If you haven't already heard of her you need to check this little wonder child out
Amazing Singer, the only one who could become me in a fan.
I love Connie she is the best singer for me she always makes me smile! If she wasn't on this planet I wouldn't surivive my baddest days... Thank you Connie for your love! X
I love her voice. She's amazing and she's beautiful. She have a big heart, and she love helping people. I just love her ♥
At age 6, she tore everyone's heart apart not only on Britain's Got Talent, but her album "Over The Rainbow" and especially the cut of "I Will Always Love You" is so good, it is almost supernatural! Since then, she has gotten better every year and continues to do so.
An amazing singer and the most kind person ever, loves to help and raise money for people who need it the most so if anyone Connie Talbot should win, so young and so much talent to show :) thank you Connie for sharing you amazing talent to us all we love you
.
One of the few singers that let you see her talent grow, ever since she was 6 years old she has posted her life on YouTube, for all can get to know her and grow with her, how many singers have done that? Shes one of a kind.
I Love her amazing voice... And she loves to sing to make people happy.. She sings great whatever the song is.. she make friends to the people whatever they are and for who they are.. For me she is the greatest singer I've ever seen..
Related Lists

Top 10 Connie Talbot Songs