Disney and Dreamworks Characters That Would Most Likely Be Sorted Into Gryffindor
I just. Got this amazing idea. I'm going to do this with all the houses.

Before you vote Gryffindors are: brave, reckless and fighters.


The Top Ten
Mulan (Mulan)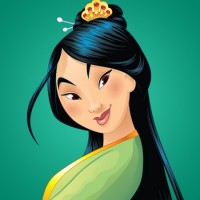 Fa Mulan, a character inspired by an actual historic figure is a character who appears in Walt Disney Pictures' 36th animated feature film Mulan, as well as its sequel Mulan II.
Merida (Brave)

Princess Merida is a fictional character from Pixar's first ever Disney Princess film, Brave. She is a talented archer who wishes that she were not destined to become the Elegant Queen of Dun Broch. She is forced into a marriage betrothal by her mother, with whom she has a very negative relationship. ...read more.
Alex (Madigascar)
Anna (Frozen)

Princess Anna of Arendelle is a fictional character who appears in Walt Disney Animation Studios' 53rd animated film Frozen.
Tooth Fairy (Rise of the Guardians)
Astrid (How to Train Your Dragon)
Jamie (Rise of the Guardians)
Simba ( The Lion King)

Simba is a fictional character who appears in Disney's The Lion King franchise. Introduced in Walt Disney Animation's 32nd animated feature film The Lion King (1994), the character subsequently appears in its sequels The Lion King II: Simba's Pride (1998) and The Lion King 1½ (2004).
Stoick (Rise of the Guardians)
Um. Stoick isn't from Rise of The Guardians, he's from How To Train Your Dragon. - HowToTrainYourDragonFan1001
Moses (Prince of Egypt)
The Contenders
Link (The Legend of Zelda)

Link refers to several different incarnations of the same protagonist of Nintendo's The Legend of Zelda series.
Pitch Black (Rise of the Guardians)

To be sure, I think he is actually rather brave, but more so stubborn and resilient. Never does he simply let the Guardians bring him down. He doesn't fear until the very last minute and even then he tries to fight that fear. No, he's not a coward. He just isn't fearless either, but Gryffindor is for the Brave, not the Stupid.
BAdd New Item