2018 Formula One Drivers with the Biggest Possibility to Win Their First Championship Title
This list is less based on drivers ranking in terms of competency but more about the likelihood of them winning the title in the near future which will depend immensely upon the machinery they'll be driving.
The Top Ten
Max Verstappen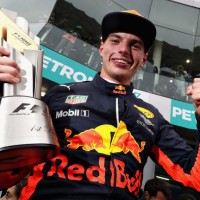 Max comes across as a notorious, hot-headed and strong-willed driver of the modern generation in my opinion, reminiscent of the ultra-aggressive young Ayrton Senna. Despite all the antics and eyebrow raising activities on the track, the concrete fact of him being a World Champion in the making can't be dismissed...Shattered numerous records (in the youngest category) by clinching his maiden win at the 2016 Spanish Grand Prix at the age of 18. Max has progressed rapidly as a driver ever since his entrance into the field of Formula 1 following his father's footsteps..He's got a long time ahead of him and is only getting better and better with age. For a young driver (just out of his teens) in only his third season in Formula One might seem too early to be anointing him as a future world champion but if you watch his driving intently, the obscurity and skepticism from your mind will vanish in a trice...A driver to watch out for...he could replicate what Vettel did in his early years...
Yeah he's a great driver. Just needs a good car.
Could be the G.O.A.T in 25 years.
Charles Leclerc

Arguably the most exciting talent to just emerge out since the debut of Max Verstappen in 2015.. Leclerc has highly impressed F1 team managers by winning the GP3 Series Championship in 2016 and subsequently the F2 Championship in 2017 as well with 7 wins, two more than what Lewis Hamilton and Nico Hülkenberg achieved...Entering Formula One as the 2017 F2 champion and a Ferrari academy driver, hopes were soaring sky high that the young driver would amaze everyone in the paddock...Coming into the season driving for Sauber Ferrari, whose previous season was a forgettable one..So, far he has done a remarkable job outperforming & out-qualifying his experienced teammate Marcus Ericsson on a regular basis as well as meeting teams expectations.. What's more impressive is that Leclerc has made it into Q2 every single race since Azerbaijan... With every points finish, he's giving out a strong gesture to be promoted to Ferrari and it makes sense as Kimi Raikkonen (the driver likely to be ...more
A great driver with good talent and a good car. Completely out putting Seb Vettel when he means it, and has the potential to win a race after Bahrain. Good potential to stop the Hamilton Mercedes era.
Daniel Riccardo

Joined Red Bull after Mark Webber hanged up his boots in 2014, but just at the wrong phase when the team's dominance was plummeting.. But nevertheless he has been very impressive behind the wheel ever since, consistently outperforming his team-mates and posing a real challenge to the top contenders in every race. So far he has had 7 impressive wins to his tally...and who can forget his gritty win at Hungaroring in 2014, that too during a period when it was next to impossible beating the invincible Mercedes' duo of Lewis Hamilton & Nico Rosberg...There will be absolutely no doubt regarding his potential to win the Drivers' Championship Title if only Red Bull develops a solid car and serve justice to his competency..Nonetheless, it appears though he is in the final year of his existing contract with Red Bull and looks set to secure a seat in either Ferrari or Mercedes in the following years.
Valterri Bottas

Quietest of the Drivers' currently in F1 certainly prefers to talk loud out through his proficiency on the track. Valtteri has already demonstrated his potential and hunger for the Drivers Title during the period of his stint with Williams from 2013-2016... Currently Driving in his second season with the Mercedes, he has moulded himself quite perfectly. Having won 3 races so far in his career he can certainly deliver when needed, yes he will always struggle to be number one in that Mercedes team as long as Hamilton is around but there is absolutely no reason why he couldn't challenge him for it...Now that he has already signed a new contract with Mercedes for the 2019, it'll be interesting to see his how he approaches the brand new season. One thing for sure, that writing him off for the Drivers Title, will be a fool's deed as you can expect him to go in with a headstrong intent and break all the limits of effort & aggression.
Esteban Ocon

He kick started his F1 career at the Belgium Grand Prix in 2016 for the Manor racing team as a replacement driver for the entirety of second half of the season before moving to Force India for the 2017 season. Although hasn't managed to secure a single podium till date in his very fresh F1 career, has indeed showcased heightened level of ability in the junior categories...So far, he been consistently in the points for the team since joining and with a double 5th place finish in Spain and Mexico last year, he definitely possesses both the talent & temperament to excel at the highest level of racing. But the biggest concern here will be regarding his future contracts with the teams..If he ever wants to win the championship title, a seat with one of the bigger teams is a must or else we could witness yet another wasted potential in Formula One. Good news is that he's a part of Mercedes' Junior Program, in a couple of years of time he may receive the golden opportunity to shine..
Carlos Sainz Jr

Son of a former double world rally champion Carlos Sainz. He began his F1 career in 2015 with Scuderia Toro Rosso..After two years with the team, he joined Renault Sport Formula One Team in late October 2017, ahead of the United States Grand Prix, for the remainder of the season in 2018 at the expense of the struggling Jolyon Palmer. Sainz has won two driver Championship titles during his junior years I.e. Formula Renault 2.0 NEC & Formula Renault 3.5 in 2011 and 2014 respectively. He is still very young and oozing with confidence with every race. However, his future in 2019 is still uncertain as he been loaned by Red Bull to Renault for this season, and a second season opportunity is far from guaranteed as Esteban Ocon is very much likely to take his seat for 2019. Now, it all boils down to the confirmation of Daniel Ricciardo's contract with Red Bull, an extension will probably result in Sainz missing from the Grid next year, which will be a real shame to F1, if that does happen.
Pierre Gasly

Perhaps was the most recognized name in the junior level of Formula One a couple of years back. Frenchman Pierre Gasly currently an F1 Driver for the team Toro Rosso, was previously the winner of two junior Championship Titles (Eurocup Formula Renault 2.0 in 2013 & GP2 Series in 2016). In 2015, he began his role in F1 as a reserve driver for Red Bull Racing. A couple of years later, due to Red Bull's already filled driver slot, he debuted at the Malaysian Grand Prix replacing Daniil Kvyat as a full time driver for its Honda powered sister team Toro Rosso...Gasly's fourth place in Bahrain last earlier this season was the Japanese manufacturer's best result in the last four years, better than anything achieved in three unreliable and under-performing seasons with McLaren..Replicating his sensational performance in Bahrain, he also finished seventh in Monaco thereby giving his teammate Brendon Hartley a serious woe who is struggling at the other end...With performances like those he ...more
With a 6th place finish today has proved himself again, that he's worthy of a top seat. Brilliant list! Keep it up.
Nico Hulkenberg

When he burst into the Formula One scene with remarkable achievements in the junior series, he appeared to be a very promising young driver in the eyes of many F1 fans, who could claim the WDC title in the near future. Ever since then he has been consistently performing well throughout seasons after seasons and have surpassed team's expectations on numerous occasions but luck barely stood by his side and as a result hasn't managed to secure a seat with any of the top teams yet...He even went on to win the 24 Hours of Le Mans with Porsche in 2015...He has been desperately yearning for the opportunity to earn a contract with any of the competent teams and prove his mettle and quench the years long starving thirst for the wins & title...Despite being a very skilled driver his chances to drive a competitive car in the future seems pretty pale considering the emergence of newer drivers as well their prioritisation being higher..This is the only concrete reason why he features very low down ...more
Lance Stroll

Lance started his racing career in Karting at the age of ten, and has not looked back since then...He was an Italian F4 champion in 2014, Toyota Racing Series Champion in 2015, and 2016 FIA European Formula 3 champion. He was part of the Ferrari Driver Academy from 2010 to 2015. He then joined the Williams Young Driver Development Programme in 2015 and then a year later was announced as the team's driver for 2017. He made his debut at the Australian Grand Prix. That same year by earning his first podium (3rd Place Finish) at the Azerbaijan Grand Prix, he became the youngest driver (at 18 years old) to do achieve a podium during his rookie season as well as the second-youngest driver to finish an F1 race on the podium. Currently driving in Formula One for Team Williams. While his team is currently going through immense financial and performance struggles in 2018, it's crystal clear that Lance is ruminating about his future and move to a team that is capable of producing results and ...more
Stoffel Vandoorne

Vandoorne have had a tremendously good outing in the junior categories clinching the F4 Eurocup 1.6 in 2010, Eurocup Formula Renault 2.0 in 2012 and GP2 Series in 2015 demonstrating the winning potential...He made his debut at 2016 Bahrain Grand Prix and became the first reserve driver to score points on debut since Sebastian Vettel at the 2007 US Grand Prix. After the announcement of Jenson Button's hiatus from 2017 season Vandoorne was hired by McLaren as a replacement driver to partner Alonso. A year later, on the back of his satisfactory performance throughout the season, McLaren showed some faith in his talent as retained him for the 2018 season.. Although, he's having a hard time in the ongoing season unable to survive in the shadow of Alonso and is under real pressure to be replaced, which I feel would be severely harsh on someone who's just driving in his third season and never had the car competitive enough to yield good performances, it's a different argument that his ...more
The Contenders
Sergio Perez
Best of the rest
Romain Grosjean
Very Aggressive Driver pulls everything out that haas car- even when its not up to spec
Sergey Sirotkin
Truly the best driver to ever grace the field of formula one...
Valtteri Bottas
George Russell
Pastor Maldonado
BAdd New Item