Top 10 WWE Wrestlers (As of 2-12-17)
The best WWE superstars(main roster males)as of February 12th 2017. Next list will be out on March 31St 2017.
The Top Ten
Randy Orton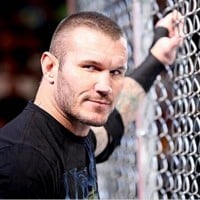 Randal Keith "Randy" Orton is an American professional wrestler and actor who is signed with WWE, where he is a member of the SmackDown brand. He is a 12-time world champion, having held the WWE World Championship eight times and the World Heavyweight Championship four times.
The winner of the 2017 royal rumble. Randy is rumored to face his "brother" in Bray Wyatt at Wrestle Mania 33. Randy Orton returned from injury and faced Brock Lesnar at summer slam(lost by TKO) Orton then had a fued with Bray Wyatt. After loosing to him he then decided to RKO Kane and align himself with Bray Wyatt. Will Randy Orton win the WWE CHAMPIONSHOP @ MANIA?
Kevin Owens

Kevin Steen is a Canadian professional wrestler signed to WWE, where he performs under the ring name Kevin Owens.
The Current Universal Champion. After loosing his IC TITLE at Wrestle Mania 32 in a ladder match, KO aligned himself with Jericho for a match at Summer slam against Enzo and Cass. Owens with the help of Triple H pinned Seth Rollins in a fatal 4 way elimination match and won the vacant Universal Championship. Owens has had the Title since then and is scheduled to face Goldberg at Roadblock. Many people are speculating he will job to Goldberg and drop the title.
John Cena

John Felix Anthony Cena Jr. (/ˈsiːnə/; born April 23, 1977) is an American professional wrestler, rapper, actor, and reality television show host signed to WWE, where he is assigned to the SmackDown brand. ...read more.
The now 16x WORLD CHAMPION. Cena has been injured for a quarter of 2016 but returned and had 3 great matches with AJ STYLES At MOTB SUMMERSLAM AND ROYAL RUMBLE. Cena has silenced the critics that question his ability in the ring and on the mic. Cena has been called a part timer as of late and his WWE career is uncertain.
AJ Styles

Allen Neal Jones, better known by the ring name AJ Styles, is an American professional wrestler currently signed to WWE.
Safe to say AJ Styles has had a phenomenal. AJ debuted at the 2016 Royal Rumble entering at number 3 and facing off with Roman Reigns. He was later eliminated by Kevin Owens. AJ won the WWE title from Dean Ambrose. AJ has just recently lost his WWE title to the record setting John Cena. AJ hasn't had a bad match in the WWE in his 1St year in the company. AJ styles has become a fan favorite with hardcore and casual fans even though he is a heel. AJ is one of the favorites to win the WWE Title at elimination chamber.
Chris Jericho

Christopher Keith Irvine, better known by the ring name Chris Jericho, is a Canadian-American professional wrestler, musician, media personality, actor, author, and businessman, currently signed to WWE and NJPW.
Self proclaimed "G.O.A.T". The man is in his later years but somehow still finds a way to perform at an elite level. Jericho has so far won the US title from Roman Reigns and lasted 61 minutes in the Royal Rumble.
Samoa Joe

Nuufolau Joel "Joe" Seanoa, better known by his ring name Samoa Joe, is an American professional wrestler, currently signed to WWE and performing in it's Monday night show, Raw. He is most well known for his time in NXT, where he was a former two time NXT champion.
The 2 time NXT champion. Has recently debuted on the main roster with the Raw Brand. Samoa Joe won his first match against Roman Reigns with an assist from Braun Strowman. Has coincided himself with Triple H and The Authority.
American Alpha

The CURRENT SMACKDOWN TAG TEAM CHAMPIONS. Chad Gable and Jason Jordan have been booked as an unstoppable tag team. They won the titles from the Wyatt Family and have just recently successfully defended them in a tag team turmoil match.
Luke Gallows & Karl Anderson

The CURRENT RAW TAG TEAM CHAMPIONS. The Club won the tag titles from Sheamus and Cesaro and have successfully defended them. The Club are now set to defend there titles at Roadblock against Enzo Amore and Collin Cassidy(Big Cass).
Bray Wyatt

Windham Lawrence Rotunda is an American professional wrestler signed to WWE, where he performs under the ring name Bray Wyatt and is the leader of The Wyatt Family.
Bray is currently rumored to be winning the WWE CHAMPIONSHIP at ELIMINATION CHAMBER. Bray has since ditched Harper and aligned himself with Royal Rumble Winner RANDY ORTON. Could this be the year where Bray finally gets his long anticipated push?
Braun Strowman

Adam Scherr is an American professional wrestler and strongman. He is currently signed to WWE under the ring name Braun Strowman. He has recently been in rivalries with Roman Reigns.
A monster amongst men, Braun Strowman has had a monster push. After being drafted to raw, Braun went up against unnamed talent, demolishing them all. Braun fueded with Sami Zayn and kayfabe injured him. Braun is currently fueding with Roman Reigns and will have a match with him at Roadblock.