My Top Ten Favorite Animals to Draw
The Top Ten
Dragons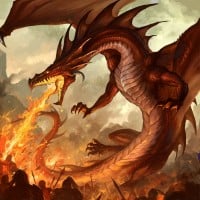 A dragon is a legendary creature, typically with serpentine or reptilian traits, that features in the myths of many cultures.
I think dragons are super fun to draw. I went from being terrible at drawing them to pretty good.
Cats

The "House Cat", also known as the Domestic Cat or the Feral Cat, is a small feline, a good hunter, and comes in a variety of colors and fur patterns. Contrary to popular belief, however, they are not truly domesticated. They are highly intelligent and good at problem solving.
I love drawing cats, specifically Warrior Cats.
Wolf

Often in/from packs, Wolves are carnivorous Canines that come in various colours and breeds, and have evolved to Dogs. Some breeds of Wolves are, like Dogs, domesticated, to become a Working Dog.
Drawing wolves is a great way to practice drawing animals because of the basic anatomy.
Eagle

Eagle is a common name for many large birds of prey of the family Accipitridae; it belongs to several groups of genera that are not necessarily closely related to each other. Eagles are also one of America's national symbols.
Eagles are a great way to practice drawing large birds.
Snakes

Snakes are elongated, legless, carnivorous reptiles of the suborder Serpentes that can be distinguished from legless lizards by their lack of eyelids and external ears.
Snakes are fun to draw in my opinion, being a Slytherin I do it often.
Lynx

A lynx is any of the four species within the Lynx genus of medium-sized wild cats, which includes the bobcat.
Lynxes are very fun to draw and they are my favorite animals.
Dolphin

Dolphins are a widely distributed and diverse group of fully aquatic marine mammals. They are an informal grouping within the order Cetacea, excluding whales and porpoises, so to zoologists the grouping is paraphyletic.
Dolphins are my favorite sea creatures.
Horse

The horse is one of two extant subspecies of Equus ferus. It is an odd-toed ungulate mammal belonging to the taxonomic family Equidae, and can be tamed, bred, and trained, as a mount.
Horses are beautiful creatures that are fun to draw because of the variety of ways to do it, much like dragons!
Foxes
Foxes are very fun to draw and I think they are super cute.
Thestral
Thestral are creatures from Harry Potter. They are skeleton horses with bat-like wings.