Product Designer Tool Must Needed Features
Custom Product Builder comes with several features that your customers would love to work around. They can also have a preview of what the product will look like before they order for it.
The Top Ten
Text Features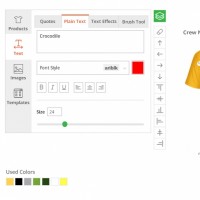 With the help of design tool, your customers can make use of unique text features on products. They can create their own one-liners and slogans. Thereafter, they can put them on the product of their choice. There is an availability of using different text functionalities like Multiple Coloured Text, Curved Text, Text Shadows, Text Outline and other text features.
Image Features

The image editing feature enables your customers to crop an image/clipart and use only the part they want to print on the product. It is also possible to resize the images and stretch them. Once the image or clipart is placed, different effects like Sepia, Greyscale etc can be given to them. It completely changes the way your images look. Once the Admin configures and manages image effects, they can be easily viewed in the frontend. To view and add image effects in the product design, firstly customers must add an image in the product design and then navigate to the 'Images' tab and click on 'Image Effects' sub tab. Thereafter, they can view multiple image effects which the admin managed and configured from the backend. By clicking on the image effect, customers can apply that image effect on the image added in the product design. Customer can also add multiple image effects on the image added in product design.
Design Features
Brush Tool

This is a great feature for artists! With the help of Brush Tool, your customers can create freehand drawings. To access brush tool, navigate to 'Text' tab and click on 'Brush Tool' sub tab. Click on the 'Brush On / Off' toggle button to enable the brush tool. Thereafter customers can select the pattern for brush tool from the 'Select Pattern' dropdown list and then draw the desired designs as per the requirement. Customers can also set the size of the brush tool along with its color from 'Brush Size' and 'Change Color' respectively.
Template Designs
Don't display plain and dull products to your customers. Make use of preloaded templates and display the ready designs on your website. It gives an idea to your customers as to how the customized product will look as and when they visit your website. It will also inspire them to create new designs.
Object Management
Product Design Software helps your customers to put all elements on the design canvas and helps them to change the position of different elements. These positioning can be done in four directions; left, right, top and bottom.
With grouping, customers can also align individual objects on the canvas on the side of their choice. They can also rotate the object in the direction they want by using the interactive tool handlers. They can also Delete, Resize, Flip and manage layer options with the help of handlers.
Printing Methods
Tool Needs to supports multiple printing methods like Silk Printing depending on Color Quantity and Printing Area Screen and Hot Print. To set default printing methods which will be displayed in the Product Designer Page for any product, navigate to the 'Manage Products' module, go to detail page of that particular product and select printing methods from the 'Printing Method' list.
HotFolder
Quickly synchronize all the Product Design Images along with the details of orders placed by the customers through Brush Your Ideas Designer Tool. You can do it on the desired destination on your local system. HotFolder fetches the Product Design Images and Order Details as per the configurations you make in the HotFolder App.
Configurable Attributes
Create various configurable attributes and use them for creating configurable products. Allow your customers to choose products with various attributes like size, color fabric and many more. Customer can choose these attributes while placing any order.
Theme Configurations
Configure the theme of your store as per your requirements. You can set primary and secondary colors for your store which will help you set button and text colors as per the set theme.
Product Design Preview
As soon as your customers have completed designing, you can enable them to have a preview of how the final product will look like. This can be shown by giving a full screen preview.