Top Ten Best '90s Rock Vocalists
The Top Ten
Layne Staley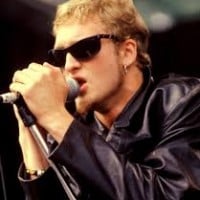 Layne Thomas Staley was an American musician who served as the lead singer and co-songwriter of the rock band Alice in Chains, which he founded with guitarist Jerry Cantrell in Seattle, Washington in 1987. Alice in Chains rose to international fame as part of the grunge movement of the early 1990s. ...read more.
The 90's honestly had tons of amazing vocalists. Chris Cornell, Phil Anselmo, Scott Weiland, Eddie Vedder, Mark Lanegan, and MJK are just a few of the other great talents. Layne just had something with his voice that was super unique and it had this dark chilly feeling. Layne did so many things with his voice and it just sounds awesome and because of this he could connect with people so well. He's just amazing.
I think when it comes to vocalists Layne Wins. Cornell's highs are amazing, but the way that Layne hit the power notes just felt effort less. Obviously if we talk about impact, Kurt's voice is just so iconic that it can't be beat in that regard. Vedder's voice is so dynamic, and I love his performance on MTV Unlugged. Scott Weiland is such a good melody server, that it's hard to not want him be higher on this list. The power that Layne gives is just not touchable. He can whisper, and make chills go up your spine. He just sings like he has a calm sense of his own ability. He sounds comfortable, and for that he is Number 1 on this list. R.I.P. dude.
Just listen to rooster and man in the box and it will speak for itself. Amazing gritty high range vocals and his voice is very distinctive and unique. Most talented vocalist of the 90s
The man had an absolutely incredible voice, the vast majority of his songs speak for themselves regarding his powerful, and dynamic voice. Absolute shame he was taken so soon by drugs.
Chris Cornell

Christopher John "Chris" Cornell was an American rock musician and singer-songwriter, best known as the lead vocalist, primary songwriter and rhythm guitarist for Seattle rock band Soundgarden and as former lead vocalist and songwriter for the supergroup Audioslave. His vocal range was C2 to A5, while ...read more.
His the great rock star, most loving & humble man. You're the great Chris. We miss you! Thank you for being an inspiration. Your music is always with me forever, thank you for connecting with my soul. THANK YOU! WE MISS YOU! WE LOVE YOU!
It's really hard in this list, cause the 90's really posses some of the most iconic voices and best singers of rock music in general, not only that particular decade. And while Cobain and Staley had the eeriest spine tingling screams, and Vedder has such a beautiful voice, of course we can't skip Maynard and Anselmo who have both redefined Alt Metal and Metal vocals completely one for their sensible dynamic and the other with their brute force but still a very melodic and great sounding vocal. Chris Cornell, for me, stands as not only the best singer of the 90's but of all rock music in general, and I'm a guy who has grown up on Led Zeppelin, but even though it may seem blasphemous, I must be honest and say that Chris has the nicest vocal timbre in all of rock and roll, for me he tops both Robert Plant and Freddy Mercury. And I hope no one holds this against me, as these are all such wonderful vocals, and we are unbelievably lucky to be able to listen to their music. But for me, again ...more
He's the greatest rock singer of all time.PERIOD
What
Eddie Vedder

Eddie Vedder is an American musician, singer and songwriter best known as a member of the rock band Pearl Jam, with whom he performs lead vocals and is one of three guitarists.
Eddie Vedder's voice is one of the greatest voices of 90's. He have the capacity of reach high notes, but also he can sing in very lower tones without problem.
Eddie Vedder should be number one on this list. With all do respect to Layne Staley, Thom Yorke, and Chris Cornelle, but all you have to do is listen to Vedders vocals on Black, Better Man, Alive, Jeremy, and Nothingman with Pearl Jam and you can hear the raw emotion and raw aggression radiate off his vocals. Or his rise to super stardom on the Co lead efforts on Hunger Strike by Temple of the Dog along side Chris Cornell, Or the likes of his passionate solo work with the song Hard Sun. It's a crime to have this Rock Icon at a mere number Four spot. come on people vote for this 90's rock treasure.
Wow
Kurt Cobain

Kurt Cobain was born February 20, 1967, in Aberdeen, Washington. In 1987, he started the grunge band Nirvana, which became one of the most successful bands ever. He was a talented yet troubled grunge performer. Kurt Cobain became a rock legend in the 1990s with his band. He committed suicide at his ...read more.
Her voice is good in every song he wrote best scream of the 90s and the most influential vocalist of all time.
He should number one come one just vote for him
One of the best rock screams of his time, comes close to layne syaley
Thank you for your support... He will be happy to watch this :P (fan)
Dolores O'riordan

Dolores Mary Eileen O'Riordan was an Irish musician, singer and songwriter. She was the vocalist for rock band The Cranberries from 1990 until their break-up in 2003, later reuniting with her band in 2009, which she led until her death in 2018.
Phil Anselmo

Philip Hansen "Phil" Anselmo is an American musician who is best known as the former lead vocalist of the heavy metal band Pantera. He currently is the vocalist of heavy metal bands Down and Superjoint Ritual.
No matter how much I like the other guys on here, from what I already see maynard, Eddie V and zack, Phil Anselmo is one of the all time greatest vocalists in music history, he lost a bit of his voice but the old mans still going
Jonathan Davis

Jonathan Howsmon Davis, also known as JD and JDevil, is an American musician best known as the leading vocalist and frontman of the nu metal band Korn.
Scott Weiland

Scott Richard Weiland was an American musician, singer and songwriter. During a career spanning three decades, Weiland was best known as the lead singer of the band Stone Temple Pilots from 1989 to 2002 and 2008 to 2013.
I mean to take nothing away from anyone, but from a technical standpoint none of the vocalists on this list can stand up to weiland... they are ahead due to popularity more than actual ability.
Versatile, powerful, and the best showman of his generation.
Hands down. Range was wide than any of the other 1 trick ponies and his preformace was more geared to be a showman.
Does it all, soft ballads, hard rock, pop. He can do it all in the studio and then bring 5 different voices to a live show as well.
Incredible vocalist who also happens to be one of the great performers as well!
Liam Gallagher

William John Paul "Liam" Gallagher is an English musician, singer, and songwriter. He rose to fame as the lead singer of the rock band Oasis, and later as the singer of Beady Eye.
Listen to the Oasis acoustic set at mtv in 1994, you'll see hat I mean.
Absolute genius
Changed the 90s
He's the fokin best mate
Jeff Buckley

Jeffrey Scott "Jeff" Buckley (November 17, 1966 – May 29, 1997) raised as Scott "Scottie" Moorhead, was an American singer-songwriter and guitarist. ...read more.
Take out the opinions of the popular music zombies and the only others in contention with Buckley for this title are Layne Staley and Chris Cornell. Picking between those three really just comes down to preference.
How is he not number 1? People are deaf. De la Rocha ahead of him? Seriously?
How is this man only just being named now?! Best vocalist of all time. Nobody can compare to his tone. The way his voice just effortlessly floats between registers and octaves is unique and impossible to replicate. There has never been a better vocalist and there probably never will be
R.I. P Jeff
Best hands down.
The Contenders
Billy Corgan

William Patrick "Billy" Corgan Jr. is an American musician, songwriter, producer, television writer, poet, and professional wrestling promoter best known as the lead singer, guitarist, and sole permanent member of The Smashing Pumpkins.
Billy Corgan can have the soft voice of an angel, then turn around and express his anger loudly. His melancholy lyrical style fits the theme of the 90's more than any other artist I know.
Maynard James Keenan

Maynard James Keenan, often referred to by his initials MJK, is an American musician, record producer, winemaker, and actor, best known as the vocalist for Grammy Award-winning progressive metal band Tool. He also is the singer of A Perfect Circle and Puscifer bands that vary in style.
3 albums out in the 90s, they only got better and better, kurt was great for the start of the 90s, layne was great in the mids, and maynard finished it off with aenima
Great in any project he's in hands down one of my top 3 favorites
This guy is so awesome that I'm named after him
Maynard has the best harmonies I've ever heard
Billie Joe Armstrong

Billie Joe Armstrong is an American musician, singer, songwriter and actor who is best known as the lead vocalist, primary songwriter, and guitarist of the punk rock band Green Day, which he co-founded with Mike Dirnt.
He has been around since 1989
He's the greatest rocker of all time and should be in the place of kurt cobain...
Mike Patton

Michael Allan "Mike" Patton is an American singer-songwriter, multi-instrumentalist, film composer, producer, and actor, best known as the lead singer of the alternative metal band Faith No More.
Zack De La Rocha

Zacharias Manuel "Zack" de la Rocha (born January 12, 1970) is an American musician, poet, rapper, and activist best known as the vocalist and lyricist of rap metal band Rage Against the Machine from 1991–2000, and after the band's reunion in 2007 until their last show in 2011. He left Rage Against ...read more.
Thom Yorke

Thomas Edward "Thom" Yorke is an English musician best known as the singer and principal songwriter of the alternative rock band Radiohead.
His voice is beautiful, just listen to Creep and Fake Plastic Trees from Radiohead
His voice is sex.
Chino Moreno

Chino Moreno is an American musician. He is best known as the lead vocalist and contributing guitarist of Deftones.
Marilyn Manson
You put a person who can hardly sing on top of Jeff Buckley? That's just wrong.
Best and most unique voice of the 90s everyone knows It's Manson when he starts
Daniel Johns
So underrated man listen to neon ball room and diorama they are masterpiece
Danieljohns of silverchair is pure talented
Just talented if u wanna here some vocals listen to diorama and neonballroom if u want pure talentness those two albums and freakshow and frogstomp
Peter Steele

Petrus Thomas Ratajczyk, better known by his stage name Peter Steele, was the lead singer, bassist and composer for the gothic metal band Type O Negative.
From "Christan Women" to the live version of "Black number 1", Peter Steele was one of the greatest voices of the Gothic-Doom Metal scene in the 80's - 90's
David Draiman

David Michael Draiman is an American songwriter and the vocalist for the band Disturbed as well as for the band Device.
Ozzy Osbourne

John Michael "Ozzy" Osbourne was born on December 3, 1948. He is also known as ''The Prince of Darkness''. Ozzy is an English singer, songwriter, and television personality. He rose to prominence in the early 1970s as the lead vocalist of the band Black Sabbath. Osbourne was fired from Black Sabbath ...read more.
Bruce Dickinson

Paul Bruce Dickinson, known professionally as Bruce Dickinson, is an English musician, airline pilot, and broadcaster. He is most well known for being the lead singer in heavy metal band Iron Maiden and his solo career.
Ronnie James Dio

Ronnie James Dio (born Ronald James Padavona; July 10, 1942 – May 16, 2010) was an American heavy metal singer, songwriter and musician. He fronted and/or founded numerous groups including Elf, Rainbow, Black Sabbath, Dio and Heaven & Hell. He is credited with popularizing the "metal horns" hand gesture ...read more.
Noel Gallagher

Noel Thomas David Gallagher is an English musician, singer, songwriter and guitarist. He served as the lead guitarist, co-lead vocalist and principal songwriter of the rock band Oasis.
PSearch List