Top Ten Best Shadowclan Cats
The TOP favorite Shadowclan cat are here. They are epic And Loved For a reason. you decide now.
The Top Ten
Tawnypelt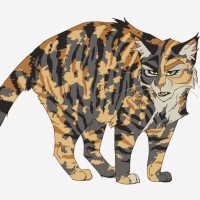 Tawnypelt is a fictional character created by Erin Hunter for the book series Warrior Cats. She is a pale, mottled tortoiseshell she-cat with green eyes. She is devoted, sassy, blunt and tough. She belongs in Shadowclan, and has recently stepped down of her position as Deputy to be a Warrior once again. ...read more.
Tigerheart

Tigerheart, now known as Tigerstar, is a fictional character created by Erin Hunter for the book series named Warrior Cats. He became more important to the plot after gaining his own book, Tigerheart's Shadow. He was one of the cats to have worked as a spy on the Dark Forest. Now he currently is the ...read more.
Cedarstar
Yellowfang

Yellowfang was a ThunderClan medicine cat in the original series of Warriors. She initially was a medicine cat from ShadowClan, but she was banished by her son, Brokenstar. She was then found by Firestar, who was then Firepaw, and brought into ThunderClan.
Raggedstar
Russetfur
Flametail

Rowanberry
Foxheart
I TOTALLY AGREE. - Astralium
Badgerfang

Badgerfang is a Warrior Cats character that appears in Yellowfang's secret. He was a fluffy black kit with a white stripe running down his face.
His death was sad! D:
The Contenders
Nutwhisker
Brokenstar

Brokenstar is a villain character from the Warrior Cats series. He is a dark brown tabby tom with a bent tail and orange eyes. Brokenstar was a former Shadowclan leader and a member of the Dark Forest. His mother is Yellowfang and his father is Raggedstar.
Tigerstar

Tigerstar is a villain in the Warriors series by Erin Hunter. Son of Leopardfoot and Pinestar, former mate of Goldenflower and Sasha, and father of Bramblestar, Tawnypelt, Mothwing, Hawkfrost, and Tadpole. This brown tabby cat almost causes the downfall of the clans. But is killed, firstly by Scourge, ...read more.
Sagewhisker
BAdd New Item