Best Acted Characters in the Musical Hamilton
The most well played characters in the musical "Hamilton"

The Top Ten

1 Angelica Schuyler Church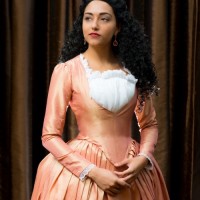 She's intelligent, spunky and sassy! She loves her family and is awesome!
You grow to love her sassy and loveable personality
I don't think I have to convince anybody with this one. Everyone loves Angelica.
Played By Renee Elise Goldsberry
2
Aaron Burr

This is such a dilemma, Leslie as Burr is so perfect, but so is Daveed Diggs as Jefferson and Lafayette' and Phillippa so is so perfect for Eliza cause she sounds like an angel and iI also love the Groffsauce as King George. Ahh, can't pick!
Aaron and Angelica are best. They just have the perfect attitude and voiceee!
Leslie Odom Jr was great
Leslie's voice was perfect for the role!
3
Marquis De Lafayette

I loved how his development was so evident from an immigrant who couldn't pronounce "anarchy" to the fastest rapper in Broadway history!
Lafayette is my favorite
He's so energetic and jumping and rapping in a french accent and it's just an amazing part!
Played By Daveed Diggs
4
Eliza Hamilton

I think Eliza, Alexander, and Phillip need to be higher
That fourth wall break of a gasp at the end!
She makes you feel real emotions
Played By Phillipa so
5
King George III

How is he not higher Groff did an excellent job with his levels of insanity and snobbishness!
His love of drama lol.
Played By Jonathan Groff
6
Thomas Jefferson

Snarky, flamboyant, slightly irritating. No wonder Daveed got a Tony for his performance.
I loved how Daveed acted him. He made Jefferson look kinda of snobby like they made he was.
7
George Washington

The minute Chris Jackson stepped up onstage, I believed he was Washington from the way he held himself to the way he spoke.
Played By Christopher Jackson
8
John Laurens

Whaaaaaaaaaaat? How is Laurens not higher? He was so energetic and feisty as an abolitionist and a very good friend of Hamilton!
Played By Anthony Ramos
9
Peggy Schuyler

She is so underrated and deserves so much love.
There's a third sister? Whaaat?
PEGGY! She's awesome! If you read Hamilton and Peggy you will love her even more!
Played By Jasmine Cephas Jones
10
Alexander Hamilton

Played By Lin-Manuel Miranda
Cheeky lil' Alex
The Contenders
11
Philip Hamilton

His actor literally had to die...TWICE. You could see how Philip was ambitious and loyal to his family!
Played By Anthony Ramos.
by the way so cute
12
Maria Reynolds
Totally underrated in my opinion. Jasmine (who plays Maria) was perfect from her acting to her vocals!
13
Hercules Mulligan
Also underrated! His actor was brilliant at beatboxing!
Played By Okieriete Onaodowan
14
James Madison
Totally underrated! His actor had to change drastically from the energetic Hercules Mulligan to the quiet James Madison!
15
Charles Lee
He has some funny lines. Probably isn't my favorite, but deserves to be higher.
16 The Ensemble
BAdd New Item