Top Ten Actresses of the 30s and 40s
The Top Ten
1
Bette Davis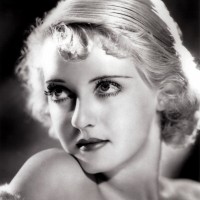 Ruth Elizabeth "Bette" Davis (April 5, 1908 – October 6, 1989) was an American actress of film, television and theater. Regarded as one of the greatest actresses in Hollywood history, she was noted for her willingness to play unsympathetic, sardonic characters and was reputed for her performances ...read more.
Daring, surprising, indelible on the screen
2
Katharine Hepburn
Loved her in The African Queen with Bogart! - BettyBoopFan58
3
Joan Crawford

Joan Crawford, born Lucille Fay LeSueur (March 23, c. 1904 – May 10, 1977) was an American film and television actress who began her career as a dancer and stage showgirl. The American Film Institute ranked Crawford 10th on their list of the greatest female stars of Classic Hollywood Cinema .
4
Lucille Ball

5
Claudette Colbert

Claudette Colbert (September 13, 1903 – July 30, 1996) was an American film actress and a leading lady in Hollywood for over two decades, and has been called "The mixture of inimitable beauty, sophistication, wit, and vivacity". ...read more.
6
Lauren Bacall

Lauren Bacall, born Betty Joan Perske (September 16, 1924 – August 12, 2014) was an American actress and singer known for her distinctive voice and sultry looks. ...read more.
7
Billie Burke

Mary William Ethelbert Appleton "Billie" Burke (August 7, 1884 – May 14, 1970) was an American actress, famous on Broadway and in early silent film, best known to modern audiences as Glinda the Good Witch of the North in the movie musical The Wizard of Oz.
8
Myrna Loy

Myrna Loy, born Myrna Adele Williams (August 2, 1905 – December 14, 1993) was an American film, television and stage actress.
9
Judy Garland

Judy Garland, born Frances Ethel Gumm (June 10, 1922 – June 22, 1969) was an American singer, actress, and vaudevillian. The American Film Institute named her 8th greatest female star of classic American cinema. She's also the mother of actress and singer Liza Minnelli.
The Wizard Of Oz GREAT GREAT film! - BettyBoopFan58
10
Mae West

Mary Jane "Mae" West (August 17, 1893 – November 22, 1980) was an American actress, singer, playwright, screenwriter, comedian, and sex symbol whose entertainment career spanned seven decades. ...read more.
The Contenders
11
Hedy Lamarr

Hedy Lamarr, born Hedwig Eva Maria Kiesler (9 November 1914 – 19 January 2000) was an Austrian-American film actress and inventor. Often called "The Most Beautiful Woman in Films", Hedy Lamarr's beauty and screen presence made her one of the most popular actresses of her day. ...read more.
12
Jean Harlow

Jean Harlow, born Harlean Harlow Carpenter (March 3, 1911 – June 7, 1937) was an American film actress and sex symbol of the 1930s. ...read more.
13
Veronica Lake

Veronica Lake, born Constance Frances Marie Ockelman (November 14, 1922 – July 7, 1973) was an American film, stage, and television actress. Lake won both popular and critical acclaim, most notably for her role in Sullivan's Travels and for her femme fatale roles in film noirs during the 1940s. She ...read more.
14
Greta Garbo

Greta Garbo, born Greta Lovisa Gustafsson (18 September 1905 – 15 April 1990), was a Swedish-born American film actress during the 1920s and 1930s. ...read more.
15
Marlene Dietrich

Marie Magdalene "Marlene" Dietrich (27 December 1901 – 6 May 1992) was a German actress and singer who held both German and American citizenship. This internationally famed actress cum singer was a frontline performer with an amazing long career in the show business. One of the highest paid actresses ...read more.
16
Vivien Leigh

Vivian Mary Hartley, later known as Vivien Leigh and Lady Olivier, was an English stage and film actress.
17
Claire Trevor

Claire Trevor, born Claire Wemlinger (March 8, 1910 – April 8, 2000) was an American actress. She appeared in over 60 films, winning the Academy Award for Best Supporting Actress for her role in Key Largo, and earning nominations for her roles in The High and the Mighty and Dead End . She also received ...read more.
Known as the queen of the film noir.
18
Fay Wray

Vina Fay Wray (September 15, 1907 – August 8, 2004) was a Canadian/American actress most noted for playing the female lead in the first version of King Kong, in 1933. Through an acting career that spanned 57 years, Wray attained international renown as an actress in horror movie roles. She was one ...read more.
19
Olivia de Havilland

Olivia Mary de Havilland is a British-American actress whose career spanned from 1935 to 1988. She appeared in forty-nine feature films, and was one of the leading movie stars during the golden age of Classical Hollywood.
20
Joan Fontaine

Joan de Beauvoir de Havilland (October 22, 1917 – December 15, 2013) known as Joan Fontaine, was a British-American actress, best known for her starring roles in classic Hollywood films. Fontaine appeared in over 45 feature films in a career that spanned five decades. She was the sister of actress ...read more.
21
Barbara Stanwyck

Barbara Stanwyck, born Ruby Catherine Stevens (July 16, 1907 – January 20, 1990) was an American actress. She was a film and television star, known during her 60-year career as a consummate and versatile professional with a strong, realistic screen presence, and a favorite of directors including Cecil ...read more.
22
Lupe Velez

23
Shirley Temple

Shirley Temple Black (April 23, 1928 – February 10, 2014) was an American actress, singer, dancer, businesswoman, and diplomat who was Hollywood's number one box-office draw as a child actress from 1935 to 1938. As an adult, she was named United States ambassador to Ghana and to Czechoslovakia and ...read more.
Just because she was only a child doesn't exclude her from being an actress (& she was the most popular, by far, than all those mentioned here).
24
Gene Tierney

Gene Eliza Tierney (November 19, 1920 – November 6, 1991) was an American film and stage actress. Acclaimed as a great beauty, she became established as a leading lady. Tierney was best known for her portrayal of the title character in the film Laura (1944), and was nominated for an Academy Award ...read more.
25 Paulette Goddard
PSearch List