Most Addictive Anime Series
The Top Ten
1
Death Note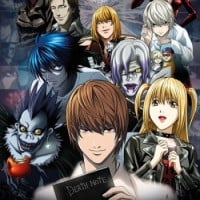 Death Note is a Japanese television drama series based on the manga series of the same name by Tsugumi Ohba and Takeshi Obata. The show is centered around Light Yagami - a promising highschooler and aspiring detective with a strong sense of "justice".
In my opinion, this show could've been The GOAT. It has probably influenced a lot of writers because of it's intelligence. The show's two main characters/rivals were so perfect for the story, take L out and it does not work, take Light out and it also wont work. That acted as a double edged sword, soon as L died the strength of the story diminished. Overall tho, still up there
Death Note is my favourite anime, and I watch it time and again. It is very interesting and the story line is gripping.
It's the best
Killing psychological anime
I have ever watched
It's so smart and the suspense is everywhere!
2
Dragon Ball Z

Dragon Ball Z is a Japanese anime television series produced by Toei Animation. Dragon Ball Z follows the adventures of Goku who, along with the Z Warriors, defends the Earth against evil. The action adventures are entertaining and reinforce the concept of good versus evil. Dragon Ball Z teaches valuable ...read more.
Dragon Ball Z is one of the best anime by no doubt. You can never get bored of watching it again and again.
3
One Piece

One Piece is a manga franchise created by Eiichiro Oda. The manga has been adapted into an original video animation (OVA) produced by Production I.G in 1998, and an anime series produced by Toei Animation, which began broadcasting in Japan in 1999 and has aired 851 episodes to date.
One Piece combines humour with adventure and is full of fun and energy. The character of Monkey D. Luffy is full of colour.
I still need to watch this. Hopefully this summer I will start it since I'm out of class like in a week.
Its long as crap too. Meaning that the very addiction is very hard to kick.
One if the greatest stories ever told!
4
Attack on Titan

Attack on Titan, also known as Shingeki no Kyojin in Japanese, created by Hajime Isayama, is one of the most popular Japanese anime series to be released. It was first watched in Japan during 2013 and was dubbed in English to be watched in America in 2014. It is best known for its emotional moments, ...read more.
I really love this it's... I mean... I am just.. I just don't know it's soooo good it made me speephless
It's just so good...
5
Naruto

Naruto is an anime and manga franchise Naruto, created by Masashi Kishimoto. The manga was later adapted into a television anime, which was produced by Studio Pierrot and Aniplex. It premiered across Japan on the terrestrial TV Tokyo and other TX Network stations on October 3, 2002. The first series ...read more.
Naruto was my best friends favourite anime, he recommended it to me and I really enjoyed it.
I love his goal to save Sasuke. Naruto isn't just an anime there is a true lesson I love it
I like the courge Naruto has
Never boring
6
Fairy Tail

Fairy Tail is a manga franchise created by Hiro Mashima. The manga has been adapted into an anime series produced by A-1 Pictures and Satelight, which began broadcasting in Japan on October 12, 2009. Additionally, A-1 Pictures and Satelight have developed seven original video animations and an animated ...read more.
Fairytail got me and my bffs crazily addicted we started making ships and made meltdowns when they went wrong so many ships in this series and when it finished I was crying 1 week straight no jokes
7
Bleach

Bleach is a Japanese anime series based on Tite Kubo's manga of the same name. Bleach adapts the first 54 volumes of Tite Kubo's manga series of the same name. In addition, 4 anime-original arcs were broadcast in-between and during the adaptations of original arcs of the manga. ...read more.
Bleach is a great supernatural anime which is very interesting and addictive.
So many characters, and we get to see all of their stories. In some way one or another they all connect. Tite Kubo did fantastic
I love Bleach💖
It's just addicting
8
Hunter × Hunter

Hunter × Hunter is a manga franchise created by Yoshihiro Togashi. In 1999, Hunter × Hunter was adapted into a 62-episode anime television series produced by Nippon Animation and directed by Kazuhiro Furuhashi. The show premiered on Japan's Fuji TV and ran until 2001. Three separate original video ...read more.
This is the most awesome anime I have ever watched
Couldn't stop watching the Phantom Troupe arc
9
Code Geass

Code Geass: Lelouch of the Rebellion, often referred to as simply Code Geass, is a Japanese anime series created by Sunrise, directed by Gorō Taniguchi, and written by Ichirō Ōkouchi, with original character designs by manga authors Clamp.
Very cleverly written show, I watched in awe as the plot reveals itself before me. Only show that can rival the writing technique of the creator is Death note
The suspense of what is about to happen is something you can predict.
You may be able to predict almost any stories before it happens, But its only fun if you can't predict whats coming.

This anime is the same. You can't always predict whats next (At least not so accurately as other anime.
I really think CG should be a bit above the current rank
10
Fullmetal Alchemist: Brotherhood

Fullmetal Alchemist: Brotherhood is an anime series adapted from the Fullmetal Alchemist manga by Hiromu Arakawa.
A gem. This show had me from start to end, a very immersive world and story. Don't really have much to say about it since I think we can all agree that this is one of the greats
If any anime I watched more than 10 times all the way through (Not just re watching specific episodes like with Pokemon), it was both FMA 2003 and Brotherhood.
The Contenders
11
Sword Art Online

Sword Art Online is a series of Japanese light novels written by Reki Kawahara and illustrated by abec. In 2012, it received an anime adaptation produced by A-1 Pictures and the SAO Project, and is directed by Tomohiko Ito . The first season is divided into two arcs known as "Aincrad" and "Fairy Dance". ...read more.
I absolutely love the story line the characters just everything! Haha Time to watch more Sword Art Online!~
first anime I finished
12
Naruto Shippuden

Naruto: Shippuden is the ongoing sequel to the original Naruto anime and covers the Naruto manga from volume twenty-eight on. The TV adaptation of Naruto: Shippuden debuted in Japan on February 15, 2007 on TV Tokyo. It is developed by Studio Pierrot and directed by Hayato Date.
Action packed, emotional whirl wind adventure starring our favorite upbeat protagonist still on his never ending, but still fun as hell quest to be hokage. This is a must watch
NEVER BORING ! has lots of action in this show really recommend
13
Noragami

Thami is a sob
14
One Punch Man

One-Punch Man is an ongoing, online, web comic, which was later adapted into a Manga and Anime series . Created by ONE in 2009, It gained popularity, and soon after, went viral in 2012, surpassing 7 . 9 million views . One-Punch Man (OPM for short) focuses on the protagonist Saitama (Who is named after ...read more.
15
Pokemon

Pokémon, abbreviated from the Japanese title of Pocket Monsters and currently advertised in English as Pokémon: The Series, is a Japanese anime television series, which has been adapted for the international television markets.
Again, just like One Piece, it is LONG, meaning that the addiction is still very hard to kick.
I sure that this must come in top 1 as I am horribly addicted to pokèmon though I am a girl
16
Black Clover
The manga is better but still love it
It is a CLassic noob.
Simply awesome
17
Jojo's Bizarre Adventure

Jojo's Bizarre Adventure is an anime and manga franchise originally written by Hirohiko Araki. It centers around the perilous journey of the members of the legendary Joestar bloodline.
18
Steins;Gate

Steins;Gate is a 2011 anime television series created by the animation studio White Fox based on 5pb. and Nitroplus's 2009 video game of the same name, and is part of the Science Adventure franchise.
Arguably one of the bests. It's just sad that some people drop it because of it's confusing start, but that actually is the beauty of this series. Cause it will all make sense slowly, and in a very surprising way.
19
Demon Slayer

20
Fullmetal Alchemist

Fullmetal Alchemist is an anime series adapted from the manga of the same name by Hiromu Arakawa. It is about two brothers, Edward Elric and Alphonse Elric, trying to restore their bodies after failing at bringing their mother back to life. It aired in 2003 and was remade as Full Metal Alchemist Brotherhood ...read more.
21
Angel Beats!

Angel Beats! is a 13-episode Japanese anime television series produced by P.A.Works and Aniplex and directed by Seiji Kishi.
22
Trigun

Trigun is a Japanese manga series written and illustrated by Yasuhiro Nightow. The manga was serialized in Tokuma Shoten's Shōnen Captain in 1995 with three collected volumes when the magazine was discontinued in 1997.
23
Kamisama Hajimemashita

Flipping addicting, the pairing is beautiful and the story arc is very well planned out.
Really wish there was more~oh well il just have to check out the manga
-love this :3
24
Monogatari Series

It's the baggage of suspense mysterious supernatural adventures narrated by the the characters and their view point. I find it really addictive since I watched Bakemonogatari. I'm sure its unique art style and presentation will also charm you. It may come tagged as Harem but It don't focus obsessively on it like other anime. ie it doesn't go overboard with it
25
My Hero Academia

This deserves to be in the top 10. the clever build up of BNHA's story is reminiscent of MCU's technique. Kohei Horikoshi also pays attention up to the tiniest of detail. Watch it with a serious eye for detail and you'll love every second of this show.
ugh uh watch this
PSearch List