Best American Metal Singers
The Top Ten
1
Ronnie James Dio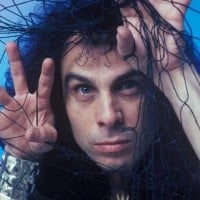 Ronnie James Dio (born Ronald James Padavona; July 10, 1942 – May 16, 2010) was an American heavy metal singer, songwriter and musician. He fronted and/or founded numerous groups including Elf, Rainbow, Black Sabbath, Dio and Heaven & Hell. He is credited with popularizing the "metal horns" hand gesture ...read more.
At his time there were only few metal singers like Ian Gillan,Rob Halford.And Ronnie is one of them - zxm
Mr. Golden Voice deserves to be here, at #1. His pure personality was also very inspiring. R.I.P. Dio. - Metal_Treasure
Plus he is a great user.he is not arrogant.he doesn't even insult anybody.helps a lot of toptenners.and he isn't on toptens to become famous.I have seen it. - zxm
2
James Hetfield

James Alan Hetfield was born on August 3, 1963. He is an American musician, singer and songwriter known for being the co-founder, lead vocalist, rhythm guitarist and main songwriter for the American heavy metal band Metallica.
I know that his singing isn't very polished and his vocal technique has some flaws but I like his voice. His roar immediately speaks "metal" to me and I like this adrenaline. However, the best singer is the singer with the best vocal skills and without a doubt at least Tate, Dio, Allen, Barlow and Eric Adams have better vocal skills than Hetfield.
@Metal_Treasure, I know he hasn't got that much of vocal skills but still I like his voice.
I wanted to add that Hetfield range is pretty good - 3 octaves, 3 notes. For comparison, Bruce Dickinson has 3 octaves, 4 notes (one note more). What makes Bruce Dickinson a better singer is his better vocal technique and not this 1 note.
However, vocals aren't priority in thrash - people listen to thrash for the speed, riffs, solos, aggression and drumming. And very often for the lyrics that deal with social and political problems. Well, I also like the voices of Hetfield and Araya.
He is the best metal singer from america.Only singers like Bruce Dickinson can beat him but he is from UK
3
Corey Taylor

Corey Todd Taylor was born in December 8, 1973. He is an American musician, author, and actor best known as the lead singer and lyricist of the Nu-metal band Slipknot and hard rock/alternative metal band Stone Sour.
He has the biggest vocal range on this list - zxm
4
Phil Anselmo

Philip Hansen "Phil" Anselmo is an American musician who is best known as the former lead vocalist of the heavy metal band Pantera. He currently is the vocalist of heavy metal bands Down and Superjoint Ritual.
He's very good - vocal range of 4 octaves, 1/2 note, very powerful voice and pretty good technique for what he sings (mostly harsh/rough vocals). Actually he's a better singer than one may conclude from songs like "Walk". Give a listen to a very obscure speed metal song from the 80s Pantera - Burnnn. Enjoy his Harford-esque high notes. - Metal_Treasure
5
Dave Mustaine

David Scott "Dave" Mustaine (born September 13, 1961) is an American musician, singer, songwriter, actor and author. Mustaine is best known as a pioneer in Thrash Metal, being the former lead guitarist of Metallica before his dismissal in 1983, leading to finding and becoming the front man of his own ...read more.
A great guitarist and songwriter but not very good singer and I respect him for admitting that - he said "I'm not a great singer". I like his shallow growls (different from death growls) but when he tries real singing it doesn't sound very good.
Best thrash metal singer after James
6
M. Shadows

Matthew Charles Sanders, better known by his stage name M. Shadows, is an American musician, best known as the lead vocalist, songwriter and founding member of the American metalcore/alternative metal band Avenged Sevenfold.
Probably he is the best metal singer of modern metal
7
Geoff Tate

Geoff Tate is a German-born American singer and musician who rose to fame in the 1980s with the progressive metal band Queensrÿche.
His nationality isn't exactly German - he is a German-born American singer. He was born in Germany but his mother's side is from New Orleans. I don't know about his father (American or German) but shortly after his birth, his family relocated to Tacoma, Washington. So he was raised in the US and he was a singer for an American band. He was born Jeffrey Wayne Tate - a very American name.

Now shortly - on this list Tate is the singer with the best vocal skills, meaning that technically he is the best singer. - Metal_Treasure
I was about to add him but his german nationality stopped me - zxm
8
Matt Barlow

Matthew 'Matt' Barlow is an American heavy metal singer and police officer. He was the lead singer for Iced Earth in the 1990s and 2000s. He is currently the lead singer for Ashes of Ares. After the September 11 terrorist attacks Matt Barlow decided to become a police officer and contribute to the "real ...read more.
This is an extremely powerful voice with immense passion and emotion. His voice can be quite aggressive when needed. His range is pretty awesome - less than 4 octaves but Matt Barlow even has half a note (1/2 note) more than Bruce Dickinson (Yay! )
I really love Matt Barlow. Some of his vocal performances:
Iced Earth - Dracula, A Question of Heaven, Dante's Inferno, Damien, Ghost of Freedom, Melancholy. - Metal_Treasure
9
Eric Adams

Eric Adams has been the singer of the American heavy metal band Manowar since its inception in 1980. Previously, he sang for a group called LOOKS, a band which also included future Manowar bassist and childhood friend, Joey DeMaio.
10
Russell Allen

Russell Allen is a singer and lyricist best known as the vocalist of American progressive metal band Symphony X.
Russell Allen and Matt Barlow have the most powerful voices on this list - voices that are also equipped with corresponding vocal skills. - Metal_Treasure
The Contenders
11
Tim "Ripper" Owens

Timothy S. "Ripper" Owens is an American heavy metal singer who currently performs with Beyond Fear, Yngwie Malmsteen's Rising Force and Charred Walls of the Damned.
Many Judas Priest and Iced Earth fans were not happy with him because he wasn't Rob Halford and Matt Barlow. Yes, he isn't Halford and Barlow but he's got a voice that is amazing in its own right. Tim Ripper also has some mad vocal skills. I honestly think he is overhated. And underrated.
Judas Priest - Cathedral Spires
Tim 'Ripper' Owens - Flight Of Icarus (Iron Maiden cover)
Tim Ripper Owens - Santa Claus Is Back In Town (Xmas song cover, esp. after 3:05). - Metal_Treasure
12
Jon Oliva

John Nicholas Oliva, known as Jon Oliva, is an American composer, multi-instrumentalist and singer. Co-founder of the metal band Savatage and the rock opera Trans-Siberian Orchestra. He's got a real 4 octave range, able to morph the sound of his voice to any style, from John Lennon and Freddie Mercury, ...read more.
13
David Draiman

David Michael Draiman is an American songwriter and the vocalist for the band Disturbed as well as for the band Device.
14
Alice Cooper

Alice Cooper is an American singer, songwriter, musician and occasional actor whose career spans over five decades.
He isn't a metal singer - his songs and singing style aren't metal. Some songs are dark but not metal. His main genre is shock rock. His modern version is Marilyn Manson. - Metal_Treasure
On low cause he wasn't totally a metal singer - zxm
15
Rob Zombie

Rob Zombie (born Robert Bartleh Cummings) is an American heavy metal musician, film director, screenwriter and film producer. His career launched in 1985 when he formed the heavy metal band White Zombie. Following their breakup, he began a successful solo career. Zombie began directing in the early ...read more.
16
Layne Staley

Layne Thomas Staley was an American musician who served as the lead singer and co-songwriter of the rock band Alice in Chains, which he founded with guitarist Jerry Cantrell in Seattle, Washington in 1987. Alice in Chains rose to international fame as part of the grunge movement of the early 1990s. ...read more.
Incredible singer but AIC themselves see their music as mostly grunge and not metal. I agree with that and for me he isn't a metal singer. Also, his voice isn't a typical metal voice - metal singers usually have aggression and not pain in their voices. Pain prevails in the voices of grunge singers.
17
Joey Belladonna

Joey Belladonna is the American Thrash Metal singer, best known for leading the band Anthrax. He also sings and drums for the cover band Chief Big Way.
18
Chuck Billy

Charles "Chuck" Billy is an American vocalist, who is best known as the vocalist for the thrash metal band Testament.
19
Chuck Schuldiner

Charles Michael "Chuck" Schuldiner (1967-2001) was an American singer, songwriter, and guitarist, best known as the founder and vocalist, guitarist and bassist of the American heavy metal band Death. He is considered the most influential figure in Death Metal, with some publications referring to Chuck ...read more.
20
Tom Araya

Tomás Enrique "Tom" Araya Díaz is a Chilean American musician, best known as the bassist and vocalist of the American thrash metal band Slayer.
On low cause he was born in Chile.But his nationality is also american. - zxm
21
Matt Smith
A young and less known singer (Theocracy) but he's very good. He basically sings progressive power metal and the band (Theocracy) is very good.
His voice on "I Am" is beautiful, on "Mirror of Souls" - epic, the intro scream to "Laying the Demon to Rest" is one of the longest I know (>20 secs), intro scream to "Nailed" is long, too. I also like his songs Sinner, As the World Bleeds, Martyr, 30 Pieces of Silver. - Metal_Treasure
22
Maynard James Keenan

Maynard James Keenan, often referred to by his initials MJK, is an American musician, record producer, winemaker, and actor, best known as the vocalist for Grammy Award-winning progressive metal band Tool. He also is the singer of A Perfect Circle and Puscifer bands that vary in style.
23 Page Hamilton
24
Mike Patton

Michael Allan "Mike" Patton is an American singer-songwriter, multi-instrumentalist, film composer, producer, and actor, best known as the lead singer of the alternative metal band Faith No More.
Of course he is - zxm
25
Peter Steele

Petrus Thomas Ratajczyk, better known by his stage name Peter Steele, was the lead singer, bassist and composer for the gothic metal band Type O Negative.
PSearch List