Top Ten Best Andi Mack Ships
Romantic and Platonic relationships can be included.
The Top Ten
Tyrus (TJ x Cyrus)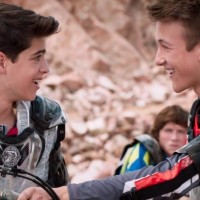 The best!
Bexie (Bowie x Bex)

Ambi (Andi x Amber)

They are super cute together. OTP
Muffy (Marty x Buffy)

They look so cute together!
Jyrus (Jonah x Cyrus)
Hamcelia (Ham x Celia)
Juffy (Buffy x Jonah)

I hope this actually happens - AwesomeJawson
Byrus (Buffy x Cyrus)
Jandi (Jonah x Andi)

Ah come on guys. Just because it was toxic and annoying in earlier seasons doesn't mean it can never be an amazing couple when they are older.
Hell no.
Jibby (Jonah x Libby)

The Contenders
Leed (Reed x Lester)
Wandi (Walker x Andi)

They were such a cute couple
Bandi (Buffy x Andi)
Tuffy (TJ x Buffy)
BAdd New Item