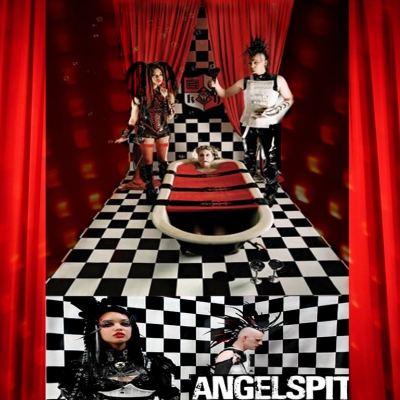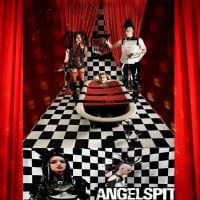 +
Angelspit
Angelspit is an Australian Industrial music project in the cybergoth subculture that formed in 2003. Current members are Zoog von Rock (vocals, production) and George Bikos (guitar), former members include Amelia Arsenic (vocals, production, 2004-2013), Valerie Gentile (guitar, 2011-2012) and Chris Kling (drums, 2011-2012).
Their music has a heavily distorted sound, samples machinery and metal sound effects, and uses stomping techno drum machines, electric guitar chugs and overdriven synth lines. A majority of their songs is rhythmically spoken/shouted rather than sung or rapped, resembling the sound of an artificial robotic voice. Their lyrics involve around cyberpunk and pulp fiction tropes, but also include surgical terms, feature violent imagery and talk about political corruption.
Most of their lyrics have no given context and are a mashup of atmospheric images and wording.
Angelspit did not chart with any of their releases but received praise in electronica and cybergoth circles.
Aside from their studio albums, the group has an unusually large number of remix albums released surpassing the amount of their regular releases.
Lists Featuring Angelspit
Related Lists

Best Songs on Angelspit's Krankhaus