Top Ten Animals That Should Be Zords On Power Rangers: Samurai
The Top Ten
Elephant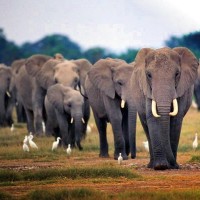 Elephants are large mammals of the family Elephantidae and the order Proboscidea. Two species are traditionally recognized, the African elephant and the Asian elephant, although some evidence suggests that African bush elephants and African forest elephants are separate species.
Oops. I'm sorry that that I forgot to put "of" between "haters" and "Theo." I mean to be against the haters of those Blue Rangers. After all, I'm tired of the hatred that's directed at them.
An elephant would be great, also people, THIS ISN'T THE TOP TEN WORST RANGERS LIST, SO QUIT TALKING TALKING ABOUT YOU'RE HATRED FOR KEVIN, AND IF YOU WANT TO, DO IT ON A LIST WHERE IT MAKES SENSE TO TALK ABOUT IT!
Kill the haters Theo and Kevin!
I anything an elephant sword really should've been on samurai as a sword. They are some of the mightiest and most ancient mammals on earth and the could be so many options for megazord combinations.
Giraffe

The giraffe is an African even-toed ungulate mammal, the tallest living terrestrial animal and the largest ruminant.
Best sores in power rangers
His don't have a zord he ought to be using a giraffe zord so maybe he would be given the red ranger high respect cause he don't give advice but always here what is masters says both right and wrong
It is the best zord
Dinosaur
Kevin haters are ugly trolls and shouldn't be trusted.
I love the dinosaur and stop picking on Kevin. He was one of my least favorites too but he wasn't that bad.
Kevin is an ugly black man and he should not be trusted
Bull
Those who hate power rangers samurai and super samurai should eat cat poop and die
Dolphin
To the jerk who claimed that Kevin's homosexual:

"You're a big fat lair 'because your hatred of him blinded you in the head. So shut up and get out of here! "
They are cute and would be great for kevin. - sally269
Kevin is a homosexual
Zebra

Zebras are several species of African equids united by their distinctive black and white striped coats.
Don't trust those low life Kevin haters. They're ugly and suck.
Don't trust that Kevin the low life Power Ranger over there.

He's an ugly black man and a wannabe power ranger.
Penguin

Penguins are a group of aquatic, flightless birds. They live almost exclusively in the Southern Hemisphere, with only one species, the Galapagos penguin, found north of the equator.
Those who hate Kevin and his fans are idiots. Those who like Kevin are awesome and so is he.
Those who like Kevin is an idiot
Cheetah

The cheetah, also known as the hunting leopard, is a big cat that occurs mainly in eastern and southern Africa and a few parts of Iran. The cheetah is the fastest land animal, able to run up to 75 mph and can accelerate from 0 to 60 mph in just 3 seconds
Cheetah eat Kevin's no-good haters.
Cheetah eat that no good Kevin
Cow
Kevin haters are stupid cows with crap for brains.
Kevin is a stupid cow and his wife is a cow!
Dog

The domestic dog is a wolf-like canid in the genus Canis, and is the most widely abundant terrestrial carnivore.
Kevin haters are female dogs.
Kevin is a FEMALE dog!
Evrebody that hates kevin shuod wath more power rangers super samuirai he almost killed zandred
The Contenders
Cat

The "House Cat", also known as the Domestic Cat or the Feral Cat, is a small feline, a good hunter, and comes in a variety of colors and fur patterns. Contrary to popular belief, however, they are not truly domesticated. They are highly intelligent and good at problem solving.
Cat kill the losers who hate Kevin!
Cat kill the loser Kevin!
Beaver

The beaver is a primarily nocturnal, large, semiaquatic rodent. Castor includes two extant species, the North American beaver and Eurasian beaver. Beavers are known for building dams, canals, and lodges.
Dragon

A dragon is a legendary creature, typically with serpentine or reptilian traits, that features in the myths of many cultures.
Spider
Lion

The lion is one of the big cats in the genus Panthera and a member of the family Felidae. The commonly used term African lion collectively denotes the several subspecies in Africa.
Shark

Sharks are a group of fish characterized by a cartilaginous skeleton, five to seven gill slits on the sides of the head, and pectoral fins that are not fused to the head. Sharks have been around before the earth's first dinosaurs and even the earth's first trees.
BAdd New Item