Top Ten Animals to Throw at Barack Obama
The Top Ten
1
Lion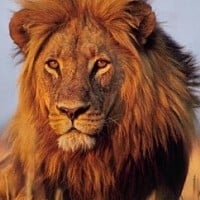 The lion is one of the big cats in the genus Panthera and a member of the family Felidae. The commonly used term African lion collectively denotes the several subspecies in Africa.
Could you really do this to a poor, Innocent lion? - Britgirl
2
Tiger

The tiger is the largest cat species, most recognizable for their pattern of dark vertical stripes on reddish-orange fur with a lighter underside.
Dude...I get that he's made many mistakes as president, but having random animals attack him? - Garythesnail
Majestic and strong just like the tiger.
3
Grizzly Bear

The grizzly bear less commonly called the silvertip bear, is any North American morphological form or subspecies of brown bear.
4
Wolf

Often in/from packs, Wolves are carnivorous Canines that come in various colours and breeds, and have evolved to Dogs. Some breeds of Wolves are, like Dogs, domesticated, to become a Working Dog.
5
Hippopotamus

The common hippopotamus, or hippo, is a large, mostly herbivorous mammal in sub-Saharan Africa, and one of only two extant species in the family Hippopotamidae, the other being the pygmy hippopotamus.
6
King Cobra

The king cobra is an elapid found predominantly in forests from India through Southeast Asia. ...read more.
Here's a better idea: Get a giant water tank full of sea snakes. They're just as deadly as King Cobras. - nintendofan126
7 Sydney Funnel-Web Spider
8 Coyote
9
Shark

Sharks are a group of fish characterized by a cartilaginous skeleton, five to seven gill slits on the sides of the head, and pectoral fins that are not fused to the head. Sharks have been around before the earth's first dinosaurs and even the earth's first trees.
10
Alligator

An alligator is a crocodilian in the genus Alligator of the family Alligatoridae. The two living species are the American alligator and the Chinese alligator. Additionally, several extinct species of alligator are known from fossil remains.
The Contenders
11
Piranha

A piranha or piraña, a member of family Characidae in order Characiformes, is a freshwater fish that inhabits South American rivers, floodplains, lakes and reservoirs.
12
Kittens

A kitten is a juvenile cat. After being born, kittens are totally dependent on their mother for survival and they do not normally open their eyes until after seven to ten days.
13
Great Dane

The Great Dane is a large German breed of domestic dog known for its giant size. The German name of the breed is Deutsche Dogge, or German Mastiff.
14
Rhino

A rhinoceros, often abbreviated to rhino, is one of any five extant species of odd-toed ungulates in the family Rhinocerotidae, as well as any of the numerous extinct species.
BAdd New Item