Top Ten Anime Characters Voiced by Ai Kayano
The Top Ten
Alice Schuberg - Sword Art Online: Alicization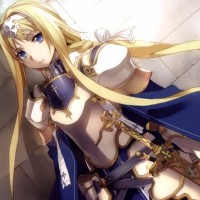 Shiro - No Game No Life

Inori Yuzuriha - Guilty Crown

Inori Yuzuriha was the female protagonist of Guilty Crown and a member of the resistance guerrilla group called "Funeral Parlor". She was the voice of the internet artist "Egoist".
Darkness - KonoSuba

Meiko Honma - Anohana: The Flower We Saw that Day

Yomi - Senran Kagura

Shuvi Dola - No Game No Life: Zero
Kaede Kashiwagi - How to Keep a Mummy

Anna Clement - Code Geass: Akito the Exiled
Nina Natsume - Urara Meirochou
The Contenders
Leilia - Maquia: When the Promised Flower Blooms
Mei Tachibana - Say I Love You

Tsukino - Show by Rock

Yuyuko Saigyouji - Touhou Project

Futaba Ooki - Amanchu!
Moka Hoto - Gochuumon wa usagi desu ka?
BAdd New Item