Top 10 Best Anime Yaoi Ships
The Top Ten
Eren x Levi (Attack on Titan)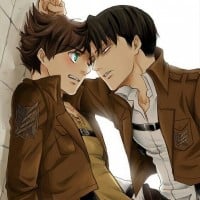 I eat this ship for breakfast lunch and dinner
Guys Levi is 30 and Eren 15
Best ship PERIODDTTT!
Giorno x Mista (Jojo's Bizarre Adventure)

Men of culture ship this - Kuro
Haruka x Rin (Free)
Kaito x Gakupo (Vocaloid)

Hajime x Nagito (Danganronpa)

this ship is perfect---
Komaeda x Hope Bagels
Midoriya x Bakugou (My Hero Academia)
I ship them so hard.
Shinji x Nagisa (Evangelion)

Watch the piano scene, its low-key gay and amazing. - Kuro
Naruto x Sasuke (Naruto and Naruto Shippuden)
my otp, this ship is soo cute <3
BEST.SHIP.EVER
Germany x Italy (Hetalia)
Ooh hell yas
The cutest OTP...
Light x L (Death Note)
The Contenders
Karma x Nagisa (Assasination Classroom)
Too good to hate!
I prefer Karma x Gakushuu
YET
Killua x Gon (Hunter x Hunter)
They are so cute together
I'm fine if they don't become a couple in the canon (as long as they reconcile), but I just can't help but ship them, it's just the chemistry that they have
Not romantically but I want these guys to stay friends and young forever. They're too innocent to be in "that" kind of relationship...yet
They're so cuuuuute
Very innocent and spontaneous couple
How could people not ship this,I mean a lot of people are saying "They are so young!" but as a Fujoshi myself I personally think that the whole Tsundere x Deredere thing is reaallyy cute!My absolute OTP in Hunter X Hunter!
Yu x Mika (Owari No Seraph)
Twilight like history. Purrfect
OTP, for lifee. Can't explain how much I love this ship!
Eijirou Kirishima x Bakugou Katsuki (My Hero Academia)
their just so cuteeeee
Lelouch x Suzaku (Code Geass)
Todoroki x Bakugo (My Hero Academia)
Todoroki x Midoriya (My Hero Academia)
Best ship ever in My hero academia!
My favourite bnha ship *-*
Nezumi x Shion (No.6)
I didn't even watch the whole anime yet and I already ship them so much
Zero x Kaname (Vampire Knight)
Karma x Gakushuu (Assassination Classroom)
I LOVE this ship
Shinya x Guren (Seraph of the End)
Yuuri Katsuki x Yuri Plisetski (Yuri on Ice)
Yuri Plisetsky x Otabek (Yuri on Ice)
Dazai x Chuuya (Bungou Stray Dogs)
Victor x Yuri (Yuri on Ice)
PSearch List